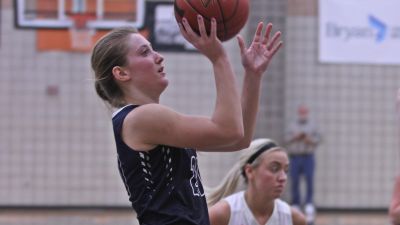 SEWARD, Neb. – There may not be enough superlatives to continue to describe the still undefeated Concordia University women's basketball. Ranked No. 2 as of Monday (Jan. 9), the Bulldogs figure to rise to the No. 1 spot in the national poll when a new one is released on Tuesday. While opening up 2018, Concordia brushed off a slow start in a 76-63 win at Doane before cruising past sixth-ranked Morningside, 95-64, inside Walz Arena. The GPAC grind continues this week.
This week's schedule
Wednesday, Jan. 10 vs. Briar Cliff (8-11, 5-4)
Saturday, Jan. 13 at Mount Marty (9-9, 1-9)
Both of this week's games will be covered live by 104.9 Max Country radio. Additionally, live webcasts will be available via the following links: Wednesday | Saturday.
At 17-0, the Bulldogs are off to their best start during head coach Drew Olson's 12-year tenure in Seward. Only the 2002-03 team (33-0) has put together a longer unbeaten run to begin a season in program history. Should Concordia move to No. 1 as expected on Tuesday, it will mark the program's first top ranking since December 2012. The Bulldogs were listed at No. 1 for four polls during the 2012-13 season and for the final nine polls of the 2002-03 campaign. Olson's 2014-15 and 2016-17 editions both rose as high as No. 2 in the national rankings.
With a victory on Wednesday, Olson would claim the 300th of his career. Over the previous 11 seasons, Olson averaged 25.6 wins per year and reached the national tournament nine times. Among Bulldog basketball coaches all-time, only Grant Schmidt (445-276) has compiled more wins than Olson. Additionally, milestones could be reached this week by Mary Janovich (987 points) and Dani Hoppes (960 points), who are closing in 1,000 career points. Named national player of the week on Jan. 2, Philly Lammers (713 points) is on a fast track to 1,000. She has grabbed 49 rebounds over the past four games.
Briar Cliff stands at 8-11 while having played an exceptionally challenging schedule. The Chargers have lost nine times to teams either ranked or receiving votes in the national poll. Head coach Mike Power's staff includes Concordia's all-time leading scorer Bailey Morris, who is in her first season as an assistant at Briar Cliff. The Chargers have moved on without Kailey Burke, who transferred after averaging 14.1 points as a freshman last season. Sophomore forward Johanna Vaske is the team's leading scorer at 12.9 points per game.
Mount Marty enters the week having dropped five-straight GPAC contests. The Lancers have struggled offensively, averaging 63.4 points while shooting 38.4 percent from the floor. Their lone conference win came by a 69-59 score over College of Saint Mary on Dec. 2. In the season's first meeting between Mount Marty and Concordia, the Bulldogs won going away, 84-42, inside Walz Arena. Concordia forced 26 turnovers and limited the Lancers to 27.3 percent shooting.
In next week's action, the Bulldogs will continue conference play with a road trip to College of Saint Mary (2-15, 1-8 GPAC) on Jan. 17 and then welcome Dordt (8-10, 3-6 GPAC) to Walz Arena on Jan. 20.
Projected lineups
Concordia (17-0, 9-0)
G – MacKenzie Helman: 5.3 ppg, 3.6 apg, 2.5 rpg, 1.8 spg, .386 fg%, .373 3-pt fg%
G – Dani Hoppes: 10.8 ppg, 1.8 rpg, 1.7 apg, 1.5 spg, .409 fg%, .394 3-pt fg%
G – Mary Janovich: 8.8 ppg, 3.5 apg, 2.0 rpg, 1.8 spg, .528 fg%, .478 3-pt fg%, .769 ft%
F – Quinn Wragge: 14.1 ppg, 5.5 rpg, 1.9 apg, 1.8 spg, .620 fg%, .830 ft%
F – Philly Lammers: 13.2 ppg, 9.4 rpg, 2.8 spg, 1.6 bpg, .489 fg%, .689 ft%
Briar Cliff (8-11, 5-4)
G – Alyssa Carley: 8.4 ppg, 2.4 rpg, 1.2 apg, .392 fg%, .400 3-pt fg%
G – Abby Heston: 7.5 ppg, 2.5 apg, 1.1 rpg, .436 fg%, .383 3-pt fg%, .692 ft%
G – Julie Targy: 4.0 ppg, 2.8 rpg, 2.7 apg, 2.3 spg, .500 fg%, .667 ft%
F – Faith Troshynski: 6.2 ppg, 1.9 rpg, .378 fg%, .438 3-pt fg%, .789 ft%
F – Johanna Vaske: 12.9 ppg, 5.6 rpg, 1.9 apg, .447 fg%, .348 3-pt fg%, .643 ft%
Mount Marty (9-9, 1-9)
G – Molly Koisti: 7.8 ppg, 3.7 apg, 3.6 rpg, .412 fg%, .343 3-pt fg%, .821 ft%
G – Ali Kuca: 11.1 ppg, 2.2 rpg, 0.9 spg, .358 fg%, .381 3-pt fg%, .774 ft%
G – Mikayla Prouty: 7.0 ppg, 1.0 rpg, 0.8 spg, .444 fg%, .385 3-pt fg%, .875 ft%
F – Sarah Castaneda: 8.1 ppg, 5.0 rpg, 1.4 apg, .514 fg%, .722 ft%
F – Karissa Chamley: 9.9 ppg, 8.2 rpg, 1.0 apg, 0.7 spg, .422 fg%, .442 3-pt fg%, .692 ft%