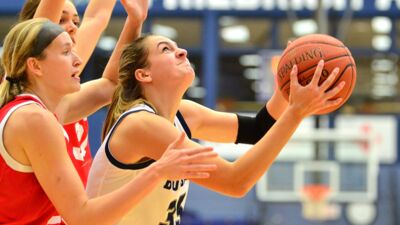 SEWARD, Neb. – The Concordia University Women's Basketball team navigated last week's challenging conference slate and came away with a 71-64 win at No. 25 Morningside before relinquishing a nine-point lead in its 72-56 home loss to No. 16 Northwestern. The matchups were a continuation of an arduous first month of the 2022-23 season. Head Coach Drew Olson believes the best is yet to come for a squad that stands at 4-4 overall (2-4 GPAC). The Bulldogs hope to begin a winning streak this week while hosting Mount Marty on Wednesday and then traveling to Hastings on Saturday.
Wednesday, Dec. 7 vs. Mount Marty (3-8, 1-5 GPAC), 6 p.m.
--Live Webcast/Stats | Max Country | Location: Friedrich Arena (Seward, Neb.)
Saturday, Dec. 10 at Hastings (5-4, 3-2 GPAC), 2 p.m.
--Live Webcast/Stats | Max Country | Location: Lynn Farrell Arena (Hastings, Neb.)
By the numbers
· There's optimism that goes beyond Concordia's .500 record. According to Massey Ratings, the Bulldogs have played the NAIA's second toughest schedule to this point in the season. Concordia's four losses have come against two teams ranked in the current NAIA top 25, No. 5 Dordt and No. 16 Northwestern, another receiving votes, Briar Cliff, and one that is now 5-1 in GPAC play, Jamestown. Those four foes own a combined overall record of 33-5. Both Dordt and Northwestern are unbeaten at 10-0 and are the current co-GPAC leaders. During the 2021-22 season, Concordia played the No. 1 strength of schedule in the NAIA, according to the official NAIA metric.
· The win at Morningside was a significant one in terms of the Bulldogs' season profile and for their confidence. In the scoring department, Sadie Powell and Kendal Brigham led the way with 18 and 16 points, respectively. Concordia shot 44.2 percent from the floor and drained 12-of-26 attempts from long range. It also shored up its rebounding from the previous outing and held a slight advantage in that category, 36-34. Star guard Taysha Rushton notched 15 points, five assists and four rebounds. Off the bench, Megan Belt rained in three triples. Ranked No. 3 in the NAIA in the preseason, the Mustangs (4-4, 2-3 GPAC) suffered their fourth loss of the season.
· The Bulldogs put together a strong 25-plus minutes as they attempted to hand Northwestern (10-0, 5-0 GPAC) its first loss of the season. Concordia led by as many as nine points and still held an advantage with as little as a minute-and-a-half remaining in the third quarter. The Bulldogs then struggled mightily offensively and surrendered a 20-0 run that gave the Red Raiders full control. Maddie Jones paced Northwestern with 22 points on 7-for-10 shooting from the floor. Rushton led Concordia with 17 points and Belt again contributed nine points off the bench. The Bulldogs shot only 26.5 percent from the floor in the second half.
· Concordia team leaders by category include Taysha Rushton in scoring average (15.1) and assists (3.5), Sadie Powell in rebounding (5.1), Mackenzie Toomey in steals (1.9) and Megan Belt in 3-point field goals (15). The rest of the team's top five in scoring average includes Kendal Brigham (10.6), Powell (9.5), Toomey (7.9) and Abby Krieser (7.6). The Bulldogs are averaging 68.3 points per game while shooting 39.1 percent from the floor, 31.2 percent from 3-point range and 73.2 percent from the foul line. Opponents are averaging 67.1 points while shooting 43.8 percent from the floor, 33.6 percent from 3-point range and 70.1 percent from the foul line.
· The starting lineup though eight games has featured the same five players: Rushton, Krieser and Toomey in the backcourt and Powell and Abby Heemstra in the frontcourt. The rotation has typically gone nine deep with the main bench contributors being Belt, Brigham, Hailey Kleinschmit and Kristin Vieselemeyer. In addition, Mackenzie Koepke continues to come along while returning from the injury that sidelined her for the entire 2021-22 season. Twelve players have seen action in at least one varsity game. Concordia has been without another contributor in Hanna Spearman, who has been sidelined by injury.
· The Bulldogs will attempt to continue their series dominance over Mount Marty. Concordia has won each of the past 12 meetings dating back to an 81-60 loss at Mount Marty on Jan. 23, 2016. That Lancer squad of 2015-16 advanced all the way to the NAIA Division II national semifinals. The Bulldogs won last season's matchups with Mount Marty by scores of 88-53 in Seward and 83-58 in Yankton. Meanwhile, Concordia-Hastings has been more competitive in recent years. Last season, the Bulldogs routed the Broncos in Hastings, 91-69, but were beaten at home, 68-60, by the rival west on interstate 80. That result snapped what had been a five-game series win streak for Concordia.
The opponents
Mount Marty has a first-year head coach in Allan Bertram, who replaced Todd Schlimgen. The Lancers have fallen towards the bottom of the standings since their national semifinal run in March 2016. Mount Marty has shown signs of progress after finishing 2-27 overall (1-21 GPAC) in 2021-22. The current team's leading scorer is Eve Millar, who is averaging 10.7 points per game. As a team, the Lancers are averaging 57.6 points while allowing 66.1 per outing. Mount Marty's wins this season have come over Waldorf University (Iowa), Presentation College (S.D.) and Midland.
Hastings carries momentum into this week after a weekend that saw it win twice on the road against teams above it in the GPAC standings – Jamestown (63-62) and No. 11 Dakota Wesleyan (74-70). Those victories will be a boost to the Broncos' chances of reaching the national tournament after missing out the past two seasons. Eighth-year Head Coach Jina Douglas has a team built on defense. It has limited the opposition to 66.0 points per game. Two Hastings players are averaging in double figures: Allison Bauer (11.4) and Mariyah Avila (10.0). The Broncos were a 30-win team as recently as the 2019-20 season.
Next week
Final exams will take place next week at Concordia. As such, the lone outing will be on Dec. 15 when Doane visits Friedrich Arena.