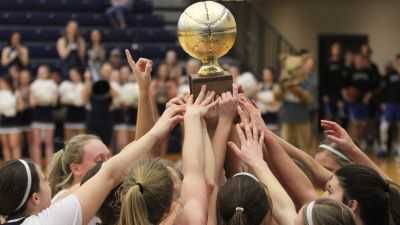 The 2017-18 Concordia women's basketball team checked off nearly every box while chasing down its lofty list of season goals. The Bulldogs dominated the clear No. 1 conference in NAIA Division II women's basketball. They won the regular season by three games. They then cut down the nets at home for another GPAC postseason title. (Concordia is the only women's basketball program in GPAC history to sweep conference regular season and postseason titles in back-to-back years).
For the third time in four seasons, head coach Drew Olson led his program to at least the national semifinal game. The latest – and perhaps greatest – squad equaled a school single-season record with 36 victories. By any measure, this winter was a rousing success. Those associated with the program just wish there could have been a victory No. 37.
Needing to beat rival Dakota Wesleyan for a fourth time in order to secure the national title banner, Concordia had a rough night in an 82-59 defeat in the championship final.
Said Olson, "It hurts (to lose the championship game). It's frustrating to have one of the greatest seasons of all-time to end on that kind of note. I feel really bad for our kids that they didn't get what I feel like they deserved. They worked so hard. You go through such a long and grueling season, especially with the schedule we put them through. They handled everything perfectly all the way up until the final game. I hope in a month or whatever it's going to be, they'll realize what an amazing season we had. I still feel proud of the accomplishments that we had."
In other words, don't let the way the season ended cloud the way you remember this team. For a program to enter a season with the expectation of winning the whole thing says something about its elite stature. Leading all the way up to March, Olson prepared his team like one with national championship aspirations. In nonconference play alone, the Bulldogs went on the road and defeated two other national championships No. 1 seeds, College of the Ozarks (Mo.) and Saint Xavier (Ill.), and another top 10 team in Jamestown (N.D.). Those were just three of 17 wins over teams that wound up in the top 25 national poll.
No other NAIA women's basketball program could boast such a sparkling résumé than a Concordia squad that seemed to be Olson's most complete during his 12-year tenure. In terms of star power, the conversation starts with first team All-American Philly Lammers, who pushed her game to another level in the postseason. Over five national tournament games, she averaged 18.0 points and 9.8 rebounds. She and third team All-American Quinn Wragge were a two-person wrecking crew through the first four rounds at the national tournament.
Said Olson of Lammers, "I really thought she was the most dominant player in the national tournament. She struggled in the first half against Dakota Wesleyan but I thought she bounced back really well in the second half. Overall in the whole tournament, she was amazing. She was aggressive and attacking. I think a lot of teams knew when she was on the floor they just couldn't beat us. She was the best player in the country in my opinion."
Lammers didn't pile up such huge numbers in every game this season, something that had a lot to do with the wealth of options on the roster. As just a sophomore, Lammers became the team's fifth player to reach 1,000 career points during the 2017-18 campaign. She joined the 1,000-point club along with Wragge (1,380), Mary Janovich (1,159), Dani Hoppes (1,148) and Brenleigh Daum (1,014).
This was a team that had a little bit of everything. Defensively, it could go man-to-man, zone, full-court, half-court or whatever the situation called for. Offensively, it had low post scorers, players who could create their own shots off the dribble, unselfish passers and deadly shooters such as Hoppes. From a character perspective, Olson could not have asked for much more. The culture has made for something more than a team. It's a family.
The family got stronger in 2015 when Hoppes (maiden name Andersen) transferred from Midland for her final two collegiate seasons. Over the next few years, Hoppes dealt with heartache when her mother died unexpectedly, but grew stronger in her faith and became a leader and an exemplary figure for the program. Said Olson immediately after the national championship game, "She was an awesome person and an amazing spiritual leader on our team that we will really miss. She was an awesome shooter and a great defender, but it was her heart that we loved."
Hoppes teamed with Daum, Sydney Feller and Janovich as part of an accomplished senior class. Upon reflection on her career with the Bulldogs, Hoppes wrote, "Being part of the Concordia basketball team has meant a lot more than success on the court. Being part of this team has been like having another family. I knew I wanted to stick around after making lifelong friends my first year. I knew I would regret having an extra year left to play the game I love with a special group of girls and coaches. I wouldn't trade being part of this team for anything."
In her two seasons of competition at Concordia, Hoppes helped the program to a record of 70-5. Meanwhile, Daum and Janovich were constants in the winningest four-year stretch in school history. The Bulldogs went a combined 127-18 over the 2014-15 through 2017-18 seasons. A first or second team All-GPAC selection all four seasons, Janovich led Concordia teams to the national semifinals each of the three years she played at the national tournament.
Other regular pieces of the rotation not previously mentioned were sophomores Colby Duvel and MacKenzie Helman and freshman Taylor Cockerill. Helman provided steady play while starting 37 games at point guard. Duvel did a lot of the dirty work (6.0 rebounds per game) and Cockerill showed plenty of flashes of future brilliance.
Really, brilliance is all this program has known under Olson, who moved beyond 300 career wins this past January. With two All-Americans returning, the promise of Cockerill's improvement and the usual stellar recruiting class waiting in the wings, the goals probably won't change heading into 2018-19.
"We checked off every single accomplishment that we had as goals," Olson said. "We just didn't finish the job and win the ultimate goal. That was the driving force for the seniors. They had won conference championships before. They had been to the final game. They wanted that ultimate prize."