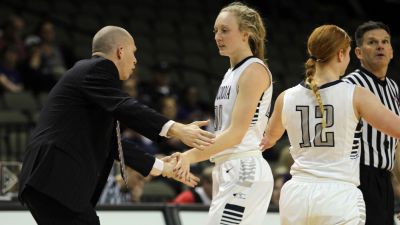 SIOUX CITY, Iowa – Though several of its most inexperienced players on the national stage gave great production, the 16th-ranked Concordia University women's basketball team suffered a first-round loss at the NAIA Division II Women's Basketball National Championships for the third time in four seasons. The Bulldogs fell, 85-82, at the hands of No. 18 Goshen College (Ind.) on Wednesday afternoon.
The loss means 10th-year head coach Drew Olson's squad ends the 2015-16 season at 22-10 overall. Concordia made its fifth-straight national tournament appearance and eighth under Olson in 2016.
Now 22-15 all-time at the national tournament, the latest loss came in stinging fashion. With :10.2 remaining and the score tied 82-82, Concordia turned the ball over. On the ensuing possession, Lynnia Noel drained a wide-open trey from the right wing to secure the Maple Leafs' first-ever national tournament win.
That shot put a damper on the stellar efforts of Sydney Feller, Erin Vieselmeyer and Quinn Wragge, who all played for the first time at the Tyson Events Center in Sioux City, Iowa. On top of that, senior Becky Mueller racked up 23 points in her final game as a Bulldog.
"I thought they did great," Olson said. "Sydney Feller, Erin Vieselmeyer and Quinn, for being their first time at nationals, I thought they played really well. Sydney had a phenomenal game and hit some big shots. Erin started off great in that first half. I was really proud of how they played."
The Bulldogs led by as many as six points in the second quarter and then trailed 76-70 midway through the fourth quarter. On the back of the impossible-to-rattle Wragge, Concordia tied it up with an 8-2 run fueled by two buckets from the star freshman. Wragge and company even took an 82-80 lead in the final 30 seconds left on two Shelby Quinn free throws that followed a foul on the drive.
After Gabby Williams knotted the game once again, Concordia got the ball with the shot clock off and a chance to win. Out of a timeout, Feller's lob attempt inside to Wragge went over the top of everybody and out of bounds, setting the stage for Noel's heroics.
Olson shouldered the blame afterwards saying, "It was totally my fault. They were in a really similar situation in their conference championship game against Indiana Wesleyan and they were in a 1-3-1 zone. It was something we worked on in practice. They came out and I thought to myself, 'I think they're in man,' and I didn't say anything to Sydney. She threw the pass but it was my fault for not telling her to just hit Shelby and get into our high ball screen."
Wragge, the first freshman to lead the program in scoring since Sarah Harrison in 2001-02, posted her third double-double in four games by piling up 24 points and 10 rebounds. Mueller's 23 points elevated her to 20th on Concordia's all-time scoring list with 1,071 career tallies. Vieselmeyer put up 11 of her 13 points in the first half while Feller put together a new career high with 15 points (3-for-4 shooting from beyond the arc).
Goshen, which made its first national tournament appearance since 2004, also got double figures in scoring from four players. Williams topped the Maple Leafs, a member of the Crossroads League, with 19 points and nine rebounds. Tyra Carver added 17 points and six boards. The game's hero, Noel, chipped in 13 points off the bench.
While the Bulldogs ended the season on a three-game skid, they proved they could persevere through the torn ACL second team all-conference pick Mary Janovich suffered in mid-January. With the lone seniors being Mueller and Jenna Lehmann, Olson is confident the 2016-17 edition can carry on the program's winning tradition.
"I hope it fuels their fire," Olson said. "They should be very motivated this summer to get back here and not let this happen again. We're a better team than that and I think our kids next year will be very good."
Concordia actually outshot Goshen, 48.4 percent to 46.2. However, the Bulldogs made only 5-of-22 shots from beyond the arc and committed 19 turnovers.
The Maple Leafs (25-8) enter unchartered territory in their program's history. They will play top-seeded Saint Xavier (Ill.) in the second round on Friday.