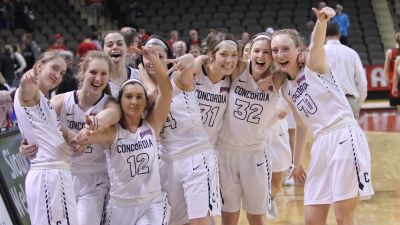 SIOUX CITY, Iowa – Three years after the Concordia University women's basketball program's first-ever national championship game appearance, a mostly new set of players have led the Bulldogs back to the same plateau. Concordia is again knocking on the door of a national title after Monday's (March 12) 84-77 semifinal win over 11th-ranked Northwestern. It was another dominant outing for the likes of Philly Lammers and Quinn Wragge.
The 2017-18 Bulldogs moved to 36-1 overall, equaling the 2002-03 squad for the most victories in program history. Under 12th-year head coach Drew Olson, Concordia has pretty much done it all – except win the whole thing.
"We're very excited to be in that (championship) game," Olson said. "It's something that we've been striving for all year. We've marked off all of our goals so far this year and this is the last one."
Just like the quarterfinal victory over No. 8 Jamestown, this one was essentially decided in the third quarter. The Bulldogs opened up the half on an 11-2 run and led 55-40. Concordia has simply been bullying the opposition with Lammers and Wragge serving as the ringleaders. In postgame interview sessions, Red Raider seniors Paige Danner and Renee Maneman both mentioned the Bulldogs' physicality as being a bear of a matchup.
Lammers has been otherworldly in postseason play going back to the conference tournament championship run. Lammers went off for 23 points, nine rebounds, two blocked shots and two steals while burning Northwestern. The Omaha native took advantage of foul trouble for Anna Kiel, who had been on a tear at the national tournament. She played only 19 minutes due to her four fouls.
While Lammers pounded away in the paint, Wragge consistently blew past defenders for driving layups. Wragge added 17 points and seven rebounds in 29 minutes of action. She and Lammers have been dynamic duo that no opponent at the Tyson Events Center has been able to figure out.
"They've been unbelievable with their attack mode and their ability to rebound," Olson said. "They're just dominant on both ends. We're a full team, but they're a huge part of that."
Concordia led by as many as 18 points in the second half on the strength of another stellar third quarter. As Olson says, the Bulldogs are much more than two players. Mary Janovich recorded nine points and three steals and often facilitated Lammers and Wragge with her seven assists. Point guard MacKenzie Helman chipped in 13 points in 27 minutes of action.
Northwestern (25-9) stayed close through the first 20 minutes of play thanks in large part to a bid advantage in the rebound category. The Red Raiders owned a 16-6 edge in rebounding after the opening quarter. Concordia seemed to settle in after taking off the press, which Maneman and company were able to successfully break in the early going.
Haley Birks (14 points, 13 rebounds) and Kassidy De Jong (15 points, 10 rebounds) both posted double-doubles for Northwestern, which reached the national semifinals for the 10th time in program history. The Red Raiders had never matched up with the Bulldogs at the national tournament. Now in his seventh season as head coach, Chris Yaw led Northwestern to a national title in 2012.
Concordia shot 50 percent (33-for-66) from the floor in a game that did not require it to make a lot of outside shots. Meanwhile, the Red Raiders often settled for perimeter jumpers and went just 9-for-34 (.265) from 3-point range. The though final margin was just seven points, there was no late game drama.
The Bulldogs have proven up to the task in sequels. They have defeated five nationally-ranked teams multiple times this season: No. 7 Dakota Wesleyan three times, No. 8 Jamestown twice, No. 11 Northwestern three times, No. 12 Hastings twice and No. 13 Morningside three times.
In order to raise a banner, Concordia will have to beat Dakota Wesleyan for a fourth time. The two rivals will begin conflict at 7:05 p.m. CT on Tuesday (March 13) in the national championship game.
Said Olson, "I told (Tiger head coach) Jason (Christensen) after the GPAC championship game that we'd see them in the finals. I really believed that was the case. In that GPAC championship I felt like we were the two best teams."