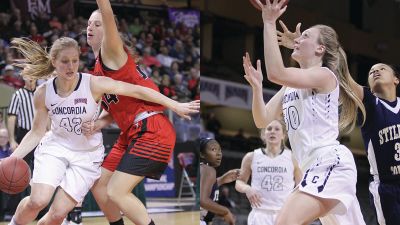 SEWARD, Neb. – Sophomore Philly Lammers has joined elite company as the seventh player in the history of the Concordia University women's basketball program to be named a first team NAIA All-American. She was one of 11 NAIA Division II first teamers to land on the All-America teams unveiled on Thursday (March 15). Additionally, Quinn Wragge collected third team All-America accolades.
Named the NAIA National Coach of the Year by the Women's Basketball Coaches Association, Drew Olson has coached 11 different players who have earned some form of All-America recognition during their careers as Bulldogs. That group includes 2015 NAIA Division II National Player of the Year Bailey Morris.
In addition to Lammers, other Concordia first team All-America selections all-time are Lynda Beck (1992), Kristen Conahan (2013), Sarah Harrison (2003), Amber Kistler (2012), Morris (2014, 2015) and Whitney Stichka (2009).
There is no equal in school history in terms of a more impressive first two collegiate seasons. An NAIA Division II first team all-national tournament selection, Lammers moved up to first team All-America honors after netting second team recognition as a freshman in 2017. Over 75 career games, Lammers has totaled 1,014 points, 576 rebounds, 171 steals and 97 blocked shots. During the 2017-18 campaign, Lammers averaged 13.8 points, 8.3 rebounds, 2.4 steals and 1.3 blocks.
"She's amazing. She's one of the greatest players I've had the opportunity to coach," Olson said following Tuesday's national championship game. "I feel very blessed that she's on our team. Her season this year she showed the development and what a dominant player she is on both ends."
After picking up honorable mention All-America accolades last season, Wragge took another leap forward as a junior in 2017-18. An essential figure in the team's run to the national title game, the Crofton, Neb., native averaged 13.0 points and 5.3 rebounds this season and was chosen as a second team all-national tournament honoree. Over 106 career games, she has recorded 1,380 points, 639 rebounds and 182 steals.
Lammers and Wragge were both mentioned on the NAIA All-America teams released on Tuesday (March 13) by the WBCA. Concordia just finished a 36-2 season that featured GPAC regular season and postseason titles.
Concordia women's basketball all-time All-Americans
Lynda Beck (1992-1st)
Kristen Conahan (2012-2nd; 2013-1st)
Sarah Harrison (2003-1st; HM-2005)
Mary Janovich (2017-HM)
Trish Kindle (1993-2nd; 1994-HM)
Amber Kistler (2012-1st)
Hayle Kobza (2000-HM; 2001-HM)
Philly Lammers (2017-2nd; 2018-1st)
Bailey Morris (2014-1st; *2015-1st)
Allison Nyland (1996-HM)
Tracy Peitz (2014-3rd; 2015-2nd)
Shelly Poppe (1987-3rd)
Elizabeth Rhoden (2003-2nd)
Katie Rich (2011-HM; 2013-HM)
Kari Saving (2005-2nd)
Stacy Scheer (2010-HM)
Stephanie Schilke (1998-2nd)
Whitney Stichka (2007-HM; 2008-2nd; 2009-1st)
Melissa Tinkham (2008-HM; 2009-HM)
Rachel Witzel (1997-3rd)
Quinn Wragge (2017-HM; 2018-3rd)
*National player of the year