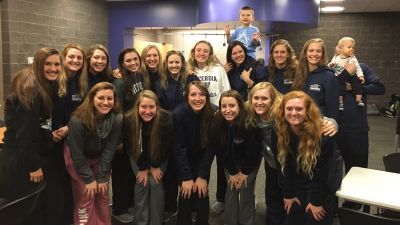 BELLEVUE, Neb. – The 14th-ranked Concordia University women's basketball team enjoyed its Thanksgiving weekend stay in Bellevue, Neb. During their run at the two-day Bruin Thanksgiving Classic hosted by Bellevue University, the Bulldogs tore apart No. 25 Haskell Indian Nations University (Kan.), 99-44, on Friday before dismantling the University of Saint Mary (Kan.), 100-58, on Saturday inside the Lozier Athletic Center.
Eleventh-year head coach Drew Olson's squad has been dominant since its season-opening loss. The Bulldogs (9-1) are winners of nine in a row.
"I thought we had good focus and good energy in both games," Olson said. "I'm really proud of how hard they played – and that's everybody that played. It didn't matter who went in there. They all knew what they were supposed to do and executed really well. I think we're starting to establish ourselves as a dominant team, especially on the defensive end."
Concordia forced 34 turnovers in both victories at the Thanksgiving Classic. In Friday's breezy win over nationally-ranked Haskell (6-4), the Bulldogs used a dizzying number of lineup combinations with 14 players seeing more than 10 minutes of action. Freshman Philly Lammers made good use of her 13 minutes while piling up a game high 16 points on 6-for-8 shooting from the floor. Lammers and company blew the game open with a 10-0 run to end the first half, providing a 47-19 lead at the break.
Lammers then shined again on Saturday afternoon when she poured in a career high 21 points. Her stat line also included seven rebounds, four assists and three steals – in just 17 minutes of action. It was yet another outing that wasn't competitive for long. Less than three-and-a-half minutes into play, Concordia already built up a double-digit lead over Saint Mary. Olson again made regular substitutions, but Dani Andersen (14) and Mary Janovich (10) managed to join Lammers in double figures in scoring.
Like Quinn Wragge last season, Lammers has made a seamless transition to the college game. Lammers notched 10 of Concordia's first 14 points in the win over the Spires. Said Olson, "She was just everywhere. She was awesome."
In Friday's win over Haskell, senior Aubri Bro came off the bench to supply 15 points (3-for-4 from 3-point range). In that same game, Wragge added 10 points and three steals, Sydney Feller recorded 12 points and Carissa Gutz chipped in nine points and five rebounds. Then on Saturday, Bro (nine points) and Feller (eight points) were again big contributors in relief of the starters.
A relentlessly smothering defensive team, Concordia swiped 43 steals on the weekend. It also held Haskell to 30.8 percent shooting and Saint Mary (2-6) to 42.0 percent shooting. Janovich and Shelby Quinn both came up with seven total thefts over the two victories. Quinn, a Bellevue East High School product, also dished out 11 assists at the weekend classic while playing in her hometown.
Blowout wins have become the norm for Concordia. Eight of its nine victories have been decided by double-digit margins. Such drama-free contests have given Olson ample opportunity to unleash his full complement of weaponry on opponents.
"I thought this weekend was good in terms of figuring out more about our bench and how to keep our production up when some of the starters are out," Olson said. "I think we found a couple kids that are going to be consistent and help us on both ends."
The Bulldogs will return to Walz Arena for both of next week's contests. Up next is a date with College of Saint Mary (2-5, 0-3 GPAC), which will visit Seward for an 8 p.m. tipoff on Wednesday (a junior varsity game will precede the varsity game). Concordia is 73-9 at home since the start of the 2011-12 season.