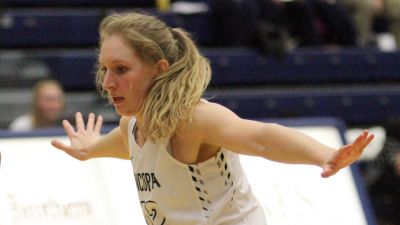 YANKTON, S.D. – This time around, the top-ranked Concordia University women's basketball team experienced none of the occasional early turnover struggles it went through three days earlier in what culminated in a rout of Briar Cliff. In Saturday afternoon's (Jan. 13) contest, the Bulldogs led 24-6 at the close of the first quarter and cruised to a 73-51 win at Mount Marty.
Twelfth-year head coach Drew Olson's squad continues what stands as the second longest unbeaten run to begin a season in program history. Concordia has moved to 19-0 overall and to 11-0 in conference play.
"The start of our game was great," Olson said. "I thought defensively our pressure really got to them and generated a lot of points in transition for us. That's who we are and that's how we've got to play. I'm kind of frustrated with myself. We took our foot off the gas pedal and didn't press in the second half, which I think caused the game to be way different. We weren't able to do what we normally do on the offensive end, because we were getting those turnovers."
This movie has played out over and over during the past two seasons for the Bulldogs. The relentless attack, gnat-like pressure and waves of depth have a way of pulverizing overmatched opponents. The Lancers felt Concordia's vice grip suffocate them. The game was put away in a first half that saw Mount Marty manage only 18 points while going 7-for-26 from the field and turning it over 12 times. The Bulldogs have proven capable of smothering their foes in either man-to-man or zone defense.
A dominant first 20 minutes gave way to a blah second half with the game already in hand. Concordia went 1-for-7 from the floor to open the third quarter and shot 31.6 percent in the second half (40.6 percent for the game). But the outcome was never in doubt with the lead hovering right around 20 for much of the third and fourth quarters.
It became clear that the likes of Philly Lammers and Mary Janovich provided matchup problems for the Lancers (10-10, 1-10 GPAC). Lammers finished with a game high 21 points (9-for-15 shooting) to go along with six rebounds. While Lammers dominated inside, Janovich helped Concordia get loose in transition. She went further past the 1,000-point mark by adding 13 on Saturday. She also plucked four steals and dropped a pretty dime inside to Quinn Wragge.
Colby Duvel topped the Bulldog bench mob with eight points and seven rebounds. Playing near her hometown of Crofton, Neb., Wragge chipped in six points and six boards. Dani Hoppes (975 career points) made 2-of-4 shots from downtown while recording eight points and a pair of steals.
"The great thing about this team is you don't know who's going to step up and be the star player that day," Olson said. "But Philly has just been consistently dominant. Some of those games where you don't notice her, she's still finishing with a double-double. Today she was dominant. She performed really well in that first half. The lead got cut under 20 and that's when she stepped up and made a couple more plays in the second half."
Sarah Castaneda stood out from a Mount Marty perspective. She notched 13 points and seven rebounds for a Lancer squad that shot 35.8 percent (19-for-53) from the floor. Mount Marty's only conference win came over College of Saint Mary on Dec. 2.
The Bulldogs will be on the road again their next time out when they head to Omaha for a battle with College of Saint Mary (2-17, 1-10 GPAC). Tipoff is set for 6 p.m. CT inside the Lied Fitness Center. In the first meeting between the these two sides, Concordia thumped the Flames, 114-56, in Seward.