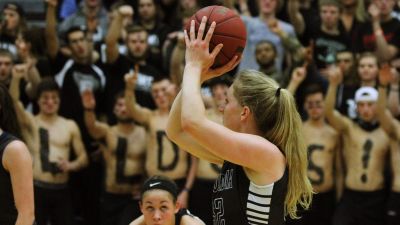 SEWARD, Neb. – It didn't take long for Philly Lammers to establish herself as one of the top players in the GPAC. On Tuesday (Jan. 31), she was named the GPAC/Hauff Mid-America Sports Women's Basketball Player of the Week. The freshman from Omaha garnered the same honor last week. Teammate Mary Janovich has also been tabbed the conference player of the week twice this season.
The latest accolade comes after Lammers led the second-ranked Bulldogs to three home victories during last week's action. In the win over No. 9 Hastings, Lammers went off for career highs of 23 points and 14 rebounds while making 9-of-10 shots from the field. The Millard West High School alum also had a double-double (17 points, 10 rebounds) in the CIT championship triumph over Concordia-Ann Arbor. For the week, she averaged 16.3 points, 9.3 rebounds and 2.0 steals.
Lammers remains the team leader in scoring (13.5), rebounding (6.9), blocked shots (1.1) and field goal percentage (.619). Her field goal percentage ranks sixth best among all NAIA Division II players.
Lammers and the Bulldogs (23-1, 14-0 GPAC) will take their 23-game win streak into action at Mount Marty (11-13, 5-9 GPAC) on Saturday. Tipoff is set for 2 p.m. CT in Yankton, S.D.