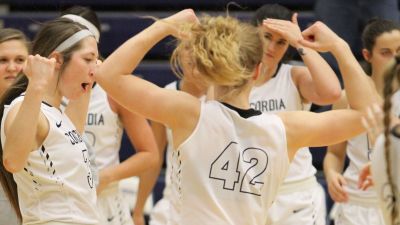 SEWARD, Neb. – A dominant force on the court, sophomore Philly Lammers is equally impressive in the classroom. On Thursday (Feb. 22), College Sports Information Directors of America (CoSIDA) named Lammers to its 2017-18 Academic All-District 3 Women's Basketball Team of the College Division. Lammers has earned the award in her first time eligible for academic all-district status.
The CoSIDA Academic All-District® Women's Basketball Teams have been released to recognize the nation's top student-athletes for their combined performances athletically and in the classroom. For more information about the Academic All-District® and Academic All-America® Teams program, please visit http://cosida.com.
A product of Millard West High School, Lammers has already earned numerous honors since joining the Bulldogs. As a freshman in 2016-17, the Omaha native garnered NAIA second team All-America, first team All-GPAC and GPAC freshman of the year accolades. Lammers is on track for more postseason honors as a sophomore. This season, she is averaging 12.9 points, 8.4 rebounds, 2.42 steals and 1.23 blocks per game while helping Concordia to a 30-1 overall record and GPAC regular-season title. A biology and physics major, Lammers sports a spotless 4.0 cumulative grade-point average.
The College Division of District 3 includes the states of Iowa, Kansas, Minnesota, Missouri, Montana, North Dakota, Nebraska, South Dakota and Wisconsin.
First-team Academic All-District® honorees advance to the CoSIDA Academic All-America® Team ballot, where first-, second- and third-team All-America honorees will be announced in March.
2017-18 Academic All-District Honorees
*Hallick Lehmann, Football
Philly Lammers, Basketball
2016-17 Academic All-District Honorees
*Amy Ahlers, Golf
*Chandler Folkerts, Basketball
Le'Dontrae Gooden, Football
*Hallick Lehmann, Football
*Sam Liermann, Track & Field
*CJ Muller, Track & Field
Lucas Wiechman, Track & Field
2016-17 Academic All-District Honorees
*Amy Ahlers, Golf
*Stephanie Coley, Track & Field
*Chandler Folkerts, Basketball
*Hallick Lehmann, Football
Adam Meirose, Football
Becky Mueller, Basketball
*CJ Muller, Track & Field
*Kim Wood, Cross Country/Track & Field
2014-15 Academic All-District Honorees
Amy Ahlers, Golf
*Brendan Buchanan, Soccer
Stephanie Coley, Track & Field
*Chandler Folkerts, Basketball
Jaydee Jurgensen, Baseball
Adam Meirose, Football
Bailey Morris, Basketball
*Rachel Mussell, Soccer
Shawn Rodehorst, Golf
Ben Sievert, Cross Country/Track & Field
Melissa Stine, Soccer
*Academic All-American