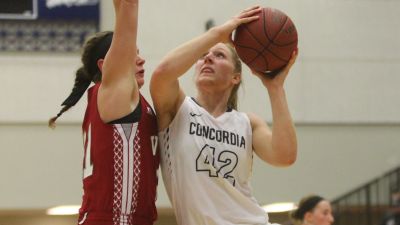 JAMESTOWN, N.D. – The third-ranked Concordia University women's basketball team waited until overtime to take its first post-halftime lead in a nailbiter at No. 9 University of Jamestown (N.D.) on Friday (Nov. 10) evening. With the help of Philly Lammers' toughness inside, the Bulldogs passed their first road test, 91-83, prevailing in an extra session.
Twelfth-year head coach Drew Olson's squad moved to 3-0 and already owns a pair of victories over top 10 nationally-ranked opponents having also defeated No. 5 University of St. Francis (Ill.). Concordia had to rally back from an 11-point first-half deficit in order to remain unbeaten.
"I was extremely, extremely impressed with our group," Olson said. "Jamestown is a great team with super fast guards. It took us out of our press and our zone. We just found ways to stay in the game and made some big plays down the stretch. Obviously Taylor's (Cockerill) free throws to get it to overtime were big. There were a lot of hustle plays on offensive rebounds and Brenleigh (Daum) hits a three in overtime. Dani's (Hoppes) defense was phenomenal and Philly and Quinn (Wragge) were just the best players."
As mentioned by Olson, the Bulldogs had to adjust on the fly in order to escape glitzy Harold Newman Arena with a victory. Bryn Woodside and the Jimmie backcourt were ready for Concordia's zone press. Olson switched to man-to-man after a wealth of early Jamestown buckets off the press break. The Bulldogs were in the red in turnover margin (20-15).
Of course, it helps to have a dominant post player to count on. Lammers dropped in 31 points and grabbed 14 rebounds, including seven on the offensive end. Lammers and company ruled the Jimmies on the boards, 57-39, and held them to 38.4 percent shooting (28-for-73). Playing the role of frontcourt sidekick, Wragge posted 19 points and eight rebounds.
Somehow, Concordia pulled out a road win while trailing for 9:59 of game time in the fourth quarter. In a pressure situation, Cockerill got fouled and drained two free throws to tie the game, 75-75, with just :1.1 left in regulation. Cockerill finished with 16 points, six rebounds and five assists. The Bulldogs never trailed again, jumping out to an overtime advantage thanks to a Wragge offensive board and put back and the proceeding Daum triple.
But the star of the show was Lammers, a second team All-American as a freshman. Her 31 points surpassed a career high by eight and her 14 boards equaled a career best.
"She was just incredible," Olson said. "You could see her try to take over. Her effort is always there. It was extremely magnified when we got down with her pursuit of the ball on offensive rebounds. She was very aggressive looking to score. She's capable of this a lot if we give her those kinds of minutes. This game required her to play those minutes (40)."
Hoppes put up 10 points in 39 minutes of action. On the other side, Jamestown (4-2) got 21 points from Paige Emmel and 14 points and seven assists from Woodside. The Jimmies, who will join the GPAC next season, are 2-2 against GPAC teams with wins over No. 17 Northwestern and Dordt.
The Bulldogs will remain in North Dakota for Saturday's action at Mayville State University (4-0). Tipoff is set for 2 p.m. CT from Mayville, N.D. The Comets already own victories over two GPAC opponents: Dordt and No. 17 Northwestern.