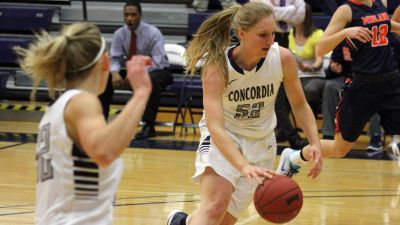 SEWARD, Neb. – It took a little bit to get going, but the Concordia University women's basketball team again proved worthy of its lofty No. 2 national ranking. The Bulldogs were utterly dominant in the third and fourth quarters and overwhelmed visiting Midland with their suffocating defensive efforts in a 95-38 runaway victory inside Walz Arena on Wednesday evening.
It's been a while since 11th-year head coach Drew Olson's squad has endured a real scare. Concordia has won 18-straight games and now sits at 18-1 overall and a perfect 11-0 in conference play.
"I feel like we played more aggressively. We played with more pace," Olson said of his team's improved second-half effort. "Obviously we hit shots. In the first half we were a little hesitant and we just didn't shoot well. Second half, we hit a couple shots, the ball started going in and it was a big snowball effect. It was a great second half."
A Midland outfit featuring a guard-oriented lineup was helpless in its defense of Concordia freshman post Philly Lammers. The budding rookie from Millard West High School found no equal on the inside while going off for a career high-tying 21 points to go along with 11 rebounds. That performance marked her second career double-double. Lammers and company demolished the Warriors on the boards, 65-36.
"It's always nice to see the ball go in the basket for yourself," Lammers said. "It's definitely a confidence booster. There are so many people behind me that the confidence is always there pushing me forward. It's always coming from my team."
Like many opponents this season, Midland (11-7, 4-6 GPAC) crumbled under the pressure placed upon it by the gnat-like Bulldog defenders. The Warriors committed 27 turnovers and knocked down only 12 field goals (21.4 percent) the entire night. Concordia won by a 57-point margin despite holding a lead of just one (13-12) after the opening quarter.
The second half was an entirely different story. The Bulldogs shot 60 percent from the floor and went 8-for-14 (.571) from beyond the arc. Every player Olson sent into the game did no wrong. Even sophomore Shelby Pollman, a late add to the night's roster, dropped in a triple and grabbed four rebounds. Eleven different Bulldogs totaled five or more points. Freshmen Colby Duvel (nine points, five rebounds) and Maggie Goltz (seven points, eight rebounds, three steals) also turned in strong performances off the bench.
"It's good to see those kids get opportunites," Olson said. "Mac (MacKenzie Helman) hit a couple threes and Laurel (Krohn) played awesome. She was the composure of that group. It was good to see Shelby Pollman hit her first shot in a varsity game. Then Maggie Goltz, I think she's really coming along. She's being a lot more aggressive."
Though junior forward Paige Erickson was unavailable on Wednesday, Midland is far from a pushover. The Warriors own a win over No. 11 Morningside and recently dropped overtime heartbreakers to two other teams currently ranked in the national poll – No. 7 Hastings and No. 25 Northwestern. However, Midland was befuddled on this occasion. Even top player Joelle Overkamp struggled, going 1-for-10 from the floor.
After resting in last week's win at Dordt, Mary Janovich returned to the Concordia starting lineup and recorded seven points. Quinn Wragge chipped in eight points and five boards. Krohn added eight points off the bench.
The Bulldogs now look forward to Sunday's trip to Mitchell, S.D., for this season's second matchup with ninth-ranked Dakota Wesleyan (16-2, 7-2 GPAC). Tipoff from the Corn Palace is set for 2 p.m. CT. Concordia defeated the then top-ranked Tigers, 85-82, inside Walz Arena on Dec. 3.