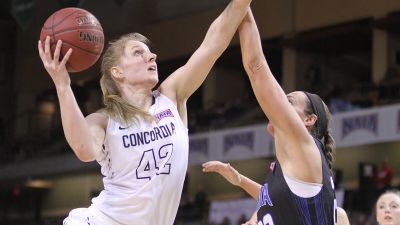 SEWARD, Neb. – Already a two-time first team All-GPAC performer, sophomore Philly Lammers is also an excellent student. On Thursday (March 15), the College Sports Information Directors of America (CoSIDA) named Lammers to its College Division Academic All-America® basketball team.
The CoSIDA Academic All-America® Women's Basketball Teams have been released to recognize the nation's top student-athletes for their combined performances athletically and in the classroom. For more information about the Academic All-District® and Academic All-America® Teams program, please visit http://cosida.com.
A product of Millard West High School, Lammers is arguably the top post player in the NAIA. A second team All-American as a freshman, Lammers earned NAIA first team all-national tournament honors after leading the Bulldogs to the national championship game. Over 38 games this season, the Omaha native averaged 13.8 points, 8.3 rebounds, 2.4 steals and 1.3 blocks per game. She shot 51.4 percent from the floor and 73.8 percent from the free throw line. In the classroom, Lammers sports a perfect 4.0 grade-point average while studying biology and physics.
Lammers was named Academic All-District by CoSIDA on Feb. 22. Student-athletes are eligible for CoSIDA awards beginning with their sophomore seasons.
2017-18 Academic All-District Honorees
*Hallick Lehmann, Football
*Philly Lammers, Basketball
2016-17 Academic All-District Honorees
*Amy Ahlers, Golf
*Chandler Folkerts, Basketball
Le'Dontrae Gooden, Football
*Hallick Lehmann, Football
*Sam Liermann, Track & Field
*CJ Muller, Track & Field
Lucas Wiechman, Track & Field
2016-17 Academic All-District Honorees
*Amy Ahlers, Golf
*Stephanie Coley, Track & Field
*Chandler Folkerts, Basketball
*Hallick Lehmann, Football
Adam Meirose, Football
Becky Mueller, Basketball
*CJ Muller, Track & Field
*Kim Wood, Cross Country/Track & Field
2014-15 Academic All-District Honorees
Amy Ahlers, Golf
*Brendan Buchanan, Soccer
Stephanie Coley, Track & Field
*Chandler Folkerts, Basketball
Jaydee Jurgensen, Baseball
Adam Meirose, Football
Bailey Morris, Basketball
*Rachel Mussell, Soccer
Shawn Rodehorst, Golf