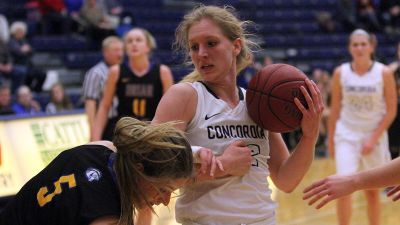 SEWARD, Neb. – From the outset, it seemed it was a matter of time before the depth and relentlessness of the Bulldogs wore down eighth-seeded Briar Cliff in a GPAC quarterfinal tilt inside Walz Arena on Wednesday night (Feb. 21). Based on regular-season meetings, anything else would have been a surprise. The second-ranked Concordia University women's basketball team withstood a commendable push from Briar Cliff and claimed an 80-64 win.
While the season ended for the visitors, this was the beginning of what 12th-year head coach Drew Olson hopes to be a long postseason run. At 30-1 overall, the Bulldogs have recorded the sixth 30-win season in program history.
"I thought Briar Cliff played really well," Olson said. "They caused us to really have to work for every basket. Our post players played well. Philly Lammers was an absolute beast. She totally dominated that game. I think it was late the third quarter, that bench group did some nice things. They stepped up for us."
The duo of Faith Troshynski and Taylor Wagner helped Briar Cliff hang around in the opening half until the Charger offensive attack ran dry during a pivotal third quarter stretch. Concordia had some not-so-pretty moments of its own, but the star power of Lammers was plenty enough to get by on this particular night. Lammers thrilled the crowd with a monster third-period block while totaling 23 points, 14 rebounds, five steals and two blocked shots.
With one GPAC title already in hand, Concordia has eyes on a sweep of conference regular-season and postseason championships for the second year in a row. Lammers and her teammates sound like a broken record. The company line is to focus on the next one.
"Every day in practice and every game we have is about getting better," Lammers said. "That's something we've talked about throughout the season. We're still focusing on that – being better than we were the day before and getting the business done that we need to."
A lack of success shooting from the perimeter (5-for-28 from 3-point range) kept the Bulldogs from making this a complete floor mopping. But they never felt seriously threatened. They led 27-16 after a quarter and never let the advantage slip to fewer than eight points. Lammers put the game away with a bucket and then two free throws that made the score 78-54 with under three minutes to go.
Lammers, Colby Duvel (15 points, four rebounds) and Quinn Wragge (12 points, seven rebounds) had their way in the paint. Concordia made up for shooting struggles by outrebounding the Chargers, 49-40, and by forcing 31 turnovers. Olson's squad will just have to clean up some of its own miscues (25 turnovers).
"Against that zone we just wanted to get the ball inside more," Olson said. "I felt like we missed some opportunities to go from wing to post. That's something we have to get better at. I just thought we did a great job finishing inside tonight."
Off the bench, Sydney Feller added 10 points and three assists for the Bulldogs while Taylor Cockerill recorded three steals. On the opposite side, Troshynski had the most success shooting from the outside. She went 6-for-10 from beyond the arc and had a team high 20 points. Eighth-seeded Briar Cliff ended its season at 10-21 overall.
Fifth-seeded Morningside (21-10) will be at Walz Arena for Saturday's 3 p.m. GPAC semifinal tipoff. In two regular-season meetings, the Bulldogs defeated the Mustangs by scores of 95-64 in Seward and 88-80 in Sioux City. Morningside got past fourth-seeded Hastings, 69-67, in the quarterfinals with the help of a Sydney Hupp layup in the final seconds. On the other side of the conference tournament bracket, third-seeded Dakota Wesleyan (26-5) will play at second-seeded Northwestern (22-7).