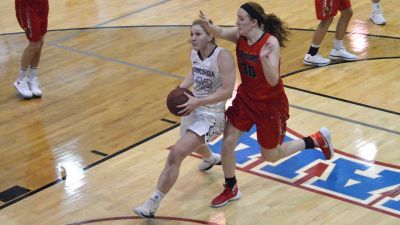 CHICAGO, Ill. – From a Bulldog perspective, the first quarter was ugly, but the rest of the game was a thing of beauty. In a highly anticipated battle between the top two rated squads in NAIA Division II, the second-ranked Concordia University women's basketball team emerged with a surprisingly lopsided 81-60 win over No. 1 Saint Xavier University inside the Shannon Center in Chicago, Ill., on Friday (Dec. 29).
While thumping the host Cougars over the final 30 minutes of action, 12th-year head coach Drew Olson's squad avenged a national tournament semifinal loss to Saint Xavier this past March. Owners of eight wins over teams currently ranked in the NAIA top 25 poll, the Bulldogs remain unbeaten at 15-0.
"I didn't expect it to be like that," Olson said of the 21-point spread. "In the second quarter I just kind of knew: we're going to win this game. We just had a good plan of attack. Once our kids stuck with it and settled down after getting behind, we were in pretty good shape.
"Truthfully, I was kind of shocked. We took out their will and that's really hard to do against a great team. I was kind of shocked. At the same time, we kind of had their number. We knew how to defend them and we knew how to attack them."
In last season's meeting at the national tournament, Concordia watched as Saint Xavier nailed 16 treys and national player of the year Kara Krolicki went off for 26 points in a 91-83 Cougar win. This time around, the Bulldogs hounded Krolicki and company into committing 28 turnovers. During a 14-0 Bulldog third quarter run that made the score 56-43, Saint Xavier went more than four minutes without tallying a single point.
Olson gave plenty of credit to guards Taylor Cockerill and Dani Hoppes for shutting down Krolicki. A day after she became her program's all-time leading scorer, Krolicki finished with twice as many turnovers (seven) as points (three).
"I thought Dani and Taylor did a great job of denying her and really making her work to get the ball," Olson said. "Then we had really good help side any time she did get the ball on the drive. Those two were definitely very good defensively, but it was a team effort to be able to shut somebody that good down."
The star of the afternoon turned out to be Philly Lammers, named to the SXU Holiday Classic All-Tournament Team. Lammers totaled game highs of 22 points and 10 rebounds in another outing that showed why she deserves mention among the nation's top players. In the opening minutes of the fourth quarter, Lammers scored inside on three occasions and swatted a shot as Concordia mounted its biggest lead of 23 points (73-50).
Junior Quinn Wragge turned in another nice game with 16 points and a pair of steals. Off the bench, Brenleigh Daum struck for 10 points, including a pretty baseline floater and a corner three as part of the team's big third quarter push. In addition to her tenacious defense, Cockerill added eight points and six rebounds.
The Bulldogs ended up shooting 42.9 percent (33-for-77) from the field despite going 1-for-10 out of the gate. The Cougars (12-2) jumped Concordia and led 17-9 at the close of the first quarter. That lead quickly evaporated when the Bulldogs began the next stanza with an 8-0 run. Though Saint Francis star post player Brittany Collins wound up in foul trouble, she still managed to play 30 minutes like each of the team's five starters. Chanel Fanter and Meg Knutson shared a Saint Xavier high with 12 points apiece.
Considering Olson's squad has played the most challenging schedule of any NAIA women's basketball program to date, the 15-0 record is especially impressive.
"It's amazing what they have accomplished so far," Olson said. "At the start of the year, you look at the schedule and make some guesses where you might be. To be 15-0 after playing all these great teams, a lot of them on the road, just shows the toughness they have and it shows their confidence and how much they care."
The Bulldogs will ring in 2018 with a return to conference play on Wednesday (Jan. 3) when they will step foot on the home court of rival Doane (5-9, 1-7 GPAC). Tipoff from the Haddix Center is set for 6 p.m. CT. The lone Tiger victory inside league play came over Mount Marty on Dec. 9. In Concordia's two wins over Doane last season, its average margin of victory was 22.5 points.