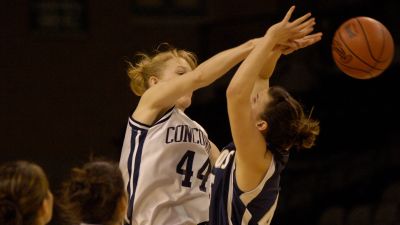 Krueger starred during women's basketball's rise to elite status
By Jake Knabel, Director of Athletic Communications
It was only a matter of time before Sarah Harrison Krueger found her way into the Concordia Athletics Hall of Fame. A native of Stratton, Neb., Krueger arrived at Concordia in the fall of 2001 along with a group of young women that former Bulldog head women's basketball coach Todd Voss calls "possibly the best-ever recruiting class at Concordia in women's basketball and maybe otherwise."
The 6-foot-1 post out of Wauneta/Palisade proved to be a nightmare matchup for opponents. On the well-regarded 2002-03 team, Krueger earned NAIA first team All-America recognition for her ability to do it all. By the time she finished her career she was the program's all-time leader in points, rebounds and blocked shots.
This past summer Concordia announced Krueger as one of five individuals to be recognized as part of the 2015 Hall of Fame class, set to be officially honored on Friday, Oct. 9. But good luck trying to get her to reflect upon her own merits or a career that Voss referred to as "amazing."
"Surprised," Krueger said of her reaction to being included in the Hall of Fame. "Last year I was on the (2002-03) team that was inducted. I got a funny response that came from my niece when my sister told her. She said, 'Didn't we already do this last year?' It's an honor. It's fun. I will say that it is more fun to be inducted on a team than by yourself. Then you get to look forward to seeing teammates that you haven't seen in years. It's a little lonely when you're inducted by yourself."
Krueger is likely the only one surprised by her induction. Her career as a Bulldog coincided with the women's basketball program's elevation to an elite status that carries on into the present. Head coach Micah Parker and Voss, the program's top assistant, had begun to build a monster by the time the 2002-03 season beckoned. Krueger averaged 11.9 points and 6.9 rebounds as a freshman for the 2001-02 team that went 28-6 overall and finished ranked 10th.
The next year Voss took over as head coach for what turned out to be the winningest season in program history. One of the signature moments of that campaign occurred on Feb. 12, 2003, when No. 1 Concordia waded into a hornet's nest that awaited at No. 2 Hastings. At 28-0, the Bulldogs had the look of a national championship caliber team.
The two sides were so good and drew so much attention that fans even tailgated beforehand and, in droves, lined the brand new arena on the Hastings campus. Says Krueger, "I can remember when we were running out for warm ups their crowd was booing us. Naomi Laune looked at me and said, 'That's when you know you're good when the other fans care enough to boo.' I think that's the memory that sticks out the most. I don't know if we actually knew how good we were until a moment like that."
Krueger wasn't intimidated by a crowd as rabid as a classroom of kindergartners hopped up on caffeine. Said Voss, "I had the good fortune to coach in a number of great arenas and in big venues in big games at various levels. As far as game atmospheres, that one at Hastings that 2002-03 season was as good or better than any atmosphere I was ever part of in my coaching career."
The game lived up to the hype. With Concordia trailing by a single point, the Bulldogs drew up a play ("box two") for Krueger that resulted in her making the game-winning shot with two seconds remaining. A Hastings photographer captured the moment shortly after, depicting Bulldog fans going wild. Somehow the photo ended up as a poster inside the arena at Hastings. "I think Bulldog fans will long remember that shot," Voss said.
Krueger and her teammates went on to finish that season at 36-2 after a loss in the national semifinals. She and her classmates put together a four-year record of 123-21. Krueger was one of the stars of the show, in addition to 2013 Concordia Athletic Hall of Fame inductee Kari Saving Keithley and many others.
The 2002-03 team often went a dozen deep on a roster loaded with talent. Amongst those stellar individuals that made up arguably the greatest team in program history, Krueger stood out.
"She contributed to the game in so many ways," Voss said. "She was a great shot blocker. She was a very good rebounder. She was a great offensive threat. She was really reliable and she impacted the game in a number of ways. The other thing that should definitely be pointed out was that Sarah was a very unselfish player. She was totally a team player. She did her job. She's certainly one of the most gifted players I've ever coached."
What Krueger remembers most are some of the many incredible fan-energized atmospheres. There were times when she couldn't tell whether the players or the fans were having more fun. Behind incredible support that followed the Bulldogs all over the GPAC footprint and beyond, Krueger and her teammates kept on winning.
"Looking back on it we just had an amazing group not only of athletes, but a group of women that was dedicated to the team," Krueger said. "We were really disciplined and followed what our coaches taught. I think it started with Coach Parker my freshman year and then continued when Voss took over my sophomore year. There was a starting five, but there was no drop off going to the bench. I think there were 12 players that could be on the court at any given time. That was really, really hard on other teams. That's not something you see very often."
Like many others who have attended Concordia, Krueger also met her future spouse, Josh, while a student. Additionally, she mentioned the caring nature of her professors as yet another special memory of her time in Seward. She ended up at Concordia despite not knowing anyone there, but she's not disappointed with how it turned out. Says Krueger, "It was actually by the grace of God that I ended up at Concordia."
Krueger will make her return next week. Be part of the Hall of Fame celebration by registering HERE. The event begins with dinner at 6 p.m. with the induction ceremony set to start at 7 p.m. Registration is required of attendees.
For more on this year's Concordia Athletics Hall of Fame class, click HERE.