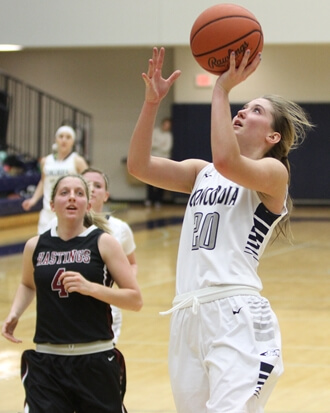 Kohlwey shifts from men's to women's basketball staff
SEWARD, Neb. – A 10-year member of the Concordia men's basketball coaching staff, Marty Kohlwey will shift roles and join head coach Drew Olson's women's basketball staff, as announced by the Concordia University athletics department on Tuesday. Kohlwey will officially begin duties as full-time women's basketball assistant on June 1. He will continue to teach several liberal arts classes at Concordia.
Kohlwey fills the role vacated by Debi Smith, who resigned after spending one year as a graduate assistant and one season as a full-time assistant.
"I am so excited to have Coach Kohlwey join our staff," Olson said. "He is an outstanding leader and a mentor of mine. I know he brings great experience and knowledge of the game, but even more impactful than that is his positive energy, incredible Christian faith and love for his players. He is a perfect fit for what our program is about."
Said Kohlwey, "After prayerfully considering this difficult decision, I feel God is calling me to serve Him in the position of assistant women's coach. Although I will miss working with Coach Limback, Coach Korrell and the men's players, I feel this is the best way for me to use the gifts I have at this time. I am very excited to begin working with Coach Olson and the women's team. I had great respect for Drew as a player and even more as a coach. My goal is to serve him as best I can and to help mentor a championship team that is strong in its faith."
Prior to joining then head coach Grant Schmidt's men's basketball staff, Kohlwey spent one season as an assistant women's coach under Micah Parker. During his six seasons as an assistant for the Concordia men from 1999-2006, Kohlwey helped guide the Bulldogs to a combined record of 128-63 and three trips to the NAIA National Tournament. Kohlwey assisted Concordia to a national runner-up finish and a record of 32-6 in 2005, a national quarterfinal finish in 2003 and a national round of 16 appearance in 2001.
Kohlwey began his collegiate coaching career in 1983-84 when he served as an assistant for Concordia University, Wisconsin. He then became the head boy's basketball coach at Rockford (Ill.) Lutheran High School (1984-1992, 1995-98), where he compiled a record of 182-110, including a mark of 132-43 over his final six seasons.
While at Lutheran High School, Kohlwey won four conference championships, three regional titles, one sectional championship, one super sectional title and made one Elite Eight appearance. He was named Illinois High School Athletic Association District 11 Coach of the Year three times and coached two eventual NCAA Division I athletes.
In addition to his coaching career, Kohlwey also played for the Bulldogs from 1979-83. He was co-captain of the 1982-83 team and collected Nebraska College All-Star honors. Following his collegiate playing career, Kohlwey was invited to try out for the CBA Rockford Lightning, a professional basketball team.
He holds his bachelor's from Concordia University, Nebraska, in theology and physical education. He also went on to earn his master's in family life education and ministry in 1998 from Concordia University, Nebraska.
He and his wife Sue have three children: Stephanie, Kirsten and Micah.