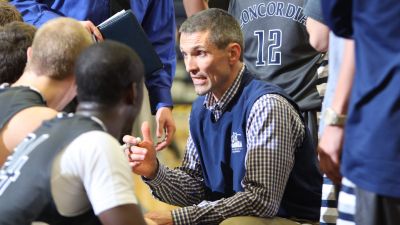 SEWARD, Neb. – Following one season as lead assistant on head coach Drew Olson's women's basketball staff, Marty Kohlwey has announced that he has accepted the position of Director of Campus Ministry and Senior Theology Teacher at Lutheran High School in Parker, Colo. His final day at Concordia will be June 30. Kohlwey has also taught liberal arts courses at his alma mater. Olson now seeks a replacement on his staff.
Wrote Kohlwey in a statement: "God has blessed my family with 18 wonderful years in Seward. In addition, I have had the honor of serving at Concordia University in a number of different capacities. Words cannot express the love and appreciation we have toward President (Brian) Friedrich, faculty and staff, and the whole Concordia community. I am also so thankful for the students and players God has allowed me to share life with while we were here. We have been blessed beyond belief during this portion of our life. Eternal friendships and lessons learned will continue to have impact on us.
"Lutheran High School in Parker has called me to be Director of Campus Ministry and Senior Theology Teacher. God has given me a passion for teaching the Bible, family ministry and staff development and hope He will use me in these areas. I am very excited about the opportunity to work alongside a very talented and faithful staff in Parker. In moving to Colorado, we will be closer to family and have the opportunity to see grandchildren more often since my daughter Kirsten and her family live in Parker."
Kohlwey has served a total of 13 years coaching Concordia men's and women's basketball. The 1983 graduate assisted on four national tournament teams, including the 2015-16 women's basketball team that finished the campaign with a postseason national ranking of 19th. As part of the men's staff from 1999-2006, Kohlwey helped the Bulldogs to a combined record of 128-63 and a national title game appearance in 2005.
Prior to his return to Concordia, Kohlwey guided Lutheran High School (Rockford, Ill.) to a mark of 182-110, four conference championships, three regional titles, one sectional championship, one super sectional title and a state quarterfinal appearance. He was named the Illinois High School Athletic Association District 11 Coach of the Year three times.
Kohlwey earned his bachelor's degree in theology and physical education from Concordia. He holds a master's in family life education and ministry, also from Concordia.
He and his wife Sue have three children: Stephanie, Kirsten and Micah. Marty and Sue also have four grandchildren: Allie, Emma, Ava and Eleanor. Micah played three seasons for head coach Ben Limback's Bulldog men's basketball team.
Statement from Devin Smith, Director of Athletics
Marty will be extremely missed by me, our students and staff throughout this campus. He has played key roles in my professional and personal growth as our relationship grew from the early 1990s. He has been one of two people in my life that has challenged me to be more intentional about my spiritual leadership within athletics at my last two professional stops, Concordia University and Rockford Lutheran High School. This is not a surprise that Marty longs to be closer to his grandchildren and a high school setting where he live out his passions for teaching and leading youngsters to Christ. He has so much to give and he will.
Statement from Drew Olson, Head Women's Basketball Coach
Marty is an amazing Christian man and will be extremely missed at this school and within our women's basketball program. Marty has been one of the biggest influences in my life and with my faith when I played at Concordia. His impact on our basketball team in just one year was impressive. He earned great respect with the players, improved player development on the court, and was a strong Christian influence that every person could go to. Marty's outreach was to everyone on campus. His positive energy was a magnetic force. This is a great opportunity for he and his wife Sue to be closer to family and continue to impact others' lives.