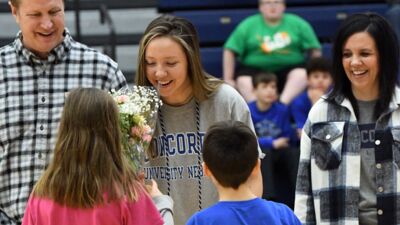 Through her first three seasons wearing Bulldog Blue, Mackenzie Koepke played in 102 of a possible 103 games. Then came the 2021-22 campaign that saw Koepke forced into a role as a spectator and cheerleader. An injury suffered on the first day of the new school year wound up costing the Lincoln Lutheran High School alum her senior year on the hardwood. To be honest, Koepke thought her collegiate career was over.
But the competitor in Koepke wasn't going down like that. Almost a year since the initial injury, Koepke is gearing up for a fifth year within the Concordia Women's Basketball program.
"I thought I was just going to be done," Koepke said. "I changed my mind. I wanted some closure on my basketball career. That's not how I wanted my senior year to go. Just sitting at practice and watching them play together, I was like, I don't want this to be my last memory. I want to make it a year of actually playing."
A partial tear of the ACL last August became a complete tear roughly 10 weeks later after Koepke attempted to rehab with the hopes of coming back at some point during the 2021-22 season. Those hopes were dashed as Koepke planted awkwardly on her knee and crumpled to the floor. A young Bulldog squad had suddenly lost the services of the 6-foot-1 wing who has been named an all-conference player three times in her career. Koepke immediately thought about how she would be unable to share the floor with fellow classmates Rylee Pauli and Chloe Schumacher.
Last year's loss is this year's gain when it comes to Koepke, who began shooting on one foot in the months after recovering from surgery. In terms of the current roster, she's the last link back to the 2018-19 national championship team. In her career, Koepke has totaled 757 points while raining in 181 3-point field goals. Not only did she see extensive minutes on the national title squad, Koepke also helped lead Concordia to a No. 1 ranking at the time the 2019-20 season was called off by COVID-19 and then aided in a national quarterfinal run in 2021.
The special nature of a program built on faith, close relationships and winning had something to do with Koepke's desire to return. "I knew if I was going to play another year, I didn't want to go anywhere else," Koepke said. "I wanted to stay here. I've been able to accomplish a lot at Concordia with my teammates. My freshman year we won a national championship and I want to do that again with this team because they're super special. I want to be able to be part of that experience again. I want the younger girls to experience that too because it's pretty unforgettable."
Koepke will use the preseason to regain her strength and confidence. While going through the process of rehabbing her knee, Koepke reached out to former teammate and All-American Taylor Cockerill, who missed the 2019-20 season because of a knee injury of her own. Koepke says her contact with Cockerill helped her realize she could make a full recovery and get back to being the player she had been.
At her best, Koepke can knock down a high volume of perimeter jump shots and create havoc on the defensive end with her length. In her very first taste of the national stage at the Tyson Events Center in Sioux City, Iowa, Koepke used her go-go gadget arms to make a seemingly impossible block of a 3-point attempt in the 2019 national semifinal win over Northwestern. Later in that contest, she intercepted an in-bounds pass to clinch a spot in the national championship final. In the previous game, a 73-53 blowout of Indiana Tech, Koepke notched 15 points and eight rebounds. Of course, Koepke was also an All-American high jumper for the 2021 Concordia outdoor women's track & field team that won the GPAC title and placed third at the NAIA national meet.
The high jumping days are in the past, but those athletic skills will come in handy on the basketball court this winter. Says Koepke of her progress, "I'm doing good. I'm almost at my seven-month mark and I started full sprints. I can kind of get back to basketball drills that are more intense and require more cutting. The plants and cuts are a little unpredictable."
Koepke joked that she made a pitch to close friend Rylee Pauli in hopes of her using a fifth year, but Rylee played four years of college basketball and was ready to move on with her degree in hand. Pauli will be watching though, and she'll be one of Koepke's biggest fans.
Said Pauli, "It was hard (to see her injured). I loved playing with her. She's one of a kind. She's a great shooter and works really hard. It was tough to see her out from a friend perspective because I know she loves the game. I'm really happy for her that she gets another year to play, and I know she's going to do something great next year."
Coach Drew Olson's 2021-22 team extended the program's run of consecutive national tournament appearances to 11, but he knows the Bulldogs would have been better with Koepke on the floor. There's no substitute for her big game experience.
Olson had this to say about Koepke as part of last season's senior day, "Mack is a big game player. She was a key part of the 2019 national championship team. She is known for her big shots and big playmaking ability. She's never been shy about showing her passion on the court, but Koepke is more than just a basketball player. She is fun, tough, ultra-competitive, compassionate, loving and a great teammate. This season has been difficult as she couldn't help the team on the floor, but she has been a tremendous leader for this team and found her own way to make an impact with her incredible bench energy."
Bulldog fans will look forward to seeing that energy on the court this season as she teams up with the likes of fellow returning All-GPAC players such as Taysha Rusthon, Sadie Powell and Mackenzie Toomey. The aim is to get back to making a push deep into the month of March. No matter the results, Koepke will never have to think back and wonder 'what if.' As in, what if she didn't give herself a true senior season?
With degrees in Behavioral Science and Psychology already earned, Koepke is back for one last ride – and for graduate study in the field of Sports/Performance Psychology. She's thankful for the people that helped her come to this decision.
Says Koepke, "It was a lot of people in my life – my family, Coach Olson, Coach Tae'lor (Purdy-Korell) and my teammates. I did a lot of talking to all of them when I was figuring out what I wanted to do and whether I was going to close that chapter. I'm coming back."