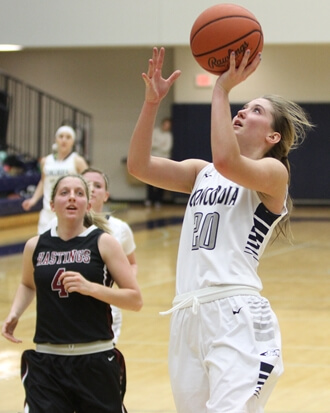 Kistler's game-winner lifts Bulldogs to 70-68 win over William Penn
Concordia's Amber Kistler (Minatare, Neb.) scored with two seconds remaining in the game to lift the Bulldogs to a 70-68 women's basketball win over William Penn College on Saturday afternoon. Concordia improved to 1-1 on the young season with the win, while William Penn slipped to 1-2 with the loss.
Both teams struggled in the opening half of play. Concordia made just 10-of-29 field goal attempts, while the Lady Statesmen went just 10-of-37 (27 percent) from the floor in the first half. The Bulldogs led by as many as 12 (31-19) in the first half, but William Penn cut the deficit to four at 31-27 heading into halftime.
The game remained close throughout the second half. William Penn reclaimed the lead at 48-47 with just over eight minutes remaining in the contest. However, Concordia then went on a key 8-0 run to take back the lead at 55-48 with six minutes remaining.
The Lady Statesmen closed the gap once again, and two made free throws by Sarah Martin tied the score at 68-68 with 11 seconds remaining. Kistler came through with the game-winning layup for the Bulldogs with just seconds remaining, and Concordia held on for the exciting win.
Concordia shot an even 50 percent (15-of-30) from the field in the second half of play. For the game, the Bulldogs were 25-of-59 (42.4 percent) overall from the field, just 4-of-19 (21.1 percent) from deep and 16-of-22 (72.7 percent) from the foul line. Turnovers continued to be an issue, as the Bulldogs turned it over 31 times in the game. Concordia held a 50-43 rebounding advantage in the win.
Treva Nutter (Thedford, Neb.) scored a team-high 13 points for Concordia. The sophomore went 5-of-8 from the field on the day. Kistler added 12 points and nine boards, while Myhiah Dotzler (Omaha, Neb.) chipped in with 11. Kristin Miller (Jefferson City, Mo.) grabbed a game-high 12 rebounds, and Lori Laboda (Parker, Colo.) hauled in 10 boards for the Bulldogs.
William Penn was 22-of-69 (31.9 percent) from the field in the loss. The Lady Statesmen were just 5-of-20 from three point land and 19-of-33 (57.6 percent) from the foul line. William Penn totaled 21 turnovers on the day.
Christa Subbert scored a game-high 19 points for William Penn. Sarah Martin added 12 points for the Lady Statesmen.
Concordia hosts Bethany College on November 9. Tip off is scheduled for 7 pm at the Health, Human Performance and Athletic Center.