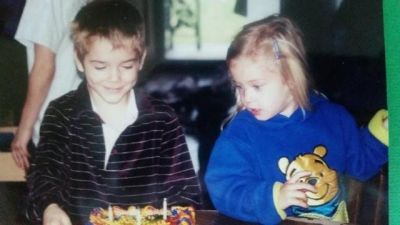 Named 2014-15 GPAC freshman of the year, Mary Janovich figures to be a leader for a Concordia women's basketball team with typical lofty expectations heading into a new season. Janovich continues to make her way back from an ACL tear suffered in practice that ended her sophomore season on Jan. 18. She recently resumed basketball activities and is hoping to be full go for the Bulldogs' season opener versus Dickinson State University (N.D.) on Oct. 28.
Back on campus on Monday for the start of annual girl's basketball camps inside Walz Arena, Janovich sat down to discuss her return to the court, expectations for next season and her brother Andy, who was selected by the Denver Broncos in the sixth round of the NFL Draft back in late April.
Q: Give us an update on your rehab from the ACL tear. Have you been able to do many basketball activities yet?
Mary Janovich: I had surgery February 17 and then I got cleared two days before my four-months post-op, so Coach wouldn't let me play. Neither would (athletic trainer) Randy (Baack). I got to play Sunday (June 26) and I played like five games. It was good. I'm really timid right now, but I'll get more confident as the days go on.
Q: How much of a process is it building strength back in the knee?
MJ: It is a process, but it was actually pretty easy for me to do that. My flexion and extension were the hardest to do.
Q: It's more about gaining confidence back then?
MJ: Yeah, I got a steal in open gym and had a fastbreak layup, but I was not going for it because that's how I tore it. I had flashbacks. I was like, 'you can have this ball' – whoever I threw it to.
Q: How exactly did you tear the ACL in practice? Just on a breakaway layup?
MJ: We were doing a three-on-two continuous drill. I got a steal and the person from the other team comes and she's running me down. We were like laughing at each other because we knew it was a battle to get to the finish. It was no contact or anything. I just planted and went down.
Q: Is that the first time you've had a major sports injury?
MJ: No. Going into my junior year of high school I tore all the ligaments in my left ankle. I was supposed to get surgery but I didn't, and now I'm paying for it.
Q: Even though you're just getting back into it, what have you observed this offseason during the open gyms?
MJ: We're going to be a good team. I'm really excited to see what's in store for us.
Q: What are your thoughts on some of the incoming freshmen?
MJ: I think they're all really good players. They're all going to contribute but a few of them stand out. They're all good girls. It'll be fun.
Q: How proud of your teammates were you in the way they played after you were injured? They went on a pretty good run at the end of the season.
MJ: I was proud. It was really hard to watch every day at practice and then go to the games. They came together. We started to really mesh and then I went down and it took some more figuring out. They were able to do that and did well.
Q: What did your family do for the NFL draft?
MJ: Well he got drafted that Saturday. We knew he wasn't going to go in any of the early rounds. He thought he was going to go free agency. We didn't know. He got drafted that Saturday and that Sunday we all got together. That was pretty cool.
Q: How much do you hear from friends asking about him?
MJ: A lot. We were at a lake the other day and took a couple of the girls from the team. They were just in awe that he plays for the Broncos. It's still kind of weird to me. Someone will be like, 'I just saw your brother.' I'm like, 'I don't care' (laughs).
Q: So everyone's like, 'what are you going to accomplish?'
MJ: Pretty much. I'm living in his shadow (laughs).
Q: What is your relationship like with Andy? I know he was able to make some Concordia games.
MJ: We're super close so that's cool. I was at a wedding and he was changing a flat tire at the time he got the call (about being picked in the NFL Draft). He called me afterwards to tell me. We're really close. It was pretty cool to have him call me about it.
Q: How much have you two been able to get to each other's games with both being busy as student-athletes?
MJ: We actually do pretty well. When he was at Nebraska he got four tickets a game and you could transfer from other players. Since he was a senior he got a lot more tickets. I went to almost every game. I'm going to try to make it to some games out there (in Denver). He told me he'd pay for them because he can do that now. I'm going to take advantage of that. But yeah, he comes to some of our games. I don't think he'll be able to make too many this year.
Q: What options did Andy have coming out of high school?
MJ: He had a scholarship to play for Kearney (UNK). Right before he was going to commit there, Bo (Pelini) called him and offered him to walk on. It was like his dream since he was a little kid to go. He said, 'OK, I'll do it.' He worked himself up to a scholarship. He didn't really get too much playing time sophomore or junior year, but the new coaching staff really gave him an opportunity his senior year.
Q: You have a big family …
MJ: I have 11 siblings.
Q: Is the whole family into athletics?
MJ: Yeah, we're pretty competitive. We have our own Janovich Olympics that we do. It was some lifting stuff, some running stuff, some throwing and some other dumb stuff. Some were really mad in the end results. Andy didn't win. He got second. My other brother won.
Q: So you have a balance of older and younger siblings?
MJ: It's like a 20-year span. The oldest is 40 and I'm the baby.