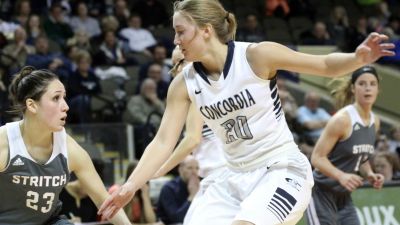 SEWARD, Neb. – Both Mary Janovich and Philly Lammers picked up additional All-America honors last week from the Women's Basketball Coaches Association (WBCA). The organization tabbed Janovich and Lammers as NAIA honorable mention All-Americans on March 14. The WBCA combines both NAIA Divisions I and II when selecting its All-America teams. Excluding honorable mention choices, just 10 players are placed on the WBCA All-America team.
On March 14, the WBCA named 11th-year head coach Drew Olson one of six finalists for its NAIA National Coach of the Year Award. For the third time in his career, Olson (a two-time GPAC coach of the year) has been honored by the WBCA as its Region II coach of the year. The WBCA national award ended up going to Dale Neal of Freed-Hardeman University (Tenn.).
Lammers, also named a second team NAIA Division II All-American, garnered GPAC freshman of the year honors during a standout rookie season for Olson's program. No Concordia freshman in school history had ever garnered All-America honors. The most dominant player in the GPAC on a per-game average basis, the Omaha native topped the Bulldogs in scoring (13.2), rebounding (7.0) and blocked shots (1.24) while shooting 56.0 percent from the floor. In her first taste of the national tournament, Lammers averaged 12.8 points and 9.8 rebounds over her team's four-game run in Sioux City. Lammers is the program's second conference freshman of the year over the past three seasons.
A first team All-GPAC performer, Janovich was also an honorable mention NAIA Division II All-American. Named the 2014-15 GPAC freshman of the year, Janovich collected GPAC defensive player of the year honors this season. The native of Gretna, Neb., averaged a career best 10.9 points as a junior in 2016-17. She also averaged 3.0 assists, 2.6 rebounds and 2.3 steals and shot 52.5 percent from the field, 43.9 percent from 3-point range and 80.0 percent from the free throw line. In her career, Janovich has tallied 890 points and 186 steals over 86 games since arriving in Seward in 2014.
Olson guided the 2016-17 Bulldogs to a record of 34-3, GPAC regular-season and tournament titles and a national semifinal appearance. The winningest coach in program history, Olson's 11-year record stands at 282-91 (.756).