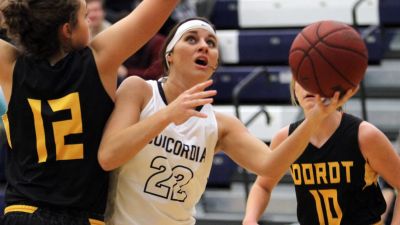 HASTINGS, Neb. – Limit star guard Shandra Farmer to eight points and shoot 49.2 percent as a team and you've got a recipe for a significant road win. Up against the nation's No. 1 scoring defense, the top-rated Concordia University women's basketball team escaped Hastings with a 79-70 win over the 11th-ranked Broncos on Wednesday night (Jan. 24). In order to become a serious challenger for the GPAC regular-season title, Hastings (18-4, 9-4 GPAC) had to have this one.
Twelfth-year head coach Drew Olson's squad keeps humming. It pushed its sparkling records to 22-0 overall and to 14-0 in conference play. The Bulldogs have won 10 times over teams ranked in the top 25 of this week's national poll.
"Mary (Janovich) was fantastic. Defensively, that was one of her better games," Olson said. "I thought the biggest thing was at the start of the second half. She hit a couple of threes that really settled us down. I thought it was then that our team could sense, we're going to win this game because we got that lead early in the third quarter."
The Broncos are one of the few teams that have been able to give Concordia a scare. In the first meeting that took place in Seward on Dec. 6 (a 77-65 Bulldog win), Concordia trailed at halftime. The same scenario played out on Wednesday. However, the Bulldogs found ways to crack Farmer and a tenacious man-to-man Hastings defense. Janovich got loose for a game high 18 points and four steals while Brenleigh Daum brought the sniper (4-for-6 from 3-point range) off the bench.
Daum and fellow sharpshooter Dani Hoppes did the duty of crippling the Broncos with back-breaking triples down the stretch. Daum's trey at the 5:25 mark of the fourth quarter widened the spread to 11 (70-59). A few minutes later, Hoppes emerged with a 3-pointer that made for a 12-point margin (74-62). Hastings did manage to get back within six (74-68) before Concordia iced the game by going 5-for-6 from the foul line and with crucial stops in the final minute.
Leading up to the game, Olson made it a priority for his players to always be aware of Farmer's presence on the court. The All-America candidate had much to do with the Broncos jumping out to a 20-8 lead in the season's first matchup. With the likes of Taylor Cockerill, Hoppes and Janovich hounding her, Farmer ended up 3-for-8 from the field. She also had just one steal this time around. The Hastings backcourt trio of Farmer, Holly Hild and Jordan Johnson went a combined 10-for-29 (.345) from the floor.
Farmer's ability to shake the press did result in Olson making some adjustments. Olson switched from man to zone defense after halftime.
"She carved us up in the press early," Olson said of Farmer. "She got everybody else going and confident. I thought she played really well, but then we did a better job of controlling her in the press at the end of the first half. Then we took off the press and did a nice job of controlling her in the half court. If she doesn't beat us, then we're in really good shape."
Janovich got the clear upper hand in the battle of the guards. Daum aided the cause in a big way with 16 points. Philly Lammers (11 points, nine rebounds) and Quinn Wragge (10 points, two blocked shots) also reached double figures in scoring. Their production helped overcome a 32-24 rebound disadvantage. On the plus side, Concordia won the turnover category (plus-five).
Now the quest for Concordia Invitational Tournament championship No. 28 in program history is on. The Bulldogs will open up play at the 67th annual event by taking on Concordia University-Ann Arbor (15-7) at 1 p.m. CT on Friday. The 2018 CIT will be hosted by Concordia University, Wisconsin, which plays its games inside R. John Buuck Field House.