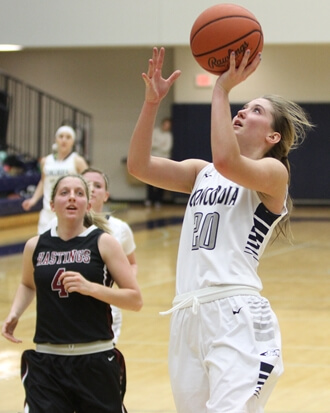 Igniting the spark: Bailey's rise to GPAC's top player
By Jake Knabel, Director of Athletic Communications
The most prolific scorer in the history of Concordia women's basketball never tallied more than 19 points in a single game during her high school career. A secondary scoring option for much of her early hoops career, Bailey Morris grew up rooting for local Hastings College before starring at Silver Lake and Sandy Creek high schools.
Surrounded by other future collegiate players, Morris played the role of distributor for high school teams that produced a combined four-year record of 89-10 and a state runner-up finish. Upon her arrival at Concordia, Morris was asked by head coach Drew Olson to score. Yeah, no problem, coach. Morris answered the call in emphatic fashion.
She came up with her first career 20-point game in her sophomore season at Concordia – and she never stopped scoring.
Says Morris, "That was the first time I ever had 20 and I remember being really excited."
Now at 1,881 career points in a Bulldog uniform, Morris has flown by the program's career scoring record formerly held by Sarah Harrison (1,800). As her current head coach will attest, Morris' success on the collegiate level trumps her level of accomplishment as a prep. Last February Morris announced her arrival upon the national scene with her Concordia single-game scoring record of 45 points in a win over Northwestern.
Wrote Olson in a senior day tribute to his star point guard: "She made herself into the best player in the country with extreme work ethic, great creativity, a love of learning the game by watching film and a competitiveness that is extremely rare. I am so impressed with her ability to take on different challenges and lead this program in different ways throughout her career."
On the basketball court, Morris has done just about everything. The 2013-14 GPAC player of the year delights crowds with her characteristic theatrical flair. In the team's 62-54 win over Doane on Dec. 3, the jet-quick guard dropped a no-look, behind-the-back dime on the break before later crossing a Tiger player over so badly she plummeted to the court.
Even when she's not torching the nets, Morris is the most compelling and most competitive player on the floor. The seven-time GPAC player of the week plays much bigger than her 5-foot-4 inch frame. She's even surprised her opposition with seven blocked shots this season. Basically, she'll do whatever it takes to win.
While her talent as a high school player was obvious, Morris emerged as somewhat of a diamond in the rough considering the lukewarm recruiting interest she received coming out of Sandy Creek.
"I actually wasn't recruited a whole lot," Morris said. "I was looking at Fort Hays (State University) at the time, but I wasn't good enough to play at that level yet, especially as a point guard. I looked at Wayne State a little bit. Cloud County is a JUCO down in Kansas and they wanted me really bad, but I wasn't interested in going to a JUCO. I had come to a camp at Concordia and I had talked to Coach Olson before and I shot him an email. We talked and the rest is history I guess."
Morris hadn't exactly dreamed of playing at Concordia. As a child she idolized Carrie Hofstetter, a former star player at Hastings College and now the Bronco head coach. With Hofstetter an assistant at Fort Hays when it came time for Morris to choose a college, Hastings essentially ignored Morris.
That opened the door for Olson and Concordia, already a powerhouse program, but one Morris was wired to dislike because of its intense rivalry with Hastings.
"Looking back, I'm like, 'wow, I hated Concordia. I can't believe I ended up here,'" Morris joked.
Concordia has proven to be the right place for the explosion of Morris' game. But before the thought of becoming a Bulldog ever crossed her mind, the Clay Center, Neb., native developed her gym rat-like habits at an early age. She started playing basketball in the second grade and credits her father Greg, Hofstetter and former high school coach Russ Ninemire as her biggest basketball influences prior to her career in Seward.
Basketball is more than just a game for Morris. It's a big part of who she is. As a youngster she tagged along with Hofstetter to the gym and learned from her father, who formerly assisted at Sandy Creek High School.
"The love I have for the game of basketball has always been there," Morris said. "A lot of that comes from the people I've played with and the people who have gotten me where I'm at. I wouldn't be able to enjoy the game if those people weren't in my life. It's just always been there."
That passion for the game has helped Morris become the spark that ignites one of the nation's best women's basketball teams. 'Spark' is also what fuels Concordia's dynamic point guard. Instead of reaching for a Snickers, Morris gets a boost from her favorite energy drink mix. She isn't her without her Spark.
"It's funny because I've been called a spark since my sophomore year in high school. Like, 'she provides a spark off the bench,'" Morris explains. "It's just kind of stuck with me. Me and my family laugh about it because I've been called it for so long."
A dynamic player to the max, few adjectives can adequately sum up Morris' greatness or where exactly it came from. Her family tree provides some insight. Her mother Angie played collegiate volleyball and her dad was a kicker at the University of Nebraska-Omaha. She also has an uncle who enjoyed a solid career on the hardwood at Hastings.
Still, few saw Morris' small stature and modest high school senior season scoring average of 13 points per game as signs of future stardom. Even at the NAIA Division II level, Morris often finds herself as the shortest player on the court. She herself would have had trouble forecasting her eventual success and rise to the top of the program's scoring list. She entered Concordia thinking she may even see time on the junior varsity as a freshman.
But Olson quickly saw past Morris' lack of height. She had already figured out how to overcome it.
"I've always been pretty small," Morris said. "When I was younger it was nice because I could just weave in and out of people. I kind of realized my vertical jump my sophomore year of high school. I was like, 'wow, I can jump pretty high.' So that helped and also watching other female players who aren't very big playing college and just seeing how they protect the ball through traffic and how they have to do things a little bit differently to get a pass where they want it to go or to get a shot off. I can't play like someone who's 5-8, 5-9. I have to deal with what I've got so you have to learn different ways to do things."
So brilliant has her time at Concordia been, Morris is even having thoughts of extending her career beyond college – should she be given a chance to play overseas. She knows it won't be easy trying to make it when faced with a ramped up level of competition, but says "if I didn't even give it a shot I'd regret it in the end."
The end has not yet come for Morris and the 2014-15 Bulldogs. What's left? A shot for Morris to reach 2,000 career points and to enjoy an extended stay in Sioux City at the national tournament. What Morris wants most for her team is something she can't quite bring herself to say.
"If I give you the answer I want to give you, Coach probably won't be too happy with me," Morris joked prior to the start of this week's action. "I'm going to say we're going to Midland tomorrow night and getting some work done. I'm really excited to see us fulfill our potential because that's the ultimate goal for this team. I know we have a lot of it."
Sure the one-game-at-a-time line is cliché for Concordia's 'spark,' but who's to argue with the approach of someone whose teams have gone 198-28 over the past eight years? Just tell her what she needs to do to help the team win. You say you want points? How does 1,881 (and counting) of them work for you?