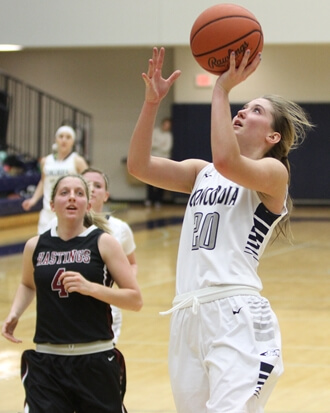 Huge second half lifts Bulldogs to 84-58 win over Doane College
Concordia University exploded for 54 points in the second half and pulled away for an easy 84-58 win over Doane College on Tuesday evening in Crete. The Bulldogs, ranked seventh in the NAIA, improved to 11-1 overall and 6-1 in conference play. Doane dropped to 7-5 overall and 4-4 in the GPAC.
The Bulldogs, who were off since December 10, started slow and struggled with missed shots and turnovers in the opening minutes of the contest. The defense stayed strong, however, and Concordia held an 8-2 lead with 15 minutes remaining. Doane quickly responded with a quick 7-0 run over the next two minutes to claim a 9-8 lead.
The Tigers rattled off four more points to take a 13-8 lead before a basket by Britney Birtell (Madison, Neb.) pulled Concordia back within three at 13-10. The Tigers followed with some easy baskets to take a 19-10 lead with just over 10 minutes left in the half. A layup by Lori Laboda (Parker, Colo.) stopped the Doane scoring run.
With Doane leading 21-12, Concordia used a quick 7-0 run to pull back within two. A 3-pointer by Ashley Daily pushed the Doane lead back to five, but a layup by Kristen Conahan (Omaha, Neb.) pulled Concordia back within three at 24-21. A pair of made free throws from Amber Kistler (Minatare, Neb.) pulled Concordia within one, and a 3-pointer in transition by Conahan gave the Bulldogs a 26-24 lead with less than four minutes to play in the half.
Both teams struggled with turnovers and missed opportunities down the stretch. A put back by Bailey Morris (Roseland, Neb.) gave Concordia a 30-26 advantage, and a free throw by Alyssa Willicott pulled Doane within three (30-27) at halftime.
Concordia forced 13 Doane turnovers in the first half. The Bulldogs were just 12-of-43 from the field, but 17 offensive rebounds and 14 points off turnovers gave Concordia the advantage. The Bulldogs had 43 shots in the half compared to just 26 for the Tigers. Conahan scored 10 first half points to lead the way offensively.
The Bulldogs settled in and completely controlled much of the second half. Concordia scored the opening eight points of the half to extend their lead. Doane didn't score for over four minutes to open the half. A jumper by Cali Bellar ended the Bulldog scoring run and cut the deficit to nine at 38-29. Another quick four points cut the CU lead to five at 38-33 with just over 13 minutes remaining in regulation. The Tigers pulled within three, but back-to-back layups by Kistler pushed the Bulldog lead back to seven at 42-35. Kistler's layups sparked Concordia, and the Bulldogs began to pull away.
With nine minutes remaining in regulation, the Bulldogs opened up a 54-41 lead. A pair of made free throws by Laboda increased the CU lead to 58-44. A jumper in transition by Jericca Pearson (Gibbon, Neb.) and a 3-pointer by Beth Kohmetscher (Deweese, Neb.) gave Concordia a 63-44 advantage with seven minutes to play. The Bulldogs poured it on down the stretch and secured the 84-58 victory.
Concordia finished just 29-of-81 (35.8 percent) from the field. However, CU held a commanding 53-38 rebounding advantage, including a 28-13 advantage in offensive rebounds. The Bulldogs finished with 33 points off turnovers and 25 second chance points in the victory. Kistler came on strong in the second half to finish with a game-high 23 points. Conahan added 12 points, and Laboda delivered a double-double with 11 points and 13 rebounds on the night. A total of 13 players scored for the Bulldogs.
Cheryl Braithwait scored a team-high 13 points for Doane. Cali Bellar and Madara Upeniece added 10 points apiece for the Tigers.
The Bulldogs travel to Colorado for the Johnson & Wales Classic on December 29 and 30.