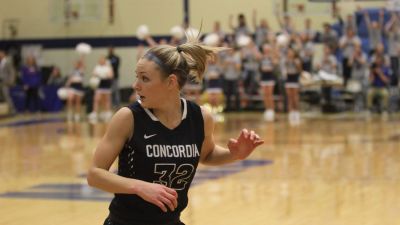 MEQUON, Wis. – Amidst the amped up environment that comes with the annual Concordia Invitational Tournament, the Bulldogs found the CUW rims to their liking. Senior Dani Hoppes drained six of her first seven 3-point attempts and the well-oiled machine chugged along with a 104-66 win over Concordia University, Ann Arbor in Mequon, Wis., on Friday afternoon (Jan. 26).
Any question about whether a quick turnaround and long road trip would wear out the top-ranked Bulldogs (23-0) was answered quickly – with a 30-point first quarter for 12th-year head coach Drew Olson's squad. Olson has guided teams to eight CIT championships over the previous 11 seasons.
"They brought great energy," Olson said. "It's just amazing every game. They have such good focus and there's no letdown. That just shows the maturity of this group. They play really hard."
For stretches of Friday's contest, the Bulldogs appeared nearly unstoppable. CUNE maximized its speed and quickness advantages while seeking out Hoppes for triples early and often. She finished with a game high 22 points on 8-for-12 shooting in a frenetically paced affair. If Hoppes couldn't find an opening, all she had to do was look inside to Philly Lammers as part of a devastating inside-outside punch.
Coached by CUNE alum Thad Sankey, the Cardinals (15-9) got within 16 (66-50) in the third quarter after trailing by 22 shortly after halftime. Things later got ugly when the Bulldogs made a patented fourth quarter explosion, rattling off the first 15 points of the period to make it another runaway. Five different players scored during the splurge that included a triple apiece by Brenleigh Daum and Sydney Feller.
CUNE's tenacity on the defensive end has had a way of stifling the opposition's top threat. Though Kari Borowiak and CUAA limited their turnover count to a respectable eight in the first half, things came unraveled with 24 giveaways over the final 20 minutes. Borowiak went just 1-for-8 from the floor and her four points were well below her season average (20.2).
Hoppes stole the show with shooting that bordered on ridiculousness. The transfer from Midland experienced CIT at home last season and now has gotten a taste of CIT on the road.
"It's a lot of fun. So many people drive out – our parents and fans and everyone else," Hoppes said. "Even though it is so far away, just the excitement that it brings is awesome."
One-hundred point outings at CIT are not unfamiliar for the Bulldogs, who opened up the 2017 event with a 107-65 thumping of Concordia University, Wisconsin. CUNE got plenty of offense once again with 14 different players registering in the scoring column. Lammers put up 15 points on 6-for-8 shooting from the floor while Mary Janovich totaled 10 points, six rebounds and three steals. Off the bench, Colby Duvel (12 rebounds) and Shelby Pollman (10 points, 4-for-6 shooting) made significant contributions.
"It helps that we knock down shots like Dani did," Olson said. "That's how we want it to be. We want the pace to go on a frenzy. It's going to wear them down quicker than us because of our depth. We don't want to give up 19 (in the first quarter), but we know in the long run it's going to work out."
CUAA had no way of keeping up while mired by turnovers – and its 41.1 percent shooting paled in comparison to the Bulldogs' clip of 50.6 percent. Hoppes and her teammates went 15-for-33 from 3-point range. The lone Cardinal to reach double figures was Michelle Murnen (13).
The 67th annual Concordia Invitational Tournament will continue on Saturday when the Bulldogs take aim at their 28th all-time CIT title and fifth in a row. In the program's most recent CIT championship in Wisconsin, CUNE toppled CUAA in the title contest, 70-50. Saturday's championship tipoff is set for 5:30 p.m. CT. The opponent will be Concordia University, Chicago (15-3), which got past Concordia University, Wisconsin, 71-61, on Friday.