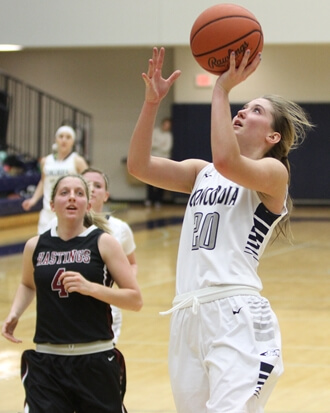 Hizer picks up the slack; 'Dogs paddle to GPAC title game
SEWARD, Neb. – The third-ranked Concordia University women's basketball team is headed to the GPAC tournament title game for the second time in four years. Despite making only two of their first 13 shots from the field, the Bulldogs knocked off rival Hastings, 67-60, in Saturday's GPAC semifinal that paired teams ranked inside the nation's top 15.
With the victory, ninth-year head coach Drew Olson's 2014-15 squad (30-2) became the fourth team in program history to reach the 30-win mark.
"That was a great game. I'm really proud of our kids," Olson said. "That was an emotional win for a lot of different reasons. I'm just so proud of our group and the preparation the last two days was the most focused that I've ever seen this team. It paid off."
Concordia responded to a five-point second-half deficit with a 20-7 splurge that ignited a spirited Walz crowd. The run included a pair of triples from freshman Mary Janovich and a roof-blowing block from senior All-American Tracy Peitz. The lead moved to 57-49 after sophomore Becky Mueller fluttered in a trey at the 3:46 mark.
But the star of the day turned out to be senior guard Kelsey Hizer. Known for her tenacity as a defensive stopper, Hizer poured in a team high 15 points, including three critical tallies on her trey that turned a three-point lead into a six-point cushion (63-57) with 22 seconds left. Twelfth-ranked Hastings (22-8) answered with a Michaela Barry triple, but failed to score on its final two possessions.
In one of the best performances of her career, Hizer showcased her typical lockdown defense while seeing 35 minutes of action. She helped limit star Bronco Jamie Van Kirk to 14 points (3-for-9 shooting).
"Kelsey's job on Jamie Van Kirk was fantastic," Olson said. "Van Kirk is one of the best players in our league and Kelsey did a great job."
Peitz also made two key drives to the bucket that resulted in her making 3 of 4 free throws late in the game. On a day when Concordia mustered only a 33.3 percent (19-for-57) effort from the field, its 24-for-29 (.828) performance from the free throw line proved crucial in earning its third win of the season over Hastings.
Peitz finished with 12 points (4-for-5 from the field), eight rebounds, two blocks and two steals in a stellar all-around performance. Becky Mueller (14 points) and Janovich (10 points) also reached double figures for the Bulldogs. In addition, Shelby Quinn made her sixth start of the season and played a career high 34 minutes, providing steady ball-handling and a calming presence.
The starters were counted on for the lion's share of the workload, but Olson had plenty of compliments to go around.
"Hastings is No. 12 in the country for a reason. They're very good," Olson said. "I could see them making a run in the national tournament. They have some great players. That's why I'm so proud of the way that our kids played.
"I thought it was our kids stepping up and making plays. Defensively we were there the entire game, but offensively it was how were we going to find ways to score. We did have some kids step up. Mary hit a couple threes. Then you had Kelsey's three at the end and Becky hit one, too."
Hastings' Teeka Thompson led all players with 19 points. She did most of her damage in the first half (15 points) when she made all three of her shots from distance. She later fouled out with 4:13 left in the game. As a team, head coach Carrie Hofstetter's team shot 34.5 percent (20-for-58) from the field and 83.3 percent (15-for-18) from the free throw line.
The chalky GPAC bracket has been trimmed to No. 1 Morningside and No. 3 Concordia for Tuesday's GPAC title game set to take place at the Rosen Verdoorn Sports Center in Sioux City, Iowa. Tipoff is slated for 6 p.m. The undefeated Mustangs (32-0) are responsible for the Bulldogs' only two losses this season. One week ago, Morningside edged Concordia, 77-76, in Sioux City.