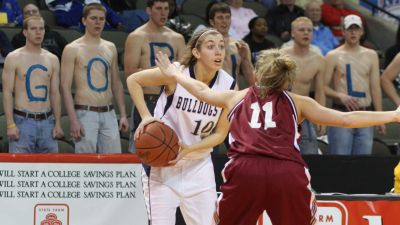 One of the greatest Bulldogs ever to star on the hardwood didn't necessarily want the spotlight, but she thrived underneath it anyway. After scoring 23 points over the opening 20 minutes of a win over Sioux Falls in February 2007, Whitney Daberkow (maiden name Stichka) hid in the corner of the locker room at halftime, embarrassed by her own success. Joked Whitney, "My husband (Dayton) says I go into turtle mode sometimes. If I get attention I blush really easily."
Then only a sophomore, Daberkow equaled a then single-game school record with 35 points on that particular day. But her signature playing moment came just over two years later when Concordia trailed, 73-72, with 8.1 seconds remaining in a second-round game at the 2009 national tournament. A fifth-year senior version of Daberkow proceeded to go the length of the floor before sinking a highly contested driving layup to lift the Bulldogs to a dramatic win over Cornerstone (Mich.). The play-by-play announcer beamed, "You knew she was going to take it, and Cornerstone couldn't stop it."
"I remember that I didn't want it to be my last game," Daberkow recalled. "I just didn't want to be done. I loved to play basketball. I had that motivation. We were down by one and I knew I needed to score in the few seconds we had."
Now Daberkow is back under the spotlight thanks to her selection as a member of the Concordia Athletic Hall of Fame class of 2016. Upon her official induction in October, Whitney will be expected to stand before the assembled crowd and deliver a speech. Her college head coach for three seasons, Drew Olson, suspects she'll be nervous when she first begins to speak but also that she'll pull through, just as she always did for Concordia.
But don't mistake her, Daberkow has always had a playful and personable nature. She once imitated Olson for an end-of-season highlight video. Says Olson, "She was goofy. She made fun of me all the time – and made fun of her teammates." Admitted Whitney, "We liked to make fun of Coach Olson," while adding, "(Assistant Coach) Brett's (Muller) an easy one to pick on."
But no joke was the way Daberkow could score. Previous head coach Todd Voss saw her as a two-guard, but Olson took over in 2006 and gave Daberkow control as the team's point guard. He simply wanted her to have the ball in her hands as much as possible.
It worked. Whitney became the first Bulldog ever to put up 34 points or more in a game twice on her way to 1,765 career points and two national tournament appearances before her graduation in 2009. While trekking across campus, Daberkow frequently donned glasses and "kind of looked like a nerd," as Olson said with a smile. But once she hit the court she traded in the spectacles for a cape. Thus the reason Olson jokingly referred to her as Clark Kent.
"She was a phenomenal player, but when she stepped on the floor you wouldn't have guessed that she was the best player," Olson said. "She had that killer instinct inside of her. She always wanted to step up and make big plays. She was incredibly humble. She didn't really want the spotlight. She had that killer instinct but it wasn't like she really wanted to stand out and be the star. She wanted to kill you quietly."
A native of Ruskin, Neb., the quiet assassin came out of Deshler High School and the same hometown as Amy Voss, the wife of Todd Voss, then the head women's basketball coach at Concordia. After considering attending the University of Nebraska as a student only, Whitney settled on Concordia and Hastings as her top choices. She visited both and came away with a clear leader. Recalled Whitney, "I remember being on campus (at Concordia) just knowing, like – 'yes' – this is where I'm supposed to be."
All her time at Concordia did was validate that sentiment. While in Seward she developed close friendships and met her future husband Dayton (brother of current Concordia football assistant coach Patrick Daberkow. Whitney and Dayton now have three kids under three years of age: twins Elliot and Ruby – both two – and four-month-old Thatcher). She's extremely blessed to have followed her father's advice. Her dad encouraged her to give college basketball a shot.
"Now that I'm done with playing basketball competitively I'm so happy I did it," Whitney said. "Coach Olson is a really good coach. His style meshes well with my style of play. Half my wedding party was basketball players. (At Concordia) You get to spend every day with your best friends. You can't ask for anything better than that."
Some of Concordia's more memorable wins during the Olson era came with Whitney at the controls. Of course the Cornerstone game comes to mind for her, but so does the November 2008 upset of NCAA Division II University of Nebraska-Kearney. Whitney led all scorers with 33 points in the stunner in Kearney. Said Whitney, "We were in the training room with a lot of UNK players and they just kind of put their noses up to us. They thought we were less of a basketball team than they were, I guess. When we beat them that was pretty sweet."
Whitney (Stichka) Daberkow made a habit of showing up big in big games. No wonder the honors followed. Three times she was named both first team all-GPAC and an All-American (first team in 2009). The latest athletic honor is selection as a Concordia Athletic Hall of Famer. It's back to center stage for Whitney, who has done her best to razz her brother-in-law Patrick (former Bulldog football player) – not a member of the Hall of Fame.
"I was pretty surprised," Whitney said of hearing about her Hall of Fame selection. "Angela Muller had texted me. She was actually the assistant coach when I was being recruited. That was neat to hear from her about it. I was really surprised and really honored."