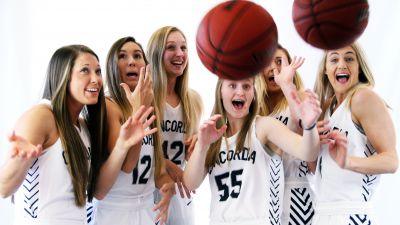 What group of athletes in college athletics has had it better over the past four years than the seniors who make up the backbone of the powerhouse Concordia women's basketball program? Seriously? Consider not just the winning (there's been a whole lot of that) but the shared journey in locations both near and far – from Seward to Sioux City to Chicago to Hawaii and back.
You can't get the big-time experience at a small school, some may say. Think again. Roughly 2,000 fans made for a raucous environment on Feb. 12, 2020, when the Bulldogs hosted rival Hastings in a battle of GPAC title contenders.
"This is why you come to Concordia," said head coach Drew Olson soon after being greeted by a throng of media members that gave the evening even more of an NCAA Division I type of feel. Continued Olson, "You get to play in big games. You get to play in atmospheres like this. This is what you dream about as a little kid. It's so much fun to play in."
The senior class of 2019-20 started this excursion with eight members and grew by one more with the addition of transfer Grace Barry prior to the 2018-19 season. It's rare these days for an entire class of teammates to stick together all four years, but this one is uniquely special. There seemed to be a sense that true four-year greatness and unprecedented results were attainable. The senior class record of 130-10 is shockingly good.
But for each of those 130 wins (a school record over a four-year period) the stories that come along with them are much more memorable. This group understands when the moment calls for seriousness and focus or when it necessitates laughter and light-heartedness. As a freshman at the national tournament in 2017, Colby Duvel shared a hotel room with classmates and now fellow seniors in Maggie Goltz, MacKenzie Helman and Philly Lammers. At the time, Philly wasn't too fond of the giggling heard around her as she tried falling asleep on that particular night.
Explains Duvel, "After a short while of time, Philly sat up and said, 'Can you guys be a little quieter? I have a game tomorrow!!' S­he did not hear the end of that comment for a solid 25 minutes and then from the rest of the team that tournament. We all had to make sure Philly was ready for HER game. The jokes were pretty continual that entire trip and have lingered into each tournament."
Those types of memories stand the test of time. Of course there are specific games that will be long remembered. The spirited atmospheres like the one this week versus Hastings become ingrained in memory, even decades later. A mild-mannered type of person off the court, Lammers has a keen sense of how each of the seniors complement one another.
"We really balance each other out," Lammers said. "We're all such smart, strong women and independent. We support each other in who we are. We don't judge each other. We love each other. On and off the court we're friends. We want to see each other succeed more than anything else. When that happens we're excited for each other."
One of the shared bonds for these seniors revolves around the achievement of the first national championship title in program history. When they arrived for classes in the fall of 2016, Olson's program had been roughly a year-and-a-half removed from an agonizingly close loss to Morningside in the 2015 national championship game. In terms of values or priorities, nothing changed for Concordia women's basketball in spite of some of the heartache of coming so close to winning it all.
It's true that this class landed in an already healthy, winning environment. No rebuilding efforts were needed. It was about reloading and pursuing the ultimate goal without having to compromise anything the program stands for: faith, family and basketball. In 2016, Olson welcomed a class that would become more than he could have ever imagined. It included:
· Madi Daly (Mullen, Neb.)
· Colby Duvel (Max, Neb.)
· Maggie Goltz (Falls City, Neb.)
· MacKenzie Helman (Lincoln, Neb.)
· Philly Lammers (Omaha, Neb.)
· Sara Sauceda (Parker, Colo.)
· Taryn Schuette (Sabetha, Kan.)
· Riley Sibbel (O'Neill, Neb.)
They will go out just the way they came in: together. They also were smart enough to fully embrace Amazing Grace Barry, who crashed the party last season. The Lincoln East High School alum, who went head-to-head with Lammers in a high school state championship game, was the final piece to the national championship puzzle.
"When I transferred to Concordia I was looking for two things: to play great basketball and to be around loving and servant minded individuals," Barry said. "Here at Concordia I believe both of these goals have been met. Coach Olson and the Concordia women's basketball staff have done a great job of instilling values of respect, academic excellence and work ethic within our team."
Ultra competitiveness is a trait that consumes the entire senior group. There's plenty more to it. Barry will do whatever it takes to win, but she's also a very caring individual. Duvel is the social butterfly and the 2019 homecoming queen. Sibbel is tough and gritty. Olson calls Helman "fun-loving, happy and a little awkward." An all-time great, Lammers is a perfectionist in all aspects. Schuette is a "character" and the inspiration behind a Twitter parody account her freshman year (think "Pen Pineapple Apple Pen"). The remaining three seniors play roles off the court. Sauceda is affectionately known as "Sauce." She certainly helps keep the mood light.
The old cliché about being greater than the sum of its parts fits this group. No one wanted to see Taylor Cockerill suffer a season ending injury in the exhibition game at Creighton back in October, but this team didn't flinch. The veteran leadership was too strong. Here they are with a chance at being conference champions all four years.
Olson is sure their impact will live on long after they graduate with degrees from Concordia.
Says Olson, "They are all strong Christian women who will impact others throughout life's journey. I know they have influenced their teammates, coaches and community members. They are just great personalities that I have enjoyed getting to know and be with on a daily basis. They are part of my own family just as much as they are part of the Bulldog family. I loved getting to coach them and am thankful they allow me to coach them the way I do."
To play for Olson, student-athletes must be all about the team. With the style this program employs, it's rare for any single player to average much more than 25 minutes per game. The seniors have embraced making sacrifices for the good of the team. They know the benefits that come with it.
"As I was in the process of choosing which college would be the best fit for me, it really came down to the core values that each team instilled in their players," Schuette said. "When I visited Concordia, there was something that clicked with me and it was everything that I was wanting in a school. The way I saw people interact with one another on the team and previous success was something that I knew I wanted to be a part of."
The seniors have put their trust in Olson as a coach. The positive yields have been obvious in the results and the relationships formed. Says Sibbel, "I cannot say enough good things about Coach Olson. He understands each and every one of his players and adheres to how each individual needs to be coached. He is a man of faith, who portrays the love of Jesus through his actions. Our senior class would not have experienced so much success without him."
Oh the memories. It's going to be difficult to watch it come to an end – but here's to one last hurrah in Sioux City and a shot at another national championship.
Says Helman, "I still remember the confetti coming down at the National Championship and making snow angels in the confetti. Dreaming of that moment and then celebrating that moment in time with my teammates – especially after coming so close the year before and watching Dakota Wesleyan celebrate in the confetti – it made it even sweeter. Road trips were always fun and I loved the time that I got to really spend getting to know my teammates on a really personal level. Also, being able to go to Hawaii, Arizona, Florida and many other cities are memories and experiences that I will always remember."
Adds Duvel, "As far as the amount of success we have had, I am baffled when I think about the wins and the losses, because the caliber of play is so much higher than it was in high school. However, the relationships made during the process surpass it all. Being surrounded constantly with brothers and sisters in Christ is truly a life changing experience."
And if you happen to see Philly, please do not disturb her. She has a game tomorrow. Like her senior teammates, Lammers is driven to boldly pursue more everlasting memories. The final chapter is yet to come for the program's winningest class ever.