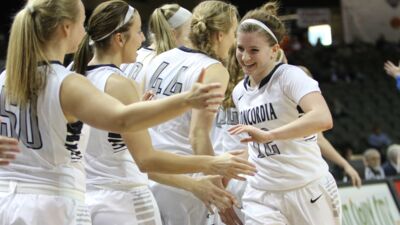 The debate as to who is the best and most accomplished player in the history of Concordia Women's Basketball starts with Bailey Morris, the program's first and only national player of the year award winner. From 2011 through 2015, Morris captivated audiences inside Friedrich Arena and across the GPAC landscape with the way she commanded the basketball like she had it on a string. She crumpled opponents with the crossover, whirled behind-the-back passes in transition and played with the kind of flare that demanded attention.
She was Concordia's Caitlin Clark before Caitlin Clark entered the public's consciousness. Even in the years since her college days, Morris laces up the sneakers and has people turning their heads and wondering: 'Who's this 5-3 girl. Does she play basketball?'
"I got to UNK (as an assistant coach) and nobody really knew who I was," Morris said. "I was far enough removed from college that nobody knew who I was. The first time I played with them was my opportunity to get some credit with them. There were times when it was hard for them to guard me. I was just playing. I think it helped me build some rapport with them."
In the present day as a coach, Morris is still too competitive to give in, even while filling in as a scout team player on the practice courts. Officially, she was listed as 5-foot-4, by the way, when she starred as a dynamic point guard for Head Coach Drew Olson. As a 2,000-point scorer and the 2014-15 NAIA Division II National Player of the Year, Morris had an idea this day was coming. Sooner rather than later, Morris was going to be selected to the Concordia Athletics Hall of Fame. Word was released to the public on July 18. She will go in as part of the Hall of Fame class of 2023.
Eight years since her collegiate playing career ended, Morris remains the gold standard. Words really won't do her game justice. She was fiery competitive – and then some. She scored a lot obviously, but she wasn't just a scorer. Oftentimes Olson's great teams have displayed incredible balance, meaning individuals sometimes sacrifice statistics for the good of the team. In this case, for 'the good of the team' meant giving Morris the green light.
Not long before one of Morris' signature performances, she had a memorable conversation with Olson. He was empowering her to takeover. Recalls Morris, "Coach Olson and I were in the gym shooting. He asked me how many points I thought I could score in a game. I was like, 'what kind of question is that?' He goes, 'there's going to be a game this year where we need you to score over 40 for us to win.' I was like, 'you want me to score 40 points?' I'm not sure I necessarily believed him. I credit him a lot for his belief in me. It's still kind of crazy when I think of it."
Just a couple weeks after that conversation, on February 15, 2014, Morris poured in a still-intact school record 45 points as Concordia sunk Northwestern, 89-78, in a showdown of top 10 teams. The occurrence put Morris on the front of the NAIA homepage, resulted in her being named NAIA National Player of the Week and brought Lincoln TV stations to Seward to explain it. In the era of GPAC athletics, there is not a single Concordia athlete that has received more media attention than Morris, always an engaging interviewee.
Back on senior day of the 2014-15 season, Olson said the following of Morris, "She made herself into the best player in the country with extreme work ethic, great creativity, a love of learning the game by watching film and a competitiveness that is extremely rare. I am so impressed with her ability to take on different challenges and lead this program in different ways throughout her career."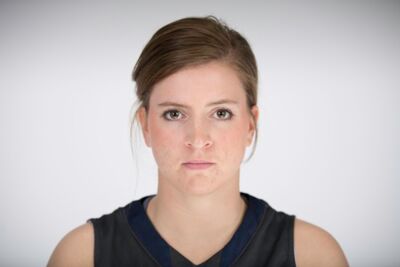 The central Nebraska native and Sandy Creek High School graduate went on to average 18.5 points per game during a magical senior season that included a GPAC tournament championship, an appearance in the national championship game and an overall record of 35-3. The Bulldogs were two points shy of winning the whole thing.
But there are so many positive memories that help lessen the blow. The teams Morris played for won a combined 119 games over four seasons and firmly established Concordia Women's Basketball as a national powerhouse (if it hadn't already claimed that status). Some of the most heralded teammates who played alongside Morris included the likes of All-Americans Kristen Conahan, Amber Kistler, Tracy Peitz and Katie Rich.
Collectively, they had a blast while winning at an impressive clip. Morris remembers the fun games Coach Olson would put together before practices and the silly things they did for fun – like a 'Harlem Shake' video. Remember the Harlem Shake?? Fans of the Bulldogs adored watching Morris. Ahhh, those were the days.
"The Seward community was so supportive during my time there," Morris said. "They really enjoy good basketball. It didn't matter if we were playing in the national championship game, CIT or a random nonconference game in November." In a stream of memories, Morris continued, "As a sport management major, I had classes in Walz all the time. I would stop by Coach Olson's office all the time and we would just sit and talk basketball. I really enjoyed those conversations. Those are some good memories for me. Those things have carried with me over the last eight years. I had some great teammates and great relationships during my career. I'm really grateful we had a team full of great women."
Those teammates seemed to understand that the spotlight was drawn to Morris. After never having reached 20 points in a high school game, Morris regularly hit that mark over her final three seasons of college basketball. She won GPAC Player of the Year awards as a junior and senior and posted at least 34 points in a single game on four occasions. Her highest output on the national stage was 34 points in a 2015 win over College of Saint Mary.
In the famed 45-point game, Morris nailed 12 shots from the field, went 4-for-8 from 3-point range and was nearly perfect from the foul line (17-for-18). But as she tells the story, the beginnings of that contest did not exactly hint at the legendary performance that was about to happen. Said Morris, "My first shot I bricked it – I don't think it even hit the rim. I think it was a three around the top of the key. I thought it was going to be a long day. We're playing Northwestern and it was like the NAIA Game of the Week. I remember shots were going in the first half. I had like 28 points at halftime and I remember thinking that was a lot. Shots were going in and I was drawing a lot of fouls. Sometimes the ball just goes in."
In one of the more comical public moments of Morris' college career, she helped then freshman Mary Janovich through an awkward interview moment. Concordia had just cruised past Jamestown, 76-59, in the 2015 national quarterfinals. As a Sioux City Journal reporter held his recording device close to Janovich, he finished his prompt in saying, "It almost looked like defense led to offense." Janovich replied, "Defense does lead to offense. When we get stops, that leads to offense and baskets and everything." After some uncomfortable laughs, Morris, standing to Janovich's left, chimed in, "She's a huge defensive player for us. I love having her up in the press."
Academically, Morris studied Sport Management as she attempted to discover what might lie ahead when her hooping days would end. Unfortunately, it wasn't the storybook finish Morris had so badly wanted. Concordia was edged out by arch nemesis Morningside, 59-57, in the 2015 national championship game. Always a student of the game and avid film watcher, Morris couldn't stomach watching the ending. She jokes, "I still haven't watched the second half of that game and I don't think I ever will."
The competitive fire never stops burning in Morris, who briefly entertained some sort of post-collegiate playing career. As it turned out, the next best thing to competing on the court is competing on the sidelines. Still young in her career, Morris has already experienced many different programs at different levels. She has bounced from Oklahoma Wesleyan University to Dakota Wesleyan University to Briar Cliff University to the University of Nebraska-Kearney and then to her current role as Director of Basketball Operations at the University of Idaho. In the two most recent stops, Morris has worked under Carrie (Hofstetter) Eighmey, a former Hastings College star and someone Morris has always viewed as a mentor.
In her time at Dakota Wesleyan and Briar Cliff, Morris made trips back to Seward and got a taste for what it was like going up against Concordia. One of those trips included a classic 78-77 overtime win for the Bulldogs over DWU in the 2017 GPAC tournament title game. Morris probably wished she could have been out there playing. In her words, "Nothing compares to being on a sports team. Competing as a coach is way different than competing as a player, but it's still there."
As for going against Concordia, says Morris, "It was weird. It was nice coming back to see everybody, but it was weird sitting on the other bench, being in a guest locker room and showing up on a bus. It was fun to see everybody, but it was competitive. Those matchups with Dakota Wesleyan got a little heated at times. At the end of the day, I was going to talk to Coach Olson afterwards. Of course, I leave and then they go win a national championship. I have a lot of love for Concordia. It's always special to go back."
When she goes back, Morris' mind may start to think back to when she was first recruited into the Concordia program. There wasn't all that much fanfare, but Olson seemed to believe he had something special. Morris was an immediate contributor off the bench for the 2011-12 Bulldogs that swept GPAC regular season and tournament titles and advanced to the national semifinals. Morris entered college along with Kelsey Hizer, Ashley Kuntz, Jerrica Pearson, Tracy Peitz and Rachel Royuk.
"I remember my recruiting process was pretty short and easy," Morris said. "It wasn't like it is today. I know a lot more about it being on the other side of it, going to tournaments and recruiting kids for years. I never played AAU and didn't get highly recruited. I think I went on a visit to Concordia in January of my senior year. I committed like two weeks later. When I look back at that, it's changed a lot. Then I think about the people placed around me in my class. We were one of the bigger classes at that time. I think there were six of us who made it all four years. It was a really special group. We were all meant to be there at that time. There were so many people I remember and moments that will stick out forever."
Eight years later, time gone by in the blink of an eye, Morris pealed open a large envelope with a Concordia University, Nebraska mailing label. Were they asking for money? That was the first thought. At the time, still in the process of moving into her new apartment in Idaho, Morris read the note that informed her of her hall of fame selection.
"I was just exhausted," Morris said. "It had been a long 10 days. I opened it up and my parents were still outside with the U-Haul. I opened it up and read it. I sat there and stared at it. It completely caught me off guard, in a good way. In the back of my mind, I thought it might happen eventually, but it's not like I was sitting there waiting for a letter or a call. It's a really cool thing. I was able to call and tell my family and I texted Coach Olson. I had a great experience at Concordia and I'm really excited to get back."
Back to the place where Morris realized her full potential, the place that gave her a platform to unleash her astounding talents. Should anyone forget, just check out the YouTube highlights. And for those who really want to know, she's still got game. The players Morris has coached can attest to that.
Morris continues to be characterized by competition and a love for the game. Remarks Morris, "If I was writing a book about how I thought my career would turn out, it would definitely not have looked like this, but I'm glad it did."