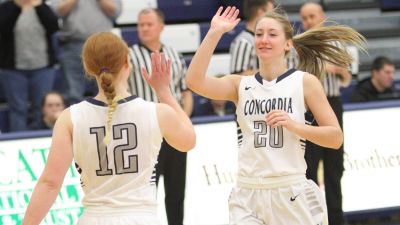 SEWARD, Neb. – The Mary Janovich from last year's national tournament run returned on Saturday and the 14th-ranked Concordia University women's basketball team put the squeeze on No. 4 Briar Cliff in the fourth quarter. The Bulldogs rallied from a deficit as large as 10 points in the 77-75 victory inside Walz Arena.
Janovich's clutch 3-point shooting helped Concordia run its winning streak to seven. Tenth-year head coach Drew Olson's squad owns three wins over ranked opponents and now sits at 11-3 overall and 6-3 in conference action. The Bulldogs are 64-8 at home since the beginning of the 2011-12 season.
"I knew it was going to be a really tough game – two really good teams," Olson said. "It just came down to getting stops and hitting some big shots. We were fortunate enough to do that in the fourth quarter."
Concordia clamped down in the final stanza and held the Chargers (12-3, 5-3 GPAC) to just eight points in the closing quarter (only two over the last 7:57 of game time). Janovich and junior Shelby Quinn (combined 7-for-11 from 3-point range) took advantage of sputtering Briar Cliff. Janovich knocked down two crucial treys from the right corner before Quinn provided the game's final points with a triple that made it 77-75 with 2:19 remaining.
Janovich, the 2014-15 GPAC freshman of the year, put up 11 of her season high 19 points in the second half in busting up the Briar Cliff 2-3 zone. Meanwhile, the 5-foot-5 Quinn, unafraid to shoot from well beyond the arc, went off for her first career double-double (14 points and 10 rebounds) while seeing 32 minutes of action.
"Coach told me and Quinn before the game that we had to look to score," Janovich said. "Shelby hit some big shots at the beginning and we knew we had to help her out. I was open so I just pulled the trigger."
Olson's club also got key performances from freshman Quinn Wragge (13 points and eight rebounds) and senior Jenna Lehmann (nine points, four rebounds). Then there were the unsung efforts of the likes of backup guard Devin Edwards, who came through with a steal and dish to Wragge in another crucial fourth-quarter sequence.
A true team without a primary star, Concordia did the little things right to climb out of a seven-point fourth-quarter hole.
"Jenna Lehmann stepped up against the zone," Olson said. "Erin Vieselmeyer was great. I'm so proud of how Devin Edwards played with her hustle plays. I thought that was really the difference. She kept scrapping for little things. And then Shelby Quinn and Mary Janovich were always stepping up in big moments."
There were times in the first half when it appeared as though the hot shooting of Briar Cliff star Morgan Hansen may doom the Bulldogs. She nailed three treys in the first half. She then went 1-for-6 from the field over the final 20 minutes and settled for 18 points. Teammate McKenzie Shipley paced the Chargers with 19 points. The Chargers' other conference losses have come at the hands of Midland and Northwestern.
Concordia emerged with an impressive win just two days after returning from a 2-0 trip to California. Janovich and company have not lost since suffering a 73-66 defeat at No. 16 Dakota Wesleyan on Dec. 5.
The victors shot 48.3 percent (29-for-60) compared to 45.0 percent (27-for-60) for Briar Cliff. The 3-point happy Bulldogs were 11-for-29 (.379) from long distance.
The Bulldogs begin a stretch of three-straight road games on Wednesday when they travel to Fremont for a 6 p.m. tipoff with Midland (7-8, 5-3 GPAC). Concordia has won each of the last 14 meetings with the Warriors.