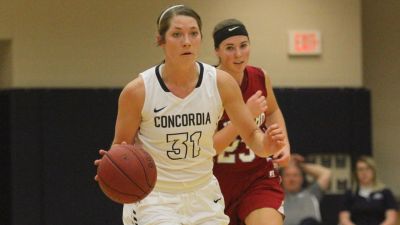 SEWARD, Neb. – The only NAIA Division II program in the nation to make three national semifinal trips over the past six seasons, the second-ranked Concordia University women's basketball outfit scheduled like the elite outfit it has become. A treacherous December road stretch begins on Friday with a visit to No. 18 Northwestern for a 4 p.m. CT tipoff in Orange City, Iowa.
Live coverage: 104.9 Max Country | Webcast
This month's slate will also feature the Bulldogs on the home court of No. 1 Saint Xavier University (Dec. 29) and No. 4 College of the Ozarks (Dec. 19). Twelfth-year head coach Drew Olson's program won't dodge anyone. Concordia's schedule to date ranks as the fifth toughest among all NAIA teams, Division I or II, according to Massey Ratings.
In last week's only outing, the Bulldogs (10-0, 6-0 GPAC) overcame a 20-8 first quarter deficit while recording their fourth win of the season over a nationally-ranked opponent. Like its previous two series meetings, Concordia dominated the fourth quarter against Hastings on the way to a 77-65 triumph. Playmaking freshman guard Taylor Cockerill totaled 18 points and star post Philly Lammers added 16 points and nine rebounds. Only Morningside's Sierra Mitchell (14.1 ppg) ranks above Cockerill (12.4 ppg) in terms of scoring average among GPAC freshmen.
The Bulldogs are 10-0 for the second time during Olson's head coaching tenure, which began with the 2006-07 season. The longest unbeaten run to open a season during the Olson era occurred during the 2012-13 campaign when Concordia started out 15-0 and carried the No. 1 ranking into the month of January. The longest overall win streak for an Olson-coached team came last season when the Bulldogs rattled off 26 victories in a row following a loss to begin the year. This year's squad could wind up in the discussion with past teams of glory. Despite the daunting slate, the Bulldogs rank second nationally in scoring margin (+31.4).
The Red Raiders (8-4, 5-1 GPAC) will be a worthy adversary. Head coach Chris Yaw's squad is just one game behind Concordia in the league standings with its lone league loss being a 76-65 decision at then 10th-ranked Morningside. Northwestern features the league's second- and third-ranked scorers in Kassidy De Jong (18.3) and Darbi Gustafson (17.3). A junior, De Jong has already piled up 1,269 career points. The Red Raiders, who sport national rankings of seventh in field goal percentage (.461) and 19th in scoring offense (76.7), will provide a significant test for Concordia's aggressive defense.
Four nonconference games will follow Friday's action. The next contest will be the journey to Point Lookout, Mo., for a top-five clash with College of the Ozarks.
Projected lineups
Concordia (10-0, 6-0)
G – MacKenzie Helman: 3.7 ppg, 3.8 apg, 3.0 rpg, 1.6 spg, .371 fg%
G – Dani Hoppes: 9.3 ppg, 1.6 spg, 1.6 rpg, 1.3 apg, .420 fg%, .429 3-pt fg%
G – Mary Janovich: 8.0 ppg, 2.5 rpg, 2.5 apg, 1.3 spg, .520 fg%
F – Quinn Wragge: 13.7 ppg, 5.6 rpg, 2.3 apg, 2.2 spg, .592 fg%, .853 ft%
F – Philly Lammers: 13.0 ppg, 9.0 rpg, 2.3 spg, 1.5 bpg, .486 fg%, .676 ft%
Northwestern (8-4, 5-1)
G – Renee Maneman: 9.2 ppg, 7.3 apg, 4.2 rpg, 1.9 spg, .451 fg%, .667 ft%
G – Paige Danner: 9.1 ppg, 2.3 rpg, 1.8 spg, .409 fg%, .379 3-pt fg%
G – Kassidy De Jong: 18.3 ppg, 7.2 rpg, 2.0 apg, 1.3 spg, .441 fg%, .800 ft%
F – Haley Birks: 8.3 ppg, 4.6 rpg, 1.4 bpg, .534 fg%, .850 ft%
F – Darbi Gustafson: 17.3 ppg, 8.4 rpg, 0.8 bpg, .569 fg%, .800 ft%