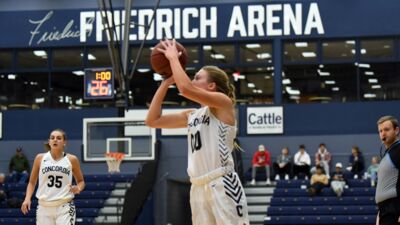 SEWARD, Neb. – From a ratings perspective, this week will be as challenging as it gets in GPAC play for the Concordia University Women's Basketball team. The 19th-ranked Bulldogs will welcome No. 8 Morningside to Friedrich Arena on Wednesday prior to traveling to No. 14 Northwestern on Saturday. Head Coach Drew Olson's squad is coming off a week that saw it dominate College of Saint Mary, 87-58, at home and then struggle in the 65-51 loss at Jamestown. Concordia owns an overall mark of 12-7 and a league record of 9-4.
This Week
Wednesday, Jan. 19 vs. No. 8 Morningside (15-3, 11-1 GPAC), 6 p.m.
--Live Webcast/Stats | 104.9 Max Country
Saturday, Jan. 22 at No. 14 Northwestern (17-3, 9-3 GPAC), 2 p.m.
--Live Webcast | Live Stats | 104.9 Max Country
By the numbers
· At 9-4 in the GPAC, the Bulldogs enter the week in third place in the conference standings with Morningside (11-1) and Northwestern (9-3) situated above them. In addition, Dakota Wesleyan (8-4), Briar Cliff (8-4) and Dordt (7-5) are right on the heels of Concordia. In the NAIA national poll released last week, the Bulldogs moved up three spots to No. 19. They have been included in each of this season's first five official NAIA polls, appearing at No. 9 in the preseason before landing at 21st (Nov. 17), 25th (Dec. 1), 22nd (Dec. 15) and 19th (Jan. 12). As a program, Concordia has been ranked in 106 of the past 107 NAIA coaches' polls.
· The win over College of Saint Mary on Jan. 12 saw the Bulldogs put together their best rebounding effort of the season. Concordia outmuscled the Flames in that department, 53-31, while getting at least five boards from six players: Mackenzie Toomey (12), Rylee Pauli (seven), Taysha Rushton (seven), Sadie Powell (six), Abby Heemstra (five) and Kayla Luebbe (five). Toomey also posted 13 points, five steals and three assists while recording her first career double-double. Rushton filled the stat sheet with 18 points and nine assists in nearly producing a triple-double. Powell paced the team with 19 points and Taylor Farrell also added eight points off the bench.
· The contest at Jamestown looked much different as the Bulldogs shot only 30.5 percent (18-for-59) from the floor and committed 17 turnovers. Another solid rebounding performance (43-34) couldn't save Concordia, which had two players in double figures: Rushton (16) and Powell (11). On the other end, the Jimmies leaned upon the talents of Hannah DeMars (21 points and seven rebounds) and Kia Tower (15 points). The result put an end to the Bulldogs' seven-game GPAC win streak and halted what had been a four-game skid for Jamestown (12-8, 5-7 GPAC). Concordia alum Thad Sankey is in his fourth season as head coach of the Jimmies.
· The emergence of Powell is worth further discussion. The native of Cedar Rapids, Iowa, has started each of the past three games and has responded with respective point totals of seven, 19 and 11. Powell is now the team's second leading scorer this season with an average of 8.5 points per game. Her production was especially critical in the overtime win over Doane on New Year's Day when she put up 21 points and 10 rebounds. Now in her second collegiate season, Powell has taken on an increased role after she averaged 3.2 points in 25 games in 2020-21.
· With the win over College of Saint Mary, the Bulldogs improved to 9-1 at home this season (the lone defeat came against Sterling College on Nov. 5). That home success is a continuation of what has occurred throughout Olson's tenure. Since the start of the 2011-12 season, Concordia owns a home mark of 153-14 (.916). During that stretch, the Bulldogs have gone whole seasons without falling at home, like they did in 2016-17 (17-0), 2017-18 (15-0) and 2019-20 (16-0). The class of players that played from 2016 through 2020 went 63-1 at home over their careers.
· It was a solid week for Rushton, who ranks fourth among GPAC players in scoring at 16.5 points per game. While shouldering even more of a load in the absence of Bailey Conrad, Rushton totaled a combined 34 points and 12 assists to go against four turnovers in 74 minutes. Rushton played the entire 40 minutes at Jamestown. Over 49 career collegiate games, Rushton has piled up 742 points. On the season, Rushton sports shooting percentages of 36.3 from the field, 30.6 from 3-point range and 74.1 from the foul line.
The opponents
Morningside is in the driver's seat as it attempts to defend its GPAC title from last season. Head Coach Jamie Sale's squad has suffered only one defeat in conference play – a 78-77 loss at Northwestern on Dec. 11. The Mustangs will carry a seven-game win streak into Wednesday's action. In the team's 101-69 win over Doane this past weekend, reigning GPAC Player of the Year Sierra Mitchell broke the program's career scoring record. Her career point total now stands at 2,348. Morningside leads the GPAC in scoring average at 82.1 points per game. Mitchell (16.1 ppg) and Sophia Peppers (15.1 ppg) are the biggest stars of the show. The Mustangs have played their last six games without Taylor Rodenburgh. There are more than 1,000 career coaching victories between Olson and Sale. The latter got the upper hand in this season's matchup in Sioux City, Iowa, 89-83.
It's been a fine first season as head coach at Northwestern for Kristin Rotert. The Red Raiders have won seven of their last eight outings with the lone loss coming against Dakota Wesleyan. Northwestern boasts one of the league's top post players in Molly Schany, who is averaging 15.9 points and 6.7 rebounds. Three of her teammates also average double figures in scoring: Devyn Kemble (13.3), Jada Cunningham (11.0) and Taylor VanderVelde (10.2). Among conference teams, the Red Raiders rank third in scoring offense (74.9) and second in scoring defense (61.7). Northwestern will be out to avenge its 84-82 overtime loss at Concordia on Dec. 4.
Next week
The Bulldogs will host Hastings on Jan. 26. They were originally scheduled to put on the Concordia Invitational Tournament the weekend of Jan. 28-29, but the event was canceled.