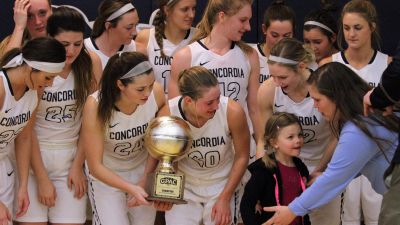 SEWARD, Neb. – With 30 games in the books, the second-ranked Concordia University women's basketball team hopes to carry its regular-season success over to the postseason. The GPAC champion Bulldogs will welcome Briar Cliff to Walz Arena for Wednesday's GPAC quarterfinal tilt. Tipoff is set for 7 p.m. CT for the third matchup this season between the team sides.
GAME INFO
Wednesday, Feb. 21
Briar Cliff (10-20, 7-13) at No. 2 Concordia (29-1, 19-1), 7 p.m.
Seward, Neb. | Walz Arena
Admission: $8 for adults, $3 for students (GPAC students free with ID)
Webcast: Concordia Sports Network
Radio: 104.9 Max Country
The GPAC postseason title road leads to Seward, where head coach Drew Olson's program has been close to unbeatable. Over the past seven seasons (2011-12 to the present), Concordia owns a home record of 99-9 (.917) and carries a 33-game home win streak into the conference tournament. In the final week of regular-season action, the Bulldogs protected the Walz court with wins by finals of 68-59 over Doane and 55-42 over 10th-ranked Dakota Wesleyan. Concordia forced a combined 55 turnovers in those wins. The Bulldogs have now recorded 12 wins over teams currently in the national rankings.
A run at the program's fifth GPAC tournament title (won championships in 2005, 2012, 2015 and 2017) will have to begin with a win over Briar Cliff. The Bulldogs blew out the Chargers in Seward, 95-57, and in Sioux City, 106-67, during the regular season. In those games, senior Brenleigh Daum has posted her two highest single-game scoring totals of the season – 26 and 21 points. She's been on a roll lately, averaging 14.5 points while going 13-for-26 (.500) from 3-point range over the last four outings. Daum and Mary Janovich have been key contributors during what's currently the second winningest four-year stretch in school history (120 wins compared to 123 from 2001-05).
Briar Cliff's lone wins over its last 11 games have come on the road against Doane and Mount Marty. The last time the Chargers met Concordia they were without two of their top players in Logan Ehlers and Taylor Wagner. The team's most reliable player has been Johanna Vaske, who averages 12.2 points per game. Head coach Mike Power's squad ranks eighth in the GPAC in scoring offense (66.37). Briar Cliff (20.7 turnovers per game) will have to take better care of the ball to hang in the game on Wednesday.
The winner will advance to Saturday's semifinal game and play either fourth-seeded Hastings (24-5, 15-5 GPAC) or fifth-seeded Morningside (20-10, 13-7). The highest remaining seeds earn the right to host each round.
2018 GPAC Women's Basketball Tournament
Quarterfinals – Wednesday, Feb. 21
No. 8 Briar Cliff (10-20, 7-13) at No. 1 Concordia (29-1, 19-1), 7 p.m.
No. 5 Morningside (20-10, 13-7) at No. 4 Hastings (24-5, 15-5), 7 p.m.
No. 6 Midland (14-16, 9-11) at No. 3 Dakota Wesleyan (25-5, 16-4), 6 p.m.
No. 7 Dordt (14-16, 8-12) at No. 2 Northwestern (21-7, 16-4), 6 p.m.
Semifinals – Saturday, Feb. 24
No. 1/8 winner vs. No. 4/5 winner, Time TBA
No. 2/7 winner vs. No. 3/6 winner, Time TBA
Championship – Tuesday, Feb. 27
Hosted by highest remaining seed, Time TBA
Projected lineups
Concordia (29-1, 19-1)
G – MacKenzie Helman: 4.6 ppg, 2.9 apg, 2.2 rpg, 1.6 spg, .346 fg%, .340 3-pt fg%
G – Dani Hoppes: 10.5 ppg, 1.7 spg, 1.5 rpg, .402 fg%, .378 3-pt fg%, .632 ft%
G – Mary Janovich: 9.7 ppg, 2.9 apg, 2.3 rpg, 2.0 spg, .521 fg%, .467 3-pt fg%, .867 ft%
F – Quinn Wragge: 13.0 ppg, 5.6 rpg, 1.9 apg, 1.6 spg, .610 fg%, .455 3-pt fg%, .812 ft%
F – Philly Lammers: 12.5 ppg, 8.2 rpg, 2.3 spg, 1.2 bpg, .487 fg%, .726 ft%
Briar Cliff (10-20, 7-13)
G – Abby Heston: 6.1 ppg, 2.2 apg, 1.1 rpg, .388 fg%, .351 3-pt fg%, .688 ft%
G – Julie Targy: 4.2 ppg, 3.0 apg, 2.8 apg, 2.1 spg, .464 fg%, .705 ft%
F – Faith Troshynski: 7.8 ppg, 2.2 rpg, .373 fg%, .371 3-pt fg%, .829 ft%
F – Johanna Vaske: 12.2 ppg, 5.4 rpg, 2.0 apg, .436 fg%, .338 3-pt fg%, .667 ft%
C – Taylor Vasa: 5.5 ppg, 3.9 rpg, 0.9 bpg, .463 fg%, .741 ft%