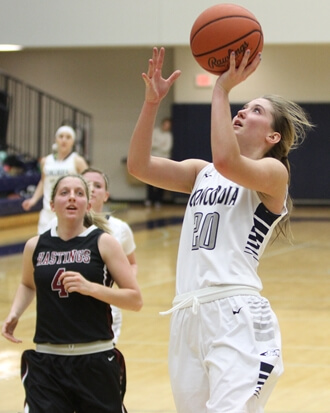 With GPAC title at stake, No. 3 Concordia readies for trip to No. 1 Morningside
SEWARD, Neb. – The wait is almost over. The heavyweight matchup that has been highly anticipated ever since the third-ranked Concordia women's basketball team suffered its only loss this season looms near. The Bulldogs (28-1, 18-1 GPAC) will get their chance to avenge that defeat when they travel to Sioux City, Iowa, to take on top-ranked and unbeaten Morningside in NAIA Division II women's basketball's most significant game of the week. Tipoff is slated for 2 p.m. on Saturday from the Rosen Verdoorn Sports Center.
The Mustangs (29-0, 19-0 GPAC) have already clinched at least a share of the GPAC title, but head coach Drew Olson's squad can pull even atop the league standings by handing Morningside its first loss. Sporting a 23-game win streak of its own, Concordia is hunting its third GPAC regular-season title in four years and fourth in the 15-year history of the GPAC.
"It's going to be crazy," said Bulldog senior guard Kelsey Hizer. "It's two great teams competing against one another. This is why I love playing basketball. It is really exciting to play for another GPAC title. We are just going to go out there and play Concordia basketball and have some fun."
Having coached Concordia to two GPAC regular-season titles, a conference tournament title and six national tournament appearances, Olson knows what big games are like. He expects a great atmosphere for Saturday's colossal clash.
"I hope it's going to be awesome. I hope it's going to be a big crowd, big student section and just a great atmosphere to play in," Olson said. "Hopefully it's similar to the CIT experience we had earlier this year. It's good for our kids to have experiences like this."
The Bulldogs put themselves in position to play for a championship by taking care of business in recent weeks, even amidst the chatter that has centered upon the end-of-season battle between the league's top two teams. Since running roughshod through the Concordia Invitational Tournament, All-American Bailey Morris and company have continued to steamroll their competition, with the lone exception being a close call in a Feb. 7 home win over Dakota Wesleyan.
Seniors like Hizer, one of the league's fiercest defensive stoppers, have kept the team zeroed in on the next opponent with an impressive laser-like focus.
"We always take one game at a time," Hizer said. "Whoever we play next is who we focus on and who we prepare for, and when that game is over we move on to the next one with the same focus."
It's time to focus on Morningside. Head coach Jamie Sale's bunch got the upper hand, 78-70, in the first meeting with Concordia, which took place in Seward on Nov. 18. The Mustangs limited Morris to nine points and got 21 apiece from Lexi Ackerman, Taylor Bahensky and Ashlynn Muhl.
The team leader in scoring, rebounding and blocked shots, Muhl bullied No. 17 Briar Cliff on Wednesday night, notching eight offensive rebounds while going for a game high 17 points in Morningside's 75-66 win. The 6-foot forward is a big reason why the Mustangs grab nearly 15 offensive rebounds per game.
Muhl and 6-foot-2 junior Jessica Tietz make for a difficult matchup for any team on the interior.
"It's an interesting game because we play man-to-man and they play zone, so our matchups mean a little bit more as far as how we're going to be able to defend Muhl and Tietz inside," Olson said. "We also have to contain their perimeter players. Lexi Ackerman and Taylor Behensky had big games against us and Madison Braun and Allison Bachman are really good guards for them.
"For us the matchups are really big. On the other hand, they're playing a zone so it's not like they're matched up against Bailey. We have to find ways to get Bailey more shot opportunities and get her open. Tracy Peitz has to be aggressive within the zone. It's two different styles so it's going to be entertaining to watch."
Over the past four seasons, Concordia and Morningside own identical GPAC records of 68-11 (.861). The Mustangs have won the last two meetings with the Bulldogs on the heels of a five-game Concordia series win streak. In last season's tussle in Sioux City, Morningside triumphed, 86-77.
BY THE NUMBERS
*National ranks in parentheses
Concordia (28-1, 18-1 GPAC)
Head coach: Drew Olson (219-76, 9 seasons)
Scoring leader: Bailey Morris (18.6 ppg)
Rebound leader: Jericca Pearson (4.7 rpg)
Assists leader: Bailey Morris (4.93 apg)
Steals leader: Bailey Morris (4.32 spg)
OFF PPG: 86.1 (4th)
DEF PPG: 61.3 (32nd)
Scoring margin: +24.8 (3rd)
Turnover margin: +12.2 (2nd)
Rebound margin: +0.2 (69th)
FG% OFF: .429 (25th)
FG% DEF: .370 (32nd)
3-PT FG%: .308 (63rd)
FT%: .709 (37th)
Morningside (29-0, 19-0 GPAC)
Head coach: Jamie Sale (458-123, 17 seasons)
Scoring leader: Ashlynn Muhl (12.4 ppg)
Rebound leader: Ashlynn Muhl (8.8 rpg)
Assists leader: Lexi Ackerman (3.69 apg)
Steals leader: Taylor Bahensky (2.69 spg)
OFF PPG: 77.2 (19th)
DEF PPG: 59.6 (20th)
Scoring margin: +17.6 (10th)
Turnover margin: +7.79 (4th)
Rebound margin: +4.3 (32nd)
FG% OFF: .438 (17th)
FG% DEF: .383 (61st)
3-PT FG%: .333 (28th)
FT%: .694 (55th)