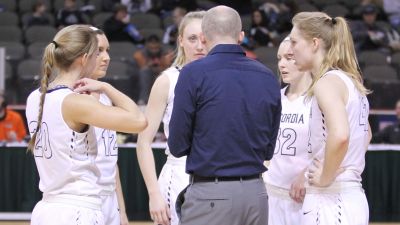 SIOUX CITY, Iowa – A march to the national title game will require the second-ranked Concordia University women's basketball team to go through another familiar opponent. The Bulldogs are bound for the semifinals, where they will meet GPAC rival Northwestern at 8:05 p.m. CT on Monday (March 12). On the other side of the bracket, fourth-ranked Saint Xavier University (Ill.) will meet up with No. 7 Dakota Wesleyan at 6:05 p.m. on Monday.
Monday, March 12 | 8:05 p.m.
NAIA Division II Women's Basketball National Championships (Semifinals)
No. 2 Concordia (35-1) vs. No. 11 Northwestern (25-8)
Sioux City, Iowa | Tyson Events Center
Watch: ESPN3
Radio: 104.9 Max Country
Live stats: Dakstats
Twelfth-year head coach Drew Olson's squad has already proven capable of beating each of the teams remaining at the national championships. In fact, the Bulldogs went 10-0 this season against squads that reached the national quarterfinals. They are also 6-0 against the likes of Dakota Wesleyan, Northwestern and Saint Xavier while having won on the home courts of each of the semifinalists. In battles with the Red Raiders, Concordia won by scores of 84-80 in Orange City, Iowa, on Dec. 15 and 80-67 in Seward on Feb. 3.
It's not so simple, but now the task is about duplicating those past performances. The battle tested Bulldogs are confident they can make it happen.
"We weren't phased," said Olson following Saturday's win over eighth-ranked Jamestown in which the Bulldogs erased a halftime deficit with a massive third quarter performance. "We were down at half and we were struggling, to be honest. But our kids in the halftime locker room were fine. They were ready to go and they knew what they needed to do. I think it's because of the schedule (we've played)."
That third quarter is worth rehashing. The numbers were eye-popping. During that 10-minute stretch, Concordia outscored the Jimmies 38-10 while going 14-for-23 (.609) from the floor, 7-for-8 (.875) from 3-point range and posting a plus-nine turnover margin (9-0). Because of the Bulldogs' gnat-like press and bevy of scoring options, such explosiveness is not out of the norm. The second highest scoring offense (88.0 ppg) in NAIA Division II is fueled by an attacking defense that forces an average of 25.0 turnovers per game.
Concordia and Northwestern have engaged in many heated battles in GPAC regular season and postseason play, but they've never met at the national tournament. The Red Raiders are 50-10 with five titles in their history at the national championships. Their most recent championship came in 2012 when current head coach Chris Yaw was in his first season at the helm of the program. Yaw may have his best team since then. Yaw relies heavily upon six players in particular – and those six are stellar. Also an All-American volleyball player, Anna Kiel has been on a tear at the national tournament. She's scored at least 20 points in each of the team's wins over No. 22 Friends (Kan.), No. 6 Eastern Oregon and No. 19 St. Francis (Ill.).
By the numbers
At 35-1 overall, the 2017-18 Bulldogs have equaled a high water mark for wins in a season during Olson's tenure. The school record win total was produced by the 2002-03 squad that went 36-2.
Concordia is making its sixth semifinal appearance in school history (2003, 2005, 2012, 2015, 2017, 2018) and third over the past four seasons. Only the 2014-15 team advanced to the national championship game.
The Bulldogs are 28-16 over 17 all-time appearances on the national stage. In 10 trips to nationals, Olson has gone 17-9 with four semifinal advancements, including the 2015 runner-up finish.
Concordia's roster includes four players with more than 1,000 career points: Quinn Wragge (1,358), Mary Janovich (1,148), Dani Hoppes (1,129) and Brenleigh Daum (1,006). Philly Lammers (968) is not far off after her 20-point, 17-rebound, four-block performance versus Jamestown. This week in Sioux City, Lammers is averaging 14.7 points, 11.3 rebounds, 3.0 steals and 2.0 blocks per game. Wragge has been the team's second leading scorer at the national tournament with an average of 14.0 points per game.
Northwestern has four players averaging in double figures at this year's national tournament: Kiel (21.7), Kassidy De Jong (18.3), Renee Maneman (14.7) and Darbi Gustafson (11.0). De Jong has piled up 1,615 points over her three years as a Red Raider.
ESPN3 will provide live coverage of both semifinal games and the championship game. All Concordia games can also be heard live on 104.9 Max Country. The Concordia/Northwestern winner will play the Dakota Wesleyan/Saint Xavier winner at 7 p.m. CT in Tuesday's championship.
Projected lineups
Concordia (35-1)
G – MacKenzie Helman: 4.6 ppg, 2.9 apg, 2.3 rpg, 1.7 spg, .345 fg%, .347 3-pt fg%, .455 ft%
G – Dani Hoppes: 9.8 ppg, 1.6 spg, 1.5 rpg, .399 fg%, .377 3-pt fg%, .632 ft%
G – Mary Janovich: 8.9 ppg, 2.8 apg, 2.3 rpg, 1.8 spg, .508 fg%, .441 3-pt fg%, .837 ft%
F – Quinn Wragge: 13.1 ppg, 5.2 rpg, 1.5 spg, .616 fg%, .480 3-pt fg%, .808 ft%
F – Philly Lammers: 13.3 ppg, 8.4 rpg, 2.5 spg, 1.3 bpg, .509 fg%, .742 ft%
Northwestern (25-8)
G – Paige Danner: 6.8 ppg, 2.3 rpg, 1.1 spg, .370 fg%, .346 3-pt fg%, .893 ft%
G – Kassidy De Jong: 17.2 ppg, 8.2 rpg, 1.2 spg, .457 fg%, .244 3-pt fg%, .770 ft%
G – Renee Maneman: 11.1 ppg, 8.4 apg, 3.8 rpg, 1.6 spg, .457 fg%, .310 3-pt fg%, .743 ft%
F – Haley Birks: 8.0 ppg, 4.5 rpg, 1.2 bpg, .556 fg%, .250 3-pt fg%, .868 ft%
F – Darbi Gustafson: 14.2 ppg, 7.6 rpg, 0.7 bpg, .575 fg%, .795 ft%