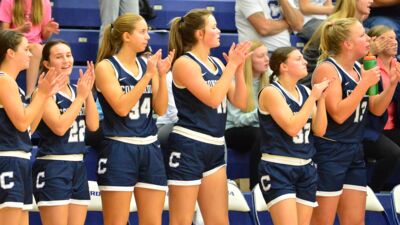 SEWARD, Neb. – Just two games into the 2022-23 season, the Concordia University Women's Basketball team is already prepping for the start of conference play. The Bulldogs will tip off the GPAC season on Saturday at Briar Cliff in a matchup of two teams that qualified for the 2022 national tournament. Head Coach Drew Olson's squad will have had a week off by the time Saturday arrives. Concordia is coming off wins over Bellevue University, 74-52, and Dakota State University (S.D.), 71-61, at the 23rd annual Cattle Classic.
This Week
Saturday, Nov. 12 at Briar Cliff (2-1, 0-0 GPAC), 2 p.m.
--Live Webcast | Live Stats | Location: Newman Flanagan Center (Sioux City, Iowa)
By the numbers
· A rarity for the program, the Bulldogs are a bit off the national radar, at least based on preseason rankings. Concordia landed at No. 5 in the GPAC preseason coaches' poll but did not generate any points in the NAIA preseason top 25 coaches' poll. The Bulldogs have cracked the top 25 in 15 straight seasons leading into 2022-23 and have finished in the NAIA top 25 (NAIA Division II until 2020-21) 12 times during Olson's tenure. Both the 2018-19 and 2019-20 squads finished their seasons ranked No. 1 nationally. In addition, Concordia entered this season looking to extend a streak of 11 national tournament appearances in a row.
· This marked the second year in a row that the Bulldogs opened the season with a home win over Bellevue. Concordia didn't start this year's season opener fast, but it dominated the second half in outscoring the Bruins 23-17 in the third quarter and 19-7 in the fourth. The scoring was spread out for the Bulldogs, who got 14 points from Kendal Brigham and 10 apiece from Abby Heemstra and Kristin Vieselmeyer. Headlining returner Taysha Rushton recorded nine points, seven assists and four steals. Concordia held Bellevue to 31.4 percent shooting and enjoyed a turnover margin of plus-19. The Bruins' biggest advantage came in the rebounding department, 47-32.
· The next day came a test against a guard-heavy Dakota State team that was the first team outside of the NAIA top 25 in the preseason poll. The Bulldogs led almost the entire way and used their defensive prowess to make it through a late scoring drought that helped the Trojans cut a 14-point deficit to five. Sadie Powell made a big shot with just over a minute left to push the lead back to seven. Rushton carried the team offensively with 24 points on 8-for-16 shooting. Abby Krieser added 11 points, six rebounds and two steals and Mackenzie Toomey posted a line of 10 points, six rebounds and three assists. Both teams shot well below 40 percent in a defensive grinder. Concordia has played Dakota State at the Cattle Classic in three straight years and has gone 2-1 in those meetings.
· Rushton collected 33 points at the Cattle Classic and pushed her career point total to 992. The 5-foot-5 guard from Midland, Texas, was immediately an impact player when she arrived in Seward. Rushton averaged 14.4 points (445 total points) as a freshman in 2020-21 and then 17.7 points (514 total points) as a sophomore in 2021-22. Rushton was named a First Team All-GPAC honoree in each of the past two seasons and was recognized as an NAIA Honorable Mention All-American following last season. With eight more points, Rushton would become the 31st player in program history to reach 1,000 for a career. Rushton was joined on last week's All-Cattle Classic team by fellow backcourt mate Mackenzie Toomey.
· The Bulldogs returned nine of the 15 players who made up last season's postseason roster. Out of that group, Heemstra, Powell, Rushton and Toomey possessed some degree of starting experience. The lineup Olson has used for the first two games this season has featured a backcourt of Krieser, Rushton and Toomey and frontcourt of Heemstra and Powell. A native of Cedar Rapids, Iowa, Powell has the potential to be a breakout performer and provide strong frontcourt offensive and defensive play. Ideally, Olson wants to be able to force the issue every outing with full-court pressure that results in mistakes by the opponent. Concordia is already plus-26 in turnover margin (plus-13.0 per game) this season.
The opponent
Briar Cliff has been impressive to start the season in winning two of three games. The only defeat came by a single point (53-52) on the home court of No. 8 Clarke University (Iowa). The Chargers have an entire starting five of players who earned All-GPAC honors last season in Madelyn Deitchler (first team), Konnor Sudmann (second team), Peyton Wingert (second team), Kennedy Benne (honorable mention) and Payton Slaughter (honorable mention). Sudmann was named to the All-Cattle Classic team last week after she scored 23 in the win over Dakota State and 26 in the win over Bellevue. Briar Cliff has a first-year head coach in Brian Ortmeier, previously the head coach at Iowa Central Community College. Ortmeier replaced Brita Hand.
Next week
Conference play will continue as the Bulldogs host Midland on Nov. 16 and play at No. 15 Dordt on Nov. 19.