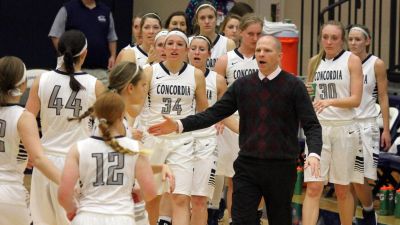 SEWARD, Neb. – The seventh-ranked Concordia University women's basketball team has polished off a week in which it demolished two programs with a combined nine national championships. In Saturday's clash, the Bulldogs scorched Northwestern with a 30-5 first-half run that defined a game that saw Mary Janovich drop 11 dimes in the 91-44 blowout win.
Eleventh-year head coach Drew Olson's squad has won 13-straight games and now stands at 13-1 overall and a perfect 8-0 in conference play. Concordia owns a record of 76-9 at home since the start of the 2011-12 season.
The Bulldogs are simply playing on another level right now.
"I'm proud of our kids. We just played really, really well at Morningside," Olson said. "Obviously we played well today, too. Northwestern was a little depleted without their best player, but you still have to credit our kids for coming out focused and getting the job done."
The Bulldogs took full advantage of a wounded animal. The Red Raiders traveled only eight healthy players, and they struggled mightily in their efforts to halt the Concordia locomotive that keeps chugging. This contest was all but over at the break, at which point the Bulldogs were shooting 61.5 percent and led, 52-25. Not only did Concordia shoot much better, it handled the ball much more smoothly (plus-14 turnover margin) than the visitors from Orange City.
Northwestern (9-5, 3-5 GPAC) was the latest team with no answer inside for freshman Philly Lammers. She made her first seven shots from the field and finished with a game high 18 points. With Janovich sprinkling passes around for easy buckets, the Bulldogs operated at near peak efficiency over the game's first 20 minutes. They cooled off in the second half, but it was already too late for the Red Raiders.
About the only negative was an extended third quarter drought. The Bulldogs actually endured a stretch of more than six-and-a-half scoreless minutes – and still won by 47 points. Concordia had more in the tank. It deployed all 15 players to help wear down Northwestern, which played without star sophomore Kassidy De Jong.
Sophomore Quinn Wragge joined Lammers in double figures in scoring with 12. Sydney Feller and Dani Andersen both chipped in nine points. Steady senior point guard Shelby Quinn delivered six assists.
Fresh off an 80-52 road trouncing of No. 9 Morningside on Wednesday, the Bulldogs never let their guard down. At least so far, Concordia has shown an immunity to letdowns.
"Coach Olson does a really good job of keeping us focused on the next team," Feller said. "That's something we take pride in.
"The best thing about this team is we're so deep with our bench."
Leading the way for Northwestern was Darbi Gustafson, who netted 14 points and grabbed eight rebounds. Renee Maneman contributed 10 points and five assists, but also was responsible for seven of her team's 25 turnovers.
Concordia shot 47.5 percent (38-for-80) for the game while holding the Red Raiders to a paltry shooting percentage of 28.1 (18-for-64). The Bulldogs also owned a sizeable 50-39 advantage on the boards. Freshman Colby Duvel came off the bench to grab a team best seven rebounds.
The Bulldogs have final exams coming up next week before focusing their attention on Friday's (Dec. 16) matchup at Dordt (5-7, 0-6 GPAC). Tipoff from Sioux Center, Iowa, is slated for 5 p.m. CT. Concordia has triumphed in eight-consecutive meetings with the Defenders.