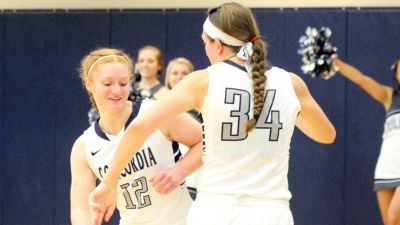 SEWARD, Neb. – Champion of the GPAC regular season for the third time in six seasons, the Concordia University women's basketball program is set to begin what it hopes to be a long postseason journey. Eleventh-year head coach Drew Olson's squad lost only two games all regular season while going 19-1 in GPAC play, breaking the school record for most conference wins in a campaign.
In Wednesday's GPAC quarterfinal, the top-seeded Bulldogs (28-2, 19-1 GPAC) will host eighth-seeded Midland (15-14, 7-13 GPAC). Tipoff is set for 7 p.m. CT from Walz Arena, where Concordia is a perfect 14-0 this season. The game can be seen live on the Concordia Sports Network and heard via 104.9 Max Country radio. The Bulldogs defeated the Warriors by scores of 89-50 and 95-38 during the regular season.
"It's a really special group," Olson said following last week's regular-season capping 90-55 win over Dordt. "What they've done through their work ethic, just staying together is phenomenal. To be able to go 28-2 and to be 19-1 in this conference really says a lot about the team, their spirit together and how tough they are. I'm hoping it continues."
Concordia has twice won the conference tournament under Olson's direction (2012 and 2015). The 2011-12 squad was the most recent to garner the No. 1 seed in the GPAC bracket. On their way to the postseason title, the Bulldogs defeated Dakota Wesleyan, Hastings and Morningside. Concordia also toppled the Mustangs in the 2015 GPAC tournament championship game. The Bulldogs were one and done last season with a quarterfinal loss at Briar Cliff.
Featured in last week's action was a 60-46 victory at No. 10 Hastings. Concordia was sluggish through the first three quarters, but then outscored the Broncos, 23-4, in the fourth quarter. The Bulldogs got their groove back offensively in the win over Dordt. They shot 53.1 percent (17-for-32) from the field in the second half. Junior guards Dani Andersen and Brenleigh Daum went a combined 7-for-8 from 3-point range.
Daum, who equaled a season high 14 points versus Dordt, believes the Bulldogs are primed for success in the postseason.
"I'm really looking forward to it," Daum said. "Everyone else is, too. I know we're hungry to go after that GPAC championship game and go all out and win it and head to nationals."
By way of the regular-season title, Concordia has already clinched a spot in the national tournament. It has achieved great heights without a single Bulldog averaging more than 22.1 minutes per game. Millard West High School product Philly Lammers doesn't even average 20 minutes, but is still a strong candidate for conference player of the year. She leads the team in scoring (12.7), rebounding (6.8), blocked shots (1.13) and field goal percentage (.576).
Last week the Bulldogs celebrated their six-member senior class as part of senior day festivities. Over the past four seasons, Concordia has a combined record of 110-23 with two GPAC regular-season titles, one conference tournament championship, four national tournament appearances and a national runner up finish in 2015. The seniors have gone 54-5 at home in their careers. This is the third-straight senior class to play every career game with a team national ranking.
Midland ended its regular season by dropping six of its last seven. The lone win during that stretch came by an 80-59 score over College of Saint Mary. The headlining performers for the Warriors are Joelle Overkamp (16.7 ppg) and Megan Kucks (14.3 ppg). Both play more than 33 minutes per game. Concordia has won 33-consecutive meetings with Midland. (The Warriors had defeated the Bulldogs in January 2009, but had to forfeit the game).
The winner of Wednesday's game will advance to Saturday's semifinal round and play either fourth-seeded Hastings (22-8, 14-6) or fifth-seeded Northwestern (18-10, 10-10 GPAC). Concordia will host as long as it remains alive in the bracket.
Projected starters
Concordia: 28-2, 19-1 GPAC
G – Shelby Quinn: 6.6 ppg, 4.3 apg, 1.9 spg, .370 fg%, .798 ft%
G – Dani Andersen: 8.6 ppg, 1.5 apg, 1.4 spg, .370 fg%, .337 3-pt fg%
G – Mary Janovich: 11.5 ppg, 3.2 apg, 2.8 rpg, 2.5 spg, .533 fg%, .448 3-pt fg%
F – Quinn Wragge: 11.4 ppg, 6.0 rpg, 2.0 spg, .556 fg%, .734 ft%
F – Philly Lammers: 12.7 ppg, 6.8 rpg, 2.1 spg, 1.1 bpg, .576 fg%

Midland: 15-14, 7-13 GPAC
G – Megan Kucks: 14.3 ppg, 4.0 rpg, 3.2 apg, 1.6 spg, .401 fg%, .341 3-pt fg%
G – Chansea Nelson: 4.0 ppg, 1.1 rpg, .406 fg%, .417 3-pt fg%
G – Madison Severson: 4.7 ppg, 2.7 rpg, 0.9 spg, .338 fg%, .348 3-pt fg%
G – Joelle Overkamp: 16.7 ppg, 6.0 rpg, 2.5 spg, .468 fg%, .800 ft%
F – Miranda Paul: 7.1 ppg, 2.4 rpg, .354 fg%, .331 3-pt fg%