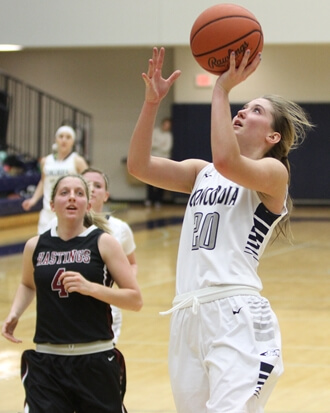 Gottier goes for career high 19 in 23rd-straight win
OMAHA, Neb. – While resting its starters as well as top reserve Jericca Pearson in preparation for Saturday's highly-anticipated matchup with No. 1 Morningside, the third-ranked Concordia University women's basketball team walloped host Grace University, 92-32, in Omaha on Wednesday night. Freshman Jade Gottier came off the bench and eclipsed a career high point total during the first half as part of a game-high 19-point performance.
Ninth-year head coach Drew Olson's squad pushed its winning streak to 23 and moved to 28-1 overall. The Bulldogs remain undefeated away from home (15-0). The Royals fell to 3-25.
"I thought they were focused and very prepared," Olson said of his group of nine that suited up for Wednesday's road contest. "It would have been human to be too relaxed. I thought we had the right mindset and played sharp, especially in the first half. We built up a big lead early."
Three other Bulldogs joined Gottier in double figures in the scoring column and Concordia's youthful lineup held Grace to just 22.2 percent (12-for-54) shooting from the field. The Royals also committed 32 turnovers compared to just 11 giveaways by the Bulldogs.
Also off the bench, sophomore Alayna Daberkow came up just short of a double-double with 13 points and nine rebounds. Meanwhile, Devin Edwards equaled a career best with 12 points while pilfering six steals to tie Gottier for a team high. Freshman Brenleigh Daum nailed all three of her 3-point field goals in the first half on the way to 11 points.
On an evening when several of Concordia's core players watched from the bench, Olson doled out 20 or more minutes to six players who all averaged fewer than 12 minutes per game entering the week. They answered the call by leading the Bulldogs to their 16th win of the season by 20-plus points. None took better advantage than Gottier, a native of Albion, Neb.
"I thought Jade played well. She was really aggressive," Olson said. "She did a nice job of making the extra pass. There were plays where she passed up a shot of her own for an even more wide open shot."
Senior Rachel Royuk saw 23 minutes of action and fired off 13 shots. She ended up with a career high nine points. Sophomore guard Shelby Quinn also put up nine points for the Bulldogs. Quinn started alongside Edwards, Laurel Krohn, Ashley Kuntz and Jenna Lehmann.
Concordia jumped out to a 17-2 lead with four 3-pointers in the game's opening seven minutes. The Bulldogs held an advantage of at least 13 points the remainder of the game. Concordia finished the game at 12-for-33 (.364) from 3-point range.
Karen Orozco recorded 12 points and 11 rebounds as the only Royal to reach double figures in scoring. Grace is a member of the National Christian College Athletic Association.
The Bulldogs close the regular season on Saturday with the showdown looming against unbeaten Morningside (29-0, 19-0 GPAC) in what will almost certainly be dubbed the NAIA Division II women's basketball game of the week. With a win, Concordia would lock up a share of its third GPAC regular-season title in four seasons and fourth in the 15-year history of the GPAC. Tipoff from Sioux City, Iowa, is slated for 2 p.m.