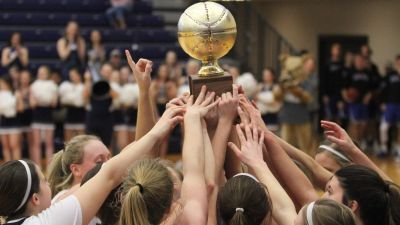 SEWARD, Neb. – The gnats at a picnic are back. After a so-so performance in Wednesday's win over Doane, the GPAC champion Concordia University women's basketball team sought to conclude the regular season by returning to its dominant self. An increase in defensive pressure helped the second-ranked Bulldogs take care of No. 10 Dakota Wesleyan, 55-42, inside Walz Arena on Saturday afternoon (Feb. 17).
The final GPAC standings show 12th-year head coach Drew Olson's squad three games above Dakota Wesleyan and Northwestern atop the conference. Concordia will enter the postseason at 29-1 overall and at 19-1 in GPAC play.
"That was incredible effort," Olson said. "I just thought we were really focused and locked in on the scouting report. We did a great job of taking away a lot of their shooters. They did get a couple good looks in the fourth quarter. Thankfully they just didn't hit them. It was a great effort for our team."
The Bulldogs owned the day in a game in which they shot only 33.3 percent (20-for-60) from the floor. What Concordia did best was squeeze the life out of the physically imposing Tigers (25-5, 16-4 GPAC). Dakota Wesleyan managed only five points for the entire third quarter. The Tigers' three leading scorers this season, Ashley Bray, Amber Bray and Kynedi Cheeseman, went a combined 8-for-26 from the floor for 21 points.
The best offensive player on either team was easily Brenleigh Daum, who knocked down four of her first five attempts from 3-point range. She was also active on the other end, recording three steals while also blocking a pair of 3-point attempts. One of those blocks led immediately to a Duam layup in transition as part of her 19-point outburst.
It was a good thing Concordia brought its 'A' game defensively because it waited until the 1:44 mark before recording its first field goal of the fourth quarter. After halftime, there were only 35 combined points scored. The shooting percentages were unsightly over the third and fourth quarters – 24.1 percent for the Bulldogs and 23.1 percent for the Tigers.
In the end, it was a beautiful 13-point win behind another tenacious defensive effort. The press is back on.
"Coach had mentioned wanting to save our legs a little with not pressing," said sophomore guard MacKenzie Helman. "It was fun to get back after them and really show them what we can do when we pressure."
While Daum far-and-away topped Concordia in scoring, five teammates notched either six or seven points: Mary Janovich (seven), Philly Lammers (seven), Taylor Cockerill (six), Helman (six) and Quinn Wragge (six). In 21 minutes of action, Helman did not commit a single turnover while making 2-of-4 shots from the floor.
Walz Arena is where opposing win streaks go to die. Dakota Wesleyan entered the day having won nine in a row since a mid-January loss at Northwestern. The Tigers never found any sort of rhythm. Even their 11-1 run in the second half came in a methodical manner and still failed to cut the deficit under 10. Dakota Wesleyan turned the ball over 22 times compared to 14 giveaways by Concordia. Riley Osthus (10 points, nine rebounds) was the lone Tiger to reach double figures.
"Our kids just want to keep getting better," Olson said. "They want to win every game. It wasn't like we had something to prove. It was another challenge and another opportunity for us to play basketball."
Postseason play begins at 7 p.m. CT on Wednesday (Feb. 21) when the top-seeded Bulldogs will host eighth-seeded Briar Cliff (10-20, 7-13) in the quarterfinals of the GPAC tournament. Concordia also earned the No. 1 seed last season and defended its home court with three conference postseason wins that earned it the program's fourth GPAC tournament championship.