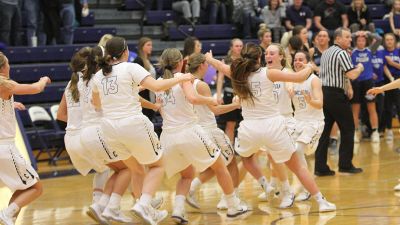 Bracket | Tournament Press Guide
SEWARD, Neb. – March Madness has arrived. On Wednesday, the second-ranked Concordia University women's basketball team will take the court for what it hopes is the beginning of another long postseason run. Tipoff of Wednesday's first-round national tournament matchup with eighth-seeded Stillman College (Ala.) is set for 12 p.m. CT from the Tyson Events Center in Sioux City, Iowa. It will be the first-ever meeting between the two sides.
GAME INFO
Wednesday, March 7 – 12 p.m.
NAIA Division II Women's Basketball National Championships (First Round)
Concordia (32-1) vs. Stillman (19-11)
Sioux City, Iowa | Tyson Events Center
Buy tickets: Online order ($14 for adults, $7 for students)
*Can also be purchased on site
Webcast: NAIA Network (fee required)
Radio: 104.9 Max Country
Live stats: Dakstats
GPAC Coach of the Year Drew Olson brings a battle-tested team with extensive national tournament experience into this week's action. Nine of the 15 players on the varsity roster have played in at least one game at the national tournament. Seniors Brenleigh Daum and Mary Janovich were members of the 2015 national runner up and 2017 semifinalist squads. Not only are the Bulldogs familiar with the Tyson Events Center, they have the confidence that they can beat anyone, anywhere. Concordia owns a record of 14-0 against the national qualifying field with two road victories over fellow No. 1 seeds – College of the Ozarks (Mo.) and Saint Xavier University (Ill.).
Wednesday's first-round matchup figures to be a clash in styles between a Concordia team that ranks second nationally in scoring (89.2) against a Stillman squad that ranks 122nd in scoring (56.6) out of 136 NAIA Division II women's basketball programs. The Tigers will be fighting history. Olson's teams have now earned a No. 1 seed four times in seven seasons. In those previous three runs as a No. 1, the Bulldogs have won their first-round game by an average margin of 33.3 points while advancing to at least the semifinals in each instance. Concordia is 25-16 all-time at the national championships.
Stillman, under the direction of first-year head coach Alico Dunk, is making the program's first-ever appearance the national tournament. The Tigers qualified as the Association of Independent Institutions Tournament runner up. Concordia shares two common opponents with Stillman: Haskell Indian Nations University and College of the Ozarks. The Bulldogs won on the home court of both foes while the Tigers went 1-1 on neutral courts. Ozarks topped Stillman, 71-52, in the tournament championship game.
The Bulldogs will have to contend with 5-foot-8 senior guard Ki'Onna Likely, who averages a double-double per game (14.8 ppg, 10.3 rpg). While Stillman has been challenged offensively (36.3 percent shooting), it sports national rankings of fourth in scoring defense (55.6) and sixth in field goal percentage defense (.351). The Tigers, formerly of NCAA Division II, are located in Tuscaloosa, Ala. They are in their second season as a member of the NAIA.
The winner of Wednesday's matchup will advance to the second round and take on either fourth-seeded Taylor (Ind.) (23-10) or fifth-seeded Northwest Christian (Ore.) (23-6) at 10:15 a.m. CT on Friday. Potential future game times and days are 3 p.m. on Saturday in the quarterfinals, 8 p.m. on Monday, March 12 in the semifinals and 7 p.m. on Tuesday, March 13 in the championship game.
Projected lineups
Concordia (32-1)
G – MacKenzie Helman: 4.4 ppg, 2.9 apg, 2.2 rpg, 1.7 spg, .345 fg%, .339 3-pt fg%, .500 ft%
G – Dani Hoppes: 10.0 ppg, 1.7 spg, 1.5 rpg, 1.3 apg, .395 fg%, .371 3-pt fg%, .623 ft%
G – Mary Janovich: 9.5 ppg, 2.7 apg, 2.3 rpg, 1.9 spg, .517 fg%, .455 3-pt fg%, .865 ft%
F – Quinn Wragge: 13.0 ppg, 5.4 rpg, 1.9 apg, 1.5 spg, .618 fg%, .455 3-pt fg%, .803 ft%
F – Philly Lammers: 13.2 ppg, 8.1 rpg, 2.4 spg, 1.2 bpg, .512 fg%, .725 ft%
Stillman (19-11)
G – Morgan Collins: 7.0 ppg, 1.9 rpg, 1.9 apg, 1.2 spg, .380 fg%, .273 3-pt fg%, .542 ft%
G – Ki'Onna Likely: 14.8 ppg, 10.3 rpg, 1.9 spg, .498 fg%, .652 ft%
G – Jalicya Lowery: 10.3 ppg, 2.8 rpg, 1.1 apg, .389 fg%, .292 3-pt fg%, .699 ft%
F – Courtney Baker: 4.0 ppg, 7.5 rpg, 1.3 bpg, .300 fg%, .600 ft%
F – Tabitha Robinson: 5.9 ppg, 3.4 rpg, .288 fg%, .257 3-pt fg%, .538 ft%