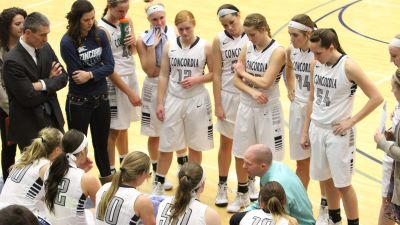 SEWARD, Neb. – Christmas break is over for the 14th-ranked Concordia University women's basketball squad. The Bulldogs departed for The Golden State the day after Christmas in preparation for two games at Simpson University in Redding, Calif. Concordia will attempt to extend its four-game win streak when it takes on host Simpson (3-8) at 6 p.m. PST (8 p.m. CST) on Tuesday. The following day the Bulldogs (8-3, 5-3 GPAC) will play Pacific Union College (0-12) at 2 p.m. PST (4 p.m. CST) in Redding.
Both games will take place inside the Heritage Student Life Center and will be carried via live webcast HERE.
Last time out
Head coach Drew Olson's squad has not played since its 68-64 win at Dordt on Dec. 18. In the victory, Concordia shot just 36.9 percent (24-for-65) but turned the ball over only seven times. Becky Mueller (14 points) and Shelby Quinn (13 points) combined to go 6-for-8 from beyond the arc as the Bulldogs overcame a monster game from Defender senior Mycah Hulst (20 points, 25 rebounds, four blocks). Concordia has won eight-straight meetings over Dordt.
In the rankings
In the most recent NAIA Division II rating released by the NAIA, Concordia made its 55th-straight poll appearance, checking in at No. 14. The Bulldogs were ranked fourth in the preseason following their runner-up finish at the 2015 national tournament. Simpson is ranked first among the five teams in NAIA Division II's California Pacific Conference. Pacific Union, still looking for its first win, is ranked fifth in the CalPac.
Streaking
The Bulldogs own series win streaks of eight or more over five conference opponents: Nebraska Wesleyan (19), Midland (14), Mount Marty (10), Doane (9) and Dordt (8). Concordia has not lost to Nebraska Wesleyan since a 58-56 home defeat on Jan. 17, 2006. Midland last topped the Bulldogs on Jan. 13, 2009.
Splash sisters
Despite an off shooting game in its last outing, Concordia continues to rank as one of the most prolific offensive teams in the country. The Bulldog group of 'splash sisters,' led by Mueller, ranks No. 4 nationally in 3-point field goals per game (10.1). Among all NAIA Division II teams, Concordia also rates seventh in scoring offense (81.7), 14th in scoring margin (16.5), 17th in field goal percentage (.443), 18th in 3-point field goal percentage (.358) and 30th in free throw percentage (.728). At 45.1 percent, Mueller ranks 16th nationally in 3-point shooting efficiency.
Four different Bulldogs have made at least 15 3-point field goals this season:
-Becky Mueller (23-51, .451)
-Sydney Feller (20-53, .377)
-Brenleigh Daum (20-60, .333)
-Shelby Quinn (15-35, .429)
Diaper dandies
Freshmen Quinn Wragge (10.9 ppg, 5.5 rpg, .531 FG%) and Maddie Egr (5.7 ppg, 2.8 rpg, .551 FG%) have made immediate impacts in their first seasons as Bulldogs. Wragge ranks second on the team in scoring and first in rebounding and has seen more action (267 minutes) than any of her teammates this season. Wragge (Crofton, Neb.) has started all 11 games while Egr (Yutan, Neb.) has seen action in each contest. Over the past two games, Egr has made 6-of-7 shots from the field.
Scouting the opponents
Simpson will enter Tuesday's contest with consecutive wins (New Hope Christian and San Diego Christian) under its belt. Junior guard Esther Wofford tops the Red Hawks in scoring with an average of 15.7 points per game. She's put up a combined 38 points over the past two wins. Meanwhile, Pacific Union continues to seek its first win. The Pioneers are averaging 46.8 points compared to 77.5 points allowed per contest. According to Massey Ratings of NAIA women's basketball teams (1 through 229), Simpson is ranked 179th and Pacific Union is 217th.
On the horizon
The Bulldogs will turn around quickly upon arriving back in Seward. They will clash with No. 4 Briar Cliff (10-2, 5-2 GPAC) inside Walz Arena on Saturday, Jan. 2. Tipoff is slated for 2 p.m. Admission will not be charged. The contest will be a rematch of last season's national semifinal won by Concordia, 72-62, in Sioux City, Iowa.