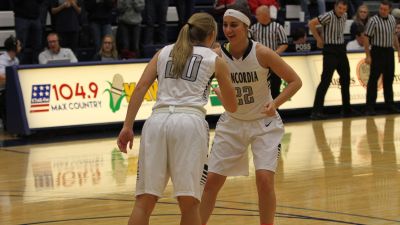 SEWARD, Neb. – For 30 minutes, the fourth-ranked Concordia University women's basketball team went toe-to-toe with a Morningside squad that returned nearly all of its key pieces after hanging a national title banner last season. Everything then unraveled in the fourth quarter as the visiting Mustangs claimed a 77-66 win inside Walz Arena on Saturday. Top-ranked Morningside (7-0, 2-0 GPAC) remains undefeated.
On the other hand, 10th-year head coach Drew Olson's squad slumped to 2-2 overall and 0-2 in league play. Just like their loss three days earlier at Hastings, the Bulldogs' high level of play fell off in the fourth quarter.
"We played our tails off for three quarters," Olson said. "It was like we were looking for somebody else to save us as opposed to going out there and winning the game. We don't do the little things in the fourth quarter right now when things get tough."
The Mustangs got rolling in the final quarter. Morningside turned a tie game into a 13-point lead (65-52) by blitzing Concordia down the stretch. Four different Mustangs scored during the 15-0 game-defining run that included Taylor Bahensky's crippling triple. The run mercifully concluded when Becky Mueller drained a three at the 5:02 mark of the period.
But the Bulldogs failed to cut the deficit to fewer than nine points the rest of the way. Morningside salted the game away by making hay at the free throw line (12-for-16 over the final 5:16). Bahensky made all 12 of her tries from the charity stripe as part of a game-high 19-point performance.
Concordia trailed by just a single point at halftime and quickly jumped out to a five-point lead in the third period that opened with a Brenleigh Daum corner trey. The Bulldogs built an advantage as large as five points on three different instances during the third period.
Both teams dealt with foul trouble from key players. Post Jessica Tietz fouled out after playing in 21 minutes. She managed 12 points and six rebounds. Daum was whistled for two fouls less than two minutes into the game and played a total of only 14 minutes before fouling out in the fourth period.
Mueller kept Concordia afloat offensively with an 18-point output. She went 5-for-8 from the field and 6-for-6 from the free throw line. Sophomore Mary Janovich and freshman Quinn Wragge put up 13 points apiece. Wragge made 6-of-7 shots from the floor.
Winner of 30-consecutive GPAC regular-season games, Morningside held its biggest advantage at the foul line. The Mustangs went 30-for-41 (.732) from the free throw line while the Bulldogs were 10-for-15 (.667). Morningside was also plus-six in turnover margin (23-17).
The Bulldogs will seek their first conference win again on Tuesday when they travel to rival Doane (4-3, 0-2 GPAC) for a 6 p.m. game. Concordia has won each of the last eight meetings with the Tigers, who have suffered GPAC losses to Midland and Mount Marty this season.