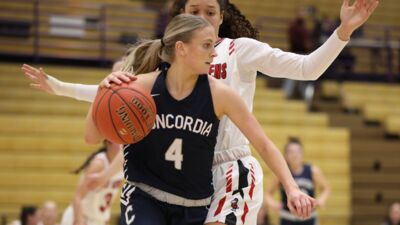 BOWLING GREEN, Ky. – For 30-plus minutes, the ninth-seeded Concordia University Women's Basketball team appeared well on its way to extending its season for at least one more day. However, eighth-seeded Benedictine College (Kan.) stormed back with a dominant fourth quarter that left the Bulldogs stunned at the conclusion of Friday (March 11)'s opening round game at the NAIA Women's Basketball National Championship. The Ravens came back from 14 points down to win, 62-58, in action in Bowling Green, Kentucky.
Head Coach Drew Olson led the program into its 11th-straight national tournament appearance. Concordia (16-14) walked away from Friday's contest frustrated it couldn't seal the deal in a season with many close calls.
"We came a little nervous and then I thought we did a great job of fighting back," Olson said. "It showed the team we're capable of being. We played two great quarters."
It's hard to explain exactly how it unraveled in the fourth quarter other than the fact that the offensive production ran dry. The Bulldogs shot only 15.4 percent over the final 10 minutes. A lead of 55-42 with less than nine minutes to go transitioned into a 59-58 deficit in the final minute when Ali Brzozowski's jumper went through the bottom of the net. Concordia was unable to score a single point over the game's final six minutes.
That drought overshadowed what was a nice response after the Bulldogs found themselves trailing 11-0 right out of the gate. Concordia evened the score (14-14) by the end of the first quarter and built a 37-25 halftime lead. Three Bulldogs took on the lion's share of the scoring: Kayla Luebbe (19), Sadie Powell (16) and Taysha Rushton (12). Luebbe made all eight of her attempts from the floor, including three from long distance. Powell also added six rebounds and four steals while Rushton came away with five thefts. The pesky press led to a plus-10 margin in turnovers.
After going ice cold for parts of the game, Benedictine (22-10) caught fire in the fourth quarter when it shot 66.7 percent from the floor. The Heart of America Athletic Conference foe got a team high 17 points from Skylar Washington and 13 from Brzozowski. Natalie Sarmon snared 11 rebounds in helping the Ravens to a 39-26 advantage in that category.
At its best this season, Concordia was a team capable of beating just about anyone. A large core of the team was made up of second-year players. In other words, the Bulldogs expect to come back strong in 2022-23.
Said Olson, "We have a potentially really good team. We have a great core of young players that are capable of doing something special if we stick together. They need to push themselves individually and push each other to be better. We had a lot of games where we weren't quite ready yet to take that step towards being an elite team. We just didn't get there.
"I think Rylee Pauli should be praised for the career that she had. It wasn't the way she wanted to go out, but I think a lot of our success this season and last season – she was a huge part of it."
Pauli totaled 608 points and 530 rebounds over the past four seasons while helping the 2018-19 team to a national title. She's the most prominent senior on a squad that played without all-conference wing Mackenzie Koepke, who could return next winter and provide a boost. As for Rushton, she wound up averaging 17.7 points per game, the highest for a Bulldog in a single season since Bailey Morris averaged 18.5 in 2014-15.
It's worth noting that Concordia played the No. 1 strength of schedule in the entire NAIA in 2021-22. The Bulldogs defeated five teams that qualified for the 2022 national tournament.