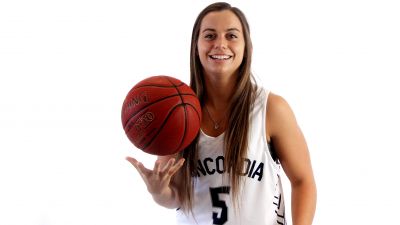 The 2019-20 Concordia University Women's Basketball team rolled to a 32-2 overall record, a sweep of GPAC championships and a ranking of No. 1 in the final NAIA Division II poll. Now imagine how incredible that same squad might have been had Waverly High School product Taylor Cockerill not suffered a season-ending injury in the double overtime exhibition loss at Creighton last October. Cockerill spent the rest of the winter on the sidelines and watched as All-Americans Grace Barry and Philly Lammers did their thing.
Gone are Barry, Lammers and the rest of a historic senior class that played a major role in the 2019 national championship run. The return of Cockerill comes at a good time. A signature 40-point outing to open her sophomore season and a 19-point fourth quarter in the 2019 national tournament round of 16 provide all the necessary evidence. Cockerill has serious game.
The only question entering 2020-21 pertains to how Cockerill responds to major knee surgery and an offseason of rebuilding confidence in that knee. Said Cockerill, "It was definitely tough having to sit out and going through the whole (rehab) process physically and mentally. It was a lot easier though because of the teammates I had. They were always there and so supportive. They kept me involved and they did amazing last year."
Cockerill led the 2018-19 national championship team in scoring at 15.4 points per game and will enter this season as the top option on the offensive end. The up-tempo, high-pressure style employed by Head Coach Drew Olson tends to lead to a balanced attack, but there's no questioning the importance of Cockerill to this team. She's the type of player that will draw the most attention from opposing coaches who scout the Bulldogs.
The All-American guard shrugs off that notion in saying, "I don't know about that." But Olson has already witnessed the ways in which Cockerill has raised the level of the entire team during preseason workouts. "I see her being just as effective (as she was before the injury)," Olson said. "You can see it with her leadership on the team. That's a big part of her role this year. Now that she's back you can see how the team rallies around her. It takes time to get back completely, but she's still got that explosiveness and first-step quickness. She's as strong as ever. She's very close (to regaining her form)."
By Olson's estimation, Cockerill is operating at about 90 percent of the optimum level she showed when she burned Indiana Wesleyan for 40 points in the 2018-19 opener. She's a pure scorer who can light it up from all over the floor. She is also a pest within that Concordia gnats-at-a-picnic defense. Watching Cockerill play the game is a hoot.
Some fans might recall her layup in the national championship game in which she managed to blindly whirl the ball over a 6-foot-6 defender and into the basket. At the close of the third quarter, Cockerill drained a trey from well beyond the arc to push the advantage to nine heading into the final quarter. On the grandest of stages, Cockerill had no fear. Over 75 career collegiate games, she has poured in 918 points and has swiped 123 steals while shooting 36.6 percent from beyond the arc. Can the do-it-all guard do it all this winter?
"It's definitely been a process each and every day," Cockerill said. "There are some good days and some bad days. When you're surrounded by your teammates, they push you every day. You want to be better for them and for the school. I have to keep looking forward and know that I'm going to be fine."
Cockerill is a big reason for the feeling of excitement and optimism within the program. Of course outsiders are going to expect the Bulldogs to take a step back considering all the talent that graduated this past May. That's what makes this an anticipated challenge and something fresh and new. Cockerill and junior Mackenzie Koepke are the lone returners with extensive starting experience.
In the past, Cockerill could look up to Barry, Lammers, Quinn Wragge and those in the classes above her. Now a younger roster looks up to her. It's a new responsibility for Cockerill, a coach's daughter, a former all-state award winner and a consistently high academic achiever (biology major).
"It's definitely exciting," Cockerill said of her evolving role. "Each year comes with new challenges. I think we'll keep pushing like we've done in the past. Tradition never graduates. I don't feel a burden. It will be different, but I'm not nervous. I'm just excited to play."
When asked about repeating as conference champions for a fifth-straight year, Cockerill laughs. She's not ready to go there or make any predictions. However, the goals and the expectations no longer have to be spoken. When you come to play basketball at Concordia, you expect to win and you expect the accomplishments to come from a team effort stemming from a belief in each other. Their discipline within the system that Olson runs takes things to a whole other level.
TC (as she's known inside the program) just wants to be a contributor to Concordia's success. Without seeking it, Cockerill figures to grab the spotlight this coming season. When the game is on the line, the ball will likely be hers.
Says Olson, "TC is the one voice that is going to really get after people and hold people accountable. I also think she's going to do a really good job of empowering our younger players to also be that voice. That's just going to take time."
It may also require just a bit of time for Cockerill to return to the type of player everyone saw in the national championship game a year-and-a-half ago. Roughly 11 months ago, Cockerill went down in pain on the floor at Sokol Arena in Omaha. At the time, Concordia led Creighton by 11 points in the third quarter.
Now a healthy Cockerill is ready to write a new chapter. Consider this the second act in her Bulldog Basketball career. Official practice begins Tuesday (Sept. 28) in preparation for Olson's 15th season leading the program.
Says Cockerill, "We're still getting to know each other on and off the court. It's been hard with everything going on, but I'm just excited to see what happens. We really don't know. It's about building those relationships. I just really love being around this team."