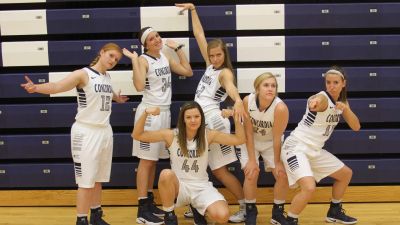 SEWARD, Neb. – With the GPAC regular-season championship trophy already in hand, the second-ranked Concordia University women's basketball team will attempt to start a new winning streak. The second-longest win streak in school history (26) fell by the wayside on Sunday when the Bulldogs were blitzed by No. 12 Dakota Wesleyan, 75-53. A day earlier, Concordia won at Briar Cliff, 90-70, to put an end to the conference race.
The Bulldogs will close out the regular season this week, traveling to No. 10 Hastings (21-7, 13-5 GPAC) for a 6 p.m. CT tipoff on Wednesday prior to hosting Dordt (13-15, 5-13 GPAC) at 2 p.m. on Saturday. The regular-season finale will serve as senior day for the program.
Both of this week's contests will be carried live on 104.9 Max Country radio (play-by-play by Tyler Cavalli). Wednesday's game can be seen via the Hastings Stretch Internet portal. The Concordia Sports Network will stream Saturday's tilt.
Eleventh-year head coach Drew Olson has now guided the program to three GPAC regular-season titles (2011-12, 2013-14 and 2016-17) and two GPAC tournament championships (2012 and 2015). Under previous head coach Todd Voss, Concordia captured the league title in 2002-03 and won the GPAC tournament in 2005. The Bulldogs also won NIAC titles in 1996-97 and 1997-98 under the direction of Mark Lemke.
The Bulldogs now find themselves in unfamiliar territory – looking to respond following a loss. Concordia has been so dominant that it has trailed in the second half of only four games all season. In the loss at Dakota Wesleyan, the Bulldogs dug a hole of 20 points for just the second time this season. Of their 26 wins, 21 have come by margins of 20 or more.
From a statistical standpoint, sophomore Quinn Wragge was the team's top performer last week. Over the three conference games, Wragged averaged 14.0 points and 9.3 rebounds per game. She recorded her third double-double of the season at Briar Cliff (17 points, 11 rebounds). Now with 794 career points, Wragge is on a fast track to join the program's 1,000-point club.
Six seniors are part of this year's roster: Aubri Bro, Devin Edwards, Carissa Gutz, Laurel Krohn, Shelby Quinn and Erin Veiselmeyer. Among them, Quinn has the most playing experience. She's tallied 616 points, 350 rebounds, 300 assists and 146 steals over 126 career games. All six seniors will be recognized at halftime of Saturday's men's basketball game.
Hastings is coming off a loss of its own having been upset, 61-57, at Mount Marty on Feb. 11. The Broncos remain a virtual lock for an invitation to the national tournament. Hastings has been impressive defensively, holding opponents to 60.2 points per game and 41.1 percent shooting. On the other hand, Dordt is on a surprising run after starting conference play with 12-straight losses. Since then, the Defenders have won five of six with upset victories over No. 8 Morningside and No. 22 Northwestern.
Projected lineups
Concordia: 26-2, 17-1 GPAC (1st)
G – Shelby Quinn: 6.8 ppg, 4.4 apg, 3.3 rpg, 2.0 spg, .377 fg%
G – Dani Andersen: 8.7 ppg, 1.5 apg, 1.4 spg, .358 fg%, .328 3-pt fg%
G – Mary Janovich: 11.9 ppg, 3.3 apg, 2.8 rpg, 2.5 spg, .538 fg%, .453 3-pt fg%
F – Quinn Wragge: 11.4 ppg, 6.1 rpg, 2.0 spg, .557 fg%, .724 ft%
F – Philly Lammers: 13.1 ppg, 7.0 rpg, 2.1 spg, 1.1 bpg, .587 fg%

Hastings: 21-7, 13-5 GPAC (3rd)
G – Shandra Farmer: 9.9 ppg, 3.0 rpg, 2.5 apg, 1.5 spg, .407 fg%
G – Holly Hild: 11.1 ppg, 2.3 rpg, 1.1 spg, .431 fg%, .722 ft%
G – Jordan Johnson: 6.5 ppg, 1.9 rpg, .358 fg%, .306 3-pt fg%
F – Mackenzie Willicott: 9.5 ppg, 4.4 rpg, 1.1 spg, .485 fg%, .726 ft%
F – Rachel Jelden: 8.3 ppg, 6.1 rpg, 1.1 spg, .417 fg%
Dordt: 13-15, 5-13 GPAC (10th)
G – Annie Rhinesmith: 7.9 ppg, 2.3 rpg, 1.4 spg, .391 fg%, .391 3-pt fg%
G – Kim Kroeze: 9.5 ppg, 4.6 rpg, 2.6 apg, .400 fg%
G – Jamie Gesink: 9.9 ppg, 5.8 rpg, 1.3 spg, .504 fg%, .750 ft%
F – Paige Engbers: 7.5 ppg, 3.3 rpg, 1.3 apg, .374 fg%, .358 3-pt fg%
F – Shae Pollema: 8.1 ppg, 7.1 rpg, .434 fg%, .733 ft%