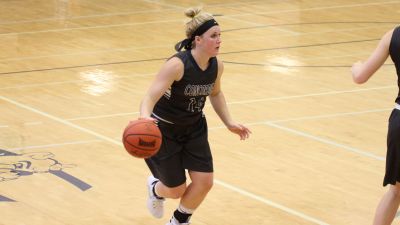 HASTINGS, Neb. – In a conference-opening battle of perennially powerful GPAC programs, the fourth-ranked Concordia University women's basketball team went on the road for the first time this season and saw an 11-point second-half lead melt away. The host Broncos dominated the fourth quarter and remained unbeaten by snaring a 74-67 victory inside Lynn Farrell Arena on Wednesday night.
Hastings ended a three-game series losing streak versus Concordia by playing the role of the aggressor down the stretch. After Mary Janovich's layup to open up the fourth quarter, very little went right the rest of the way for the Bulldogs.
"We've talked about having to find ways to win when we don't shoot well," said 10th-year head coach Drew Olson. "We're a jump-shooting team, but when we don't shoot well we can't cave like that. It had nothing to do with the layoff (10 days without a game). We played fine the first three quarters. It was about our lack of aggressiveness."
Hastings guard Abby Jackson emerged with a back-breaking triple after Teeka Thompson's steal. At that point, the Broncos led 66-61 courtesy of a 19-4 run that culminated with less than two minutes left in the game. Hastings (5-0, 1-0 GPAC) outscored Concordia 30-15 in the final quarter when it lived at the free throw line (11-for-16).
Devoid of the senior leadership that drove the Bulldogs to the 2015 national championship game, Concordia failed to stem the tide down the stretch. The miserable fourth quarter compounded its struggles from 3-point range (5-for-26) and an inability to create turnovers (12 by Hastings) the way it always has under Olson.
After flashing an impressive offensive display at the Cattle Classic in wins over No. 6 University of Jamestown and No. 24 Mayville State University, the Bulldogs placed just two players in double figures: Janovich (14 points) and Brenleigh Daum (11 points). Freshman Quinn Wragge recorded six points and 11 boards. Fellow freshman Maddie Egr tallied nine points (4-for-4 shooting).
Hastings actually shot a lower percentage from the field (.396 to .407), but consistently reached the foul line (26-for-45) while getting into the paint on a regular basis in the final quarter. Thompson topped the Broncos with 16 points (10-for-15 free throw shooting). Rachel Jelden notched a double-double with 14 points and 12 rebounds.
Hastings has knocked off a pair of top-10 ranked teams under first-year head coach Jina Johansen. The Broncos also defeated No. 9 Tabor College, 57-54, on Nov. 14.
The Bulldogs now look forward to Saturday's showdown with top-ranked Morningside (6-0, 1-0 GPAC) in a rematch of last year's NAIA Division II national championship game. The Mustangs return all five starters from their 2014-15 team that lost just a single game (versus Concordia) and went undefeated in GPAC regular-season action.