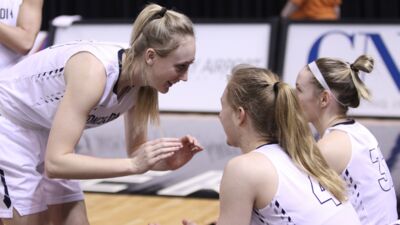 It feels like it was just yesterday when Quinn Wragge was being asked to shoulder the role of go-to player as a freshman on the 2015-16 Concordia women's basketball team. In retrospect, it may have been a good thing for Wragge, who was forced to be aggressive. She came out of her shell in a big way and was even named first team all-conference and CIT MVP as just a rookie.
A few years later, Wragge finds herself as the lone senior on the varsity roster. She's experienced a lot. She's played in three national tournaments, including a national championship game. She's scored more than 1,000 career points. She's been an All-American and she's been a first team All-GPAC selection every year of her career.
On the eve of the team's first official game of the 2018-19 season, Wragge has some advice for herself. Says Wragge, "I really think for most seniors it's not to take it for granted. You always think you have that next year and now I don't. For me it's about taking all of the opportunities that I have and using them. It's the last year."
Special players and special young women like Wragge are what have defined Bulldog women's basketball, a program clearly established as one of the nation's elite. If there is only going to one senior, it may as well be someone like Wragge. Confident but never boastful. Soft-spoken but loud in her actions. Star on the court. Star in the classroom. If she's ever nervous, she doesn't show it. She's as steady as they come.
In what ways might her game expand this winter? She wants to ramp up her leadership and be more of an outside shooting threat.
"I think that's the biggest thing this year for Quinn is stepping up into that leadership role and being that solid rock that we need," said head coach Drew Olson. "She's been great so far. As far as her game, we're asking her to be aggressive and also expand her game and maybe shoot a little more from the perimeter. She's just such a steady kid and doesn't get phased by a whole lot."
Prior to becoming a standout for the 2018-19 preseason No. 1 team, Wragge starred at Crofton High School. She made big-time contributions not only on the hardwood, but also as a track athlete. She seemed to have the right pedigree. Her father Mark racked up 1,821 career points during his career at Doane. Clearly basketball is one piece of the family's identity. In addition, Quinn's brother Grant is a sophomore on the Bulldog men's basketball team.
The Wragges are also now a Concordia family. Please don't even think about breaking out any old Doane gear, Mr. Wragge. Says Quinn, "Oh no. That's not allowed in our house anymore. No Doane gear. It's all Concordia."
In her father, Quinn not only has loving support, she also has another excellent source for basketball knowledge and insight.
"He's a coach at heart," Quinn says. "He's played for years. We've gone back and forth a couple of times. He's like, 'I think you could have done this' and I'll get a little defensive but then I usually come around. We always have some great conversations about the game or things that I could be working on and things he sees. I really enjoy it."
While Quinn is well-known on campus for her first three years of fine achievement as a Bulldog, her brother is one to watch on the men's team. We had to ask it. Do they still play each other one-on-one?
Let's just say that Quinn knows when to call it quits. "For about 15 years when we played I was usually the one on top," Quinn said. "I just like to remind him of those years when I was the one blocking him. Now we don't play as much anymore because I don't think it would go as well for me."
Most things are going quite well for Wragge, an NAIA Scholar-Athlete in addition to being an All-American. No matter how things transpire this winter, there will always be fond memories of Concordia and the moments shared with teammates on and off the court. She mentions trips to Hawaii and California and this season's upcoming stay in Phoenix as part of what has made it such a rewarding experience.
Additionally, there have been the memorable on-the-court snapshots such as CIT at home, the crazy overtime win last season at College of Ozarks, GPAC championships and 10 national tournament games. They all pale in comparison to the lessons learned by being a member of the program.
"There are so many," Wragge said. "That's one of my favorite things about being in this program. It is so much bigger than basketball. Obviously the most important one is our faith. I think that across the board most girls come in and when they leave they're going to be able to say, 'wow, I've grown in my faith.' I've learned so many things from Coach Olson, from the girls and the speakers that we've listened to. That's huge. I think another one that's great is that we talk about leaving things better than we found them."
It seems safe to say that will be the case with Wragge, who has big goals for this winter. She's just not really flaunting them loudly. That's not her style. But clearly she and her teammates are ready to embrace their top billing in the national poll. For a program that has been so close to the ultimate goal, the Bulldogs hope this is their year.
"There's only one step further we can go than we were last year," Wragge said. "That's our goal for this year. When it (meaning the 2018 national championship game) does come up, it's a motivator. It's something that we want to get past so it's not a negative this year. Let's get there again and then go one step further."
It's time to focus and finish.