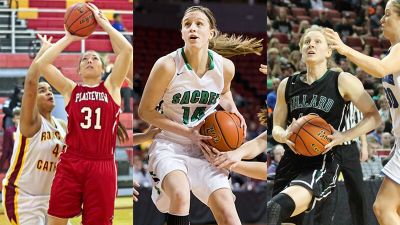 NCA Girls Basketball All-Star rosters
SEWARD, Neb. – Three standout student-athletes from head coach Drew Olson's eight-member 2016-17 recruiting class were chosen to play in the 2016 Nebraska Coaches Association All-Star Girls' Basketball Game. Future Bulldogs Colby Duvel (Platteview) and Maggie Goltz (Falls City Sacred Heart) will appear on the Blue Team while Philly Lammers (Millard West) will be a member of the opposing Red Team.
The game is scheduled to be played Monday, July 25 at 6 p.m. at Lincoln North Star High School. For more information on the game as well as the all-star selection process, click HERE.
Duvel is a 5-foot-9 guard/forward who Olson says can play inside and out. An all-state selection this past season, Duvel is a "perfect fit for our program and how we want to play," says Olson. Duvel helped Platteview to two district championships and two state tournament appearances during her prep career.
Goltz, the MVP of the Southeast Nebraska All-Star Game, stands 6-foot-1 and also possesses the ability to play multiple positions. She led Falls City Sacred Heart to a state title as a junior and is a three-time Class D2 first team all-state selection. She amassed 1,233 points and 716 rebounds while also breaking the Sacred Heart record for most made free throws during her prep career. Said Olson, ""Maggie is one of the most dynamic players we are bringing in."
A 5-foot-11 post player, Lammers averaged 11.9 points and 8.2 rebounds as a senior at Millard West while breaking the school record for field goal percentage (.537). She was named a second team all-state choice and was also selected to play in the Buffalo Wild Wings High School All-Star Game. Said her high school coach Marc Kruger, "She gives us a toughness that makes our whole team better. And she's become a better player this year by extending the range on her jump shot, which makes her harder to defend."
Olson's complete 2016-17 recruiting class can be viewed HERE.